LibreOffice offers a superlative encryption feature to password protect and safeguard your PDF documents! Securing documents is always one's priority, whether you are working on hard documents or electronic documents. Most of us create documents to capture an important event or record that provides useful information so that it won't be lost. Big corporates use documents to store sensitive information that serves as an official record or evidence. In all such cases, it is important to keep documents secure. If you currently use LibreOffice to create documents, you can secure them easily with a password so that only authorized users can access them.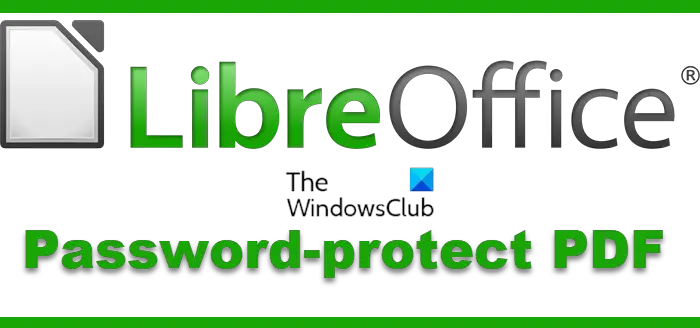 What is LibreOffice
LibreOffice is a free popular office suite used by many. It is an open-source application program that shares most of the features similar to Microsoft Office. LibreOffice offers a simple interface and rich tools to increase your productivity. Like Microsoft Office, LibreOffice can be used to create professional-looking documents like brochures, marketing reports, newsletters, thesis, technical drawings, and many more. LibreOffice is mostly popular among the open source fraternity because of its open standard, and the office suite is compatible with most document formats like PowePoint, Excel, Microsoft Word, etc.
If you currently use LibreOffice and want to secure the information with a password, you are in the right place. One good thing about LibreOffice is that it takes the security level one step forward by making encryption easy and allows its users to encrypt all sensitive documents using strong AES encryption.
LibreOffice allows its users to encrypt the Calc, Spreadsheet, Writer documents effortlessly so that one can make sure that the unauthorized users will not be able to open your important documents. In this article, we explain how to secure and encrypt your documents with LibreOffice.
Password-protect PDF documents with LibreOffice
LibreOffice offers a superlative encryption feature to password protect and safeguard your documents. You can encrypt a new document, as well as an existing document in LibreOffice. Follow the below steps to encrypt and secure your documents.
Launch LibreOffice and open the document which you want to encrypt.
Go to File in the top menu and select Save As from the drop-down menu.

In the Save As window, choose the location of the file where you want to save and give a name for the file.
Select the box with option Save with password.
Click Save and a new Set Password window will pop up.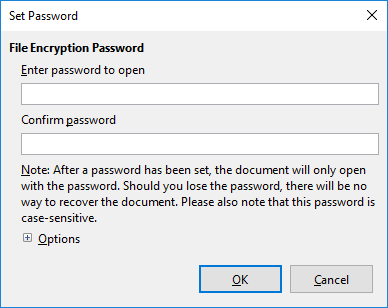 Enter the password in the input field. It's worth noting that after the password is set, the document can only be opened with the entered password. You need to remember the password as there is no way to recover the document in case you lose the password.
You can add extra security to the document by including an additional password to allow only authorized users to edit. The additional security will enable read-only access to users who can read the content but are not allowed to edit. If the user tries to edit the document, they will be prompted with a password again. In other words, users will be allowed to edit the documents only if they supply the right password for editing. Follow the below steps to set read-only permissions.
Click Options in the same window and enter the password in the input field to allow editing.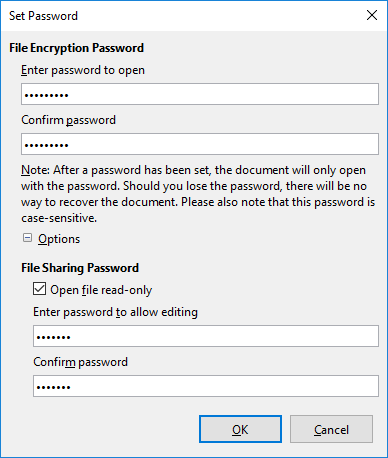 Select the box with option Open file read-only.
Click Ok to encrypt the document.
Once done, LibreOffice will prompt you for the password every time you try to open the encrypted document.
To edit the encrypted document with read-only permissions, follow the below steps.
Open the document and right-click on the content page.
Select Edit option from the dropdown menu.
Type the editable password to get editing access for the document.
That's all.