SeaTools is a powerful diagnostic application that helps you to quickly determine the condition of the disk drive and Hard Disk health of an external hard drive and Windows desktop or laptop.
Seagate SeaTools for PC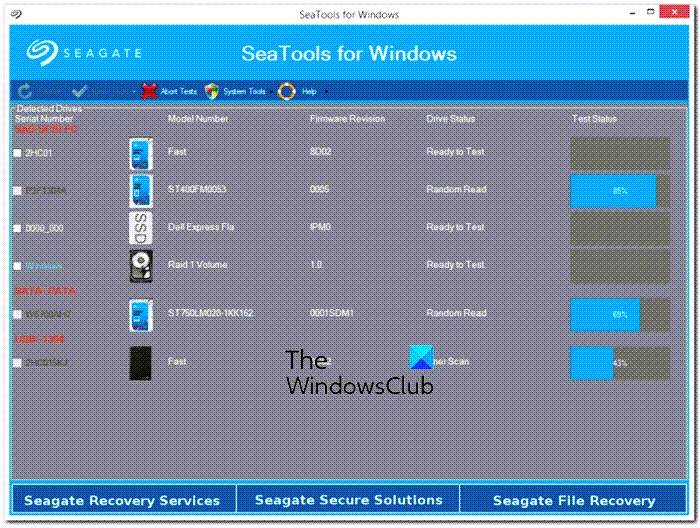 SeaTools for Windows is a comprehensive, easy-to-use diagnostic tool that helps you quickly determine the condition of the disk drive in your external hard drive, desktop, or notebook computer. It includes several tests that will examine the physical media on your Seagate, Maxtor or Samsung disk drive and any non-Seagate disk drive.
It can test all types of internal drives including SCSI, PATA, SATA, etc. Besides this; it can also test external drives (USB or FireWire). If the drive passes SeaTools for Windows, troubleshooting can proceed to other areas.
To test the software for its functionality, simply download and install it on your Windows computer.
Once you run it and select the drive to be tested, a  menu of the possible diagnostic tests is shown.  With the exception of Long Generic which offers the option to repair sectors on USB external drives, all other Basic Tests are data-safe, read-only tests.  Select the tests that you would like to perform.  The test will begin immediately.
These tests include:
SMART Check
Short Drive Self Test: 20 to 90 seconds long
Long Drive Self Test: may take up to 4 hours, progress in 10% increments
Drive Information: can be saved to the Log file
Short Generic: three-part test
Long Generic: progress in 1% increments, sector repair option for USB external
Advanced Tests.
It is really easy to use. It enables Windows users to probe the performance of their disks and evaluate their current state. The diagnostic tool performs several basic tests that help to determine the health of the hard drive.
It is important to note that if the above procedure fails you may have to consider replacing the non-functional hard drive with a new one.
Download Seagate's SeaTools for Windows from here.
Read next: Seagate DiscWizard Backup and Recovery software for Windows PC.