Although the Print Screen and Snipping Tool do the job well, they lack some crucial functionalities. If you are looking for a free screen capture software for Windows, then you can check out this tool called Screeny. It comes free of cost, and you can find several essential options to customize the screenshot after capturing.
Screeny screenshot software for Windows 11/10
Screeny comes with several impressive options to increase your productivity. Here are its features in a nutshell:
Save as PDF: You can save the screenshot as PDF file directly.
Print: It offers an option to print the screen with your default printer.
Send as Email: If you want to send the screenshot to anyone via email, it is possible with this tool.
Send to Editor: It comes with a comprehensive editor to add clip art, text, etc.
Open in Application: If you want to open the screenshot in any other app like Photoshop, Photos, etc. you can do that by using this option.
Send to Word/Excel/PowerPoint/MindManager: If you want to open the screenshot in Microsoft Word/Excel/PowerPoint or MindManager, you can utilize the respective options.
Add Shadow, border effects, watermark, mouse cursor, etc.

The most important feature of this tool is that it saves the screenshot automatically. That means if you face any problem while editing, you do not have to worry, since the screenshot is already saved on your computer.
How to use Screeny to capture and edit screenshots
It is very easy to use Screeny. First, download and install it on your computer. During installation, you need to select a language and theme.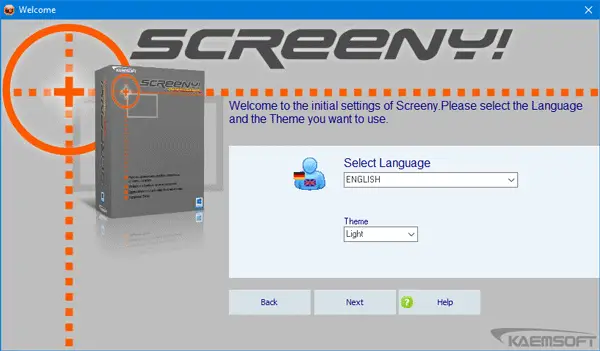 Otherwise, it will keep displaying German as the default language. Following that, the Print Screen button will be set as default hotkey. In case, you are using another screen capture tool that uses the same button as default hotkey; it will let you select another keyboard shortcut.
After capturing a screenshot, you will see a window like this: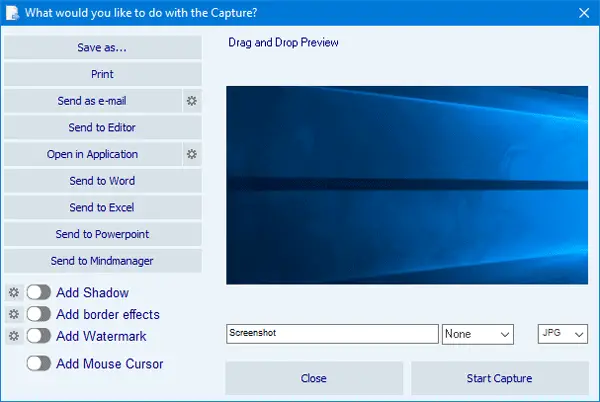 Here you can see all the options. If you want to edit the screenshot, click the Send to Editor button and a new window, will open.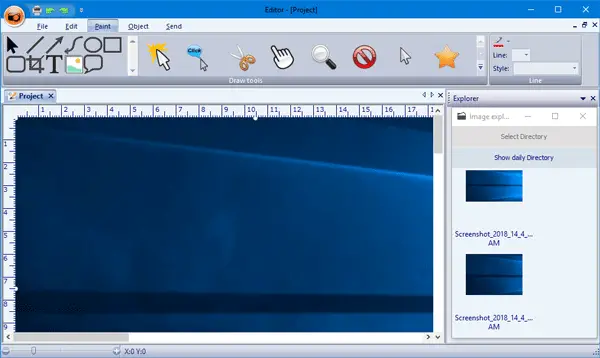 Here you can crop, add cursor/shape, draw box/line/circle, and more.
Finally, you can save the image to your desired format, which includes PNG, JPG, BMP, PDF, etc.
I found Screeny to be quite a handy tool to capture screenshots. If you would like to check it out, you can download the free version here.
How do I take a screenshot in Windows for free?
There are multiple ways to take screenshot in Windows for free. No matter whether you use Windows 11 or Windows 10, you can use the same methods to capture a screenshot within moments. The easiest way to capture a screenshot on Windows is by using the Print Screen button on your keyboard. Alternatively, you can use the Snipping Tool, Steps Recorder, Snip & Sketch app, etc.
Is there a free screenshot app?
Yes, there are many free screenshot apps for Windows 11/10 PC. Greenshot is one of the best options you can use on your computer. No matter whether you want to capture a scrolling screenshot or annotate it after grabbing it, you can do everything with the help of Greenshot. On the other hand, you can try SnapCrab, Screenshot Captor, Live Capture, Snappy, PicPick Tools, etc.
That's all! Hope this app helped.