Nowadays, using a strong password for your online accounts is very important. It doesn't matter whether you want to create a Facebook account or a simple email ID, you should use a strong password. The problem starts when you need to remember all strong passwords. That is where a Password Manager can come to your rescue. SafeInCloud Password Manager is a feature-rich free password manager that helps users keep all the passwords and categorize them based on their type. Let us see how to use this tool to store all your passwords on your Windows PC.
SafeInCloud Password Manager
This free password manager is available for various platforms including Windows, Android & iOS. As this is a desktop tool, anybody who has your desktop access can use this tool and you might not want such a thing. Therefore, you can prevent others from using this password manager by enabling the master password. Apart from that, it has consisted of loads of other functionalities and some of them are as follows,
Apart from that, it has packed with loads of other functionalities and some of which are:
Cloud synchronization: There is no need to rely on another third-party cloud storage if you already have Google Drive, Dropbox or OneDrive.
It uses 256-bit encryption. In other words, you are about to get unyielding and advance security with this app.
Password generator: It comes with an inbuilt password generator that generates passwords as per your requirements.
Browser integration: Like other password managers, you can integrate this app with your browser (Chrome, Safari, Firefox, Opera, etc.). However, you need to install the corresponding extension or add-on.
Fingerprint lock: If your device has a fingerprint sensor, you can lock down this app with the fingerprint. This is probably the best way to protect your passwords or any other online details.
Inbuilt password scanner: This tool scans the whole system and finds out the weak password so that you can be on the safe side.
Import data from other tools: You can not only import data from other password managers but also you can import a dedicated CSV file.
Master password: To protect your data from being stolen from the computer, you can use a master password that assists you to lock the window after a certain time.
Categorize all accounts: unlike most of the password managers, you can set the category of different accounts. There are categories like membership, social security, web account, router, business and much more.
Same password finder: this is quite unhealthy to use the same password for multiple accounts. Therefore, it comes with the same password finder that shows all the accounts those are having the same password.
Templates: there are different templates for different type of account. For example, bank account's template has bank name, account holder name, account number, account type, etc. On the other hand, Insurance's template has insurance number, expiry date, phone number, etc. This is possible to use a default template as well create a new one.
Add notes/image/file: not only username and password but also you can lock down notes, files, pictures, etc. using this app.
It comes with more other features. However, you need to use it to experience all the other features. Regarding the UI, it has a minimalist user interface. You can easily find categories, accounts, login details, etc. on the same page. To start using this tool, download and install it on your machine. After opening it you will see the following screen.
Select the Create a new database and set a password for it and hit the Next button. You have next to set the master password.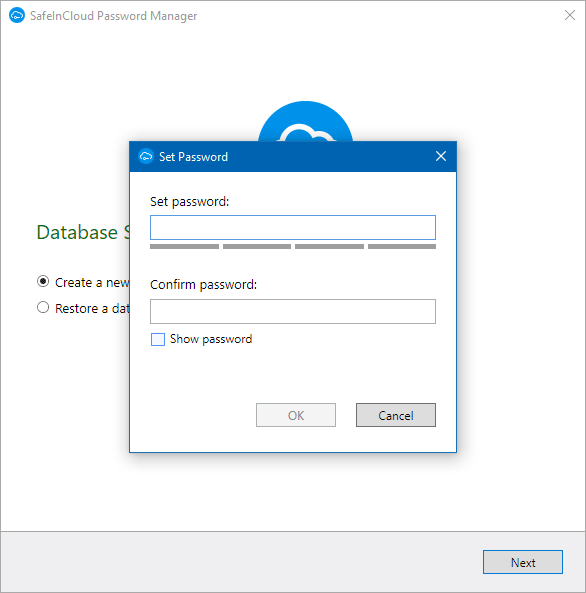 Do remember that there is no way to recover it. So if you forget, you will have to make a new database. After setting this up, you can configure cloud synchronization, if you want. Otherwise, it will be saved on your local computer. The actual UI of SafeInCloud looks something like this: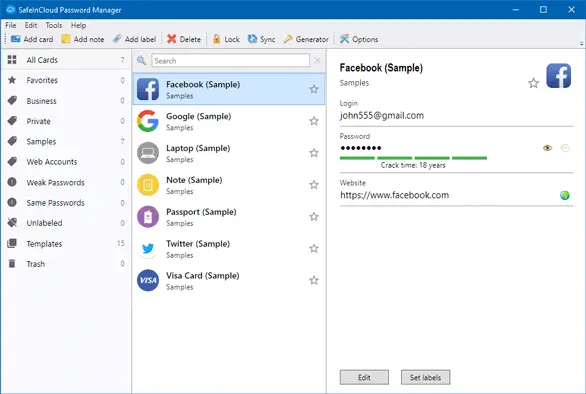 To add a new user login details, click on the Add card button visible in the top left corner.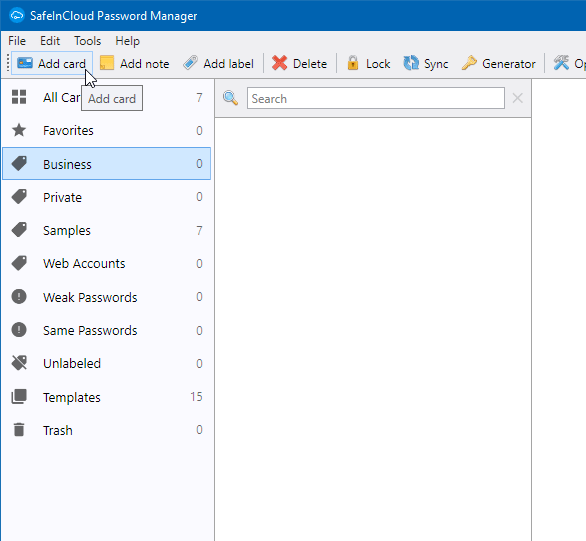 Following that, you can choose the category and fill up the template. You can also add a new field by clicking on the Add another field and select what you want to include.
What is SafeInCloud DB?
SafeInCloud DB is a password manager which helps you save and synchronize your data with your cloud accounts. This app is available for multiple operating systems, including Windows, Android, iOS, etc. It comes with several options, such as cloud synchronization, 256-bit encryption, browser integration, password scanner, etc.
Is SafeInCloud secure?
Yes, SafeInCloud is a secure password manager. You can download and use it on Windows 11, Windows 10, and some other older versions of Windows. For your information, it uses 256-bit encryption to make things secure and safe for the users.
SafeInCloud is a tool for those who do not want to spend money on a password manager. If you like it, you can download it from its official website.
Go here if you are looking for free online password managers.