We are pleased to release RightClick ReplaceThis, a simple tool that lets you replace files easily in Windows 11/10/8/7.
File Replacer Tool for Windows PC
RightClick ReplaceThis allows you to replace files in Windows easily. It is also helpful in cases where Windows will not allow you to replace files that are being used. Clicking on Install will add the options to your right-click context menu.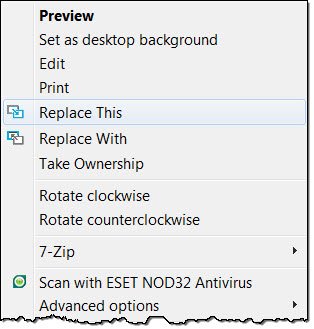 The app gives you two options:
1] Right-Click a File and Choose ReplaceThis:
It will load a dialog box and let you choose a file to replace the selected file.
2] Right-Click a File and choose ReplaceWith:
It will load a dialog box and let you choose a file to be replaced with the selected File.
In either case, you can browse and select the file or simply drag the files to the old and new Windows.
Before replacing the file it will generate a backup of the original file.
If the files do not have the same name it will warn you.
If there is an issue with Replacing the File, for example, a System File is being used, it will ask if you would like to Replace on the next Windows Boot.

RightClick ReplaceThis v1 has been developed by Lee Whittington for The Windows Club.
Windows customizers – this one is sure to make things easy for you!