Microsoft Store lets users install apps and games on up to 10 devices at a time. If one attempts to exceed this limit, Microsoft blocks the installation of any further apps on the device. In such a case, you'll need to revoke the Microsoft Store license for one of your devices. This post shows you how to cancel to revoke Microsoft Store app licenses on a device.
Firstly, let's see why the licensing model is required. It is believed that licensing gives customers control over their apps and keeps them connected to those apps across the multiple PCs that they use over time. Also, it provides developers with built-in protection against casual piracy, so that they can confidently build a business around developing apps for Windows 11/10 PCs.
This draws our attention to one question – why does the Store ask you to sign in even to acquire free apps? The Store's licensing service registers a license to your Microsoft account for each app you acquire. So, this is how it remembers which apps you've acquired. It then uses this information to make it easy for you to quickly reacquire those apps on another PC. It also saves a copy of that license on your PC, so Windows will know that you have the rights to use the app on that PC get updates for the app, and write reviews for it.
Revoke the Microsoft Store app license
To cancel the license for Microsoft Store apps on a Windows 10 device, you need to follow these steps. You can then use the unused license on a new device.
Login to your Microsoft Account
Navigate to Devices > Microsoft Store device management
Select the device and click Unlink
Confirm the prompt to remove the device.
Let us take a look at the steps involved in more detail.
Go to account.microsoft.com and enter your Email ID and Password.
Once you have logged into your Microsoft Account, open the Devices page.
1] Access the Microsoft Store device management page via your Microsoft account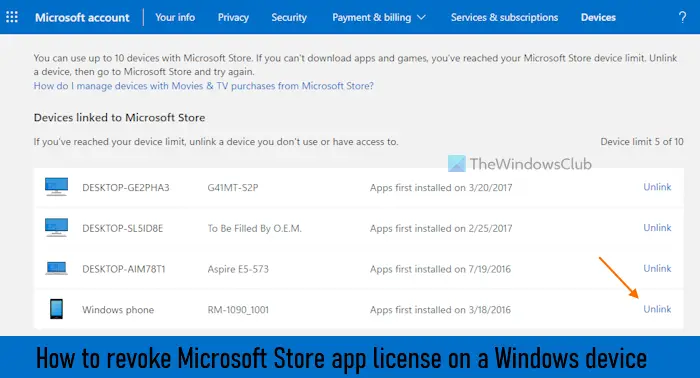 Under your Account page, follow the link to Devices > Microsoft Store device management. There, click on the Manage option.
2] Remove the Microsoft Store app license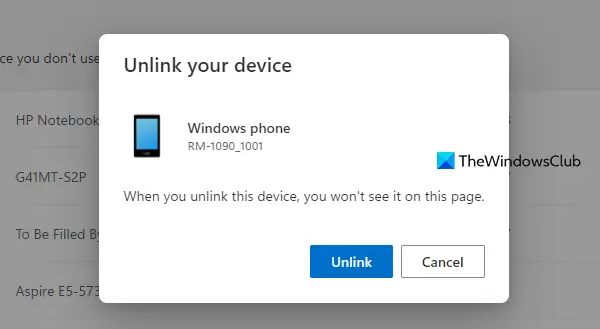 On this page, you can find the list of your devices that are currently registered for Microsoft Store app installs or the Devices linked to Microsoft Store. The section also shows the date when the apps were first installed on a particular device.
Click the Unlink option adjacent to the device you want to remove. An Unlink your device confirmation pop-up will appear. Press the Unlink button in that pop-up.
That's it! You'll now have a Microsoft Store app license revoked on one device.
How do I disable Microsoft app Store in Windows 11/10?
If you want to disable access to Microsoft Store app on your Windows 11/10 PC, then you can do this using Group Policy Editor. Open the Group Policy Editor window using the Search box and navigate to the following path:
Computer Configuration > Administartive Templates > Windows Components > Store
Double-click on the Turn off the Store application settings, select the Enabled option and press the OK button.
But in Windows 11/10 Pro now and later, you will find that you will not be able to disable Windows Store. It is available in Windows 11/10 Enterprise & Education only
How do I fix Microsoft Store stuck on acquiring license?
If Microsoft Store is stuck on Acquiring license while downloading or updating apps, then make sure your date, time, and region settings are correct. If that doesn't help, then you should reset the Microsoft Store, clear the Microsoft Store cache, or re-register the Microsoft Store app to fix the problem.
Hope this helps.