The hiring process starts from the time you send your resume to a company, and that is why you must spend a lot of time creating a beautiful resume. As the resume represents you to the hiring committee, creating a clean but feature-rich CV is a big plus point. That is why you can check out these resume templates for Google Docs.
There are many online resume generators you can find. However, if you use Google Docs, you can save them in Google Drive, access and edit them from any other device you may have. Whether it is for your online or offline job, you can take help from a professional, share it with others, take advantage of Google Fonts, Google Docs add-ons, etc.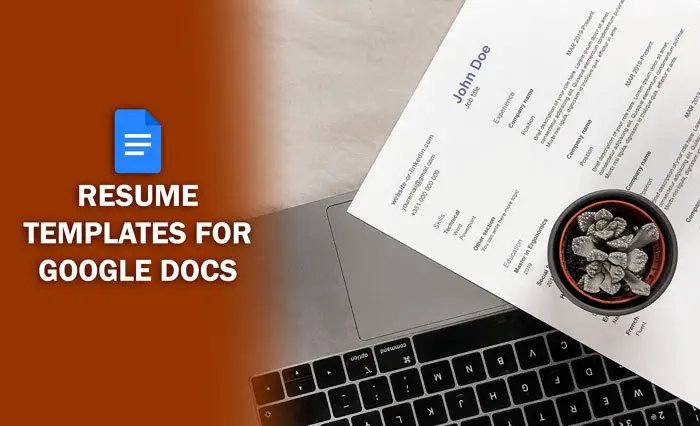 We have mentioned five templates from the official repository. If you want to use one of them, you can choose New > Google Docs > From a template option in Google Drive and select the template accordingly. On the other hand, if you want to use a Word-compatible template, visit the respective page to download and upload it to Google Drive. 
Best Resume Templates for Google Docs
These are some of the best Resume Templates for Google Docs to create a professional CV:
Modern Writer
Coral
Serif
Swiss
Spermint
Bold monogram
Contemporary photo resume
To know more about these resume templates, continue reading.
1] Modern Writer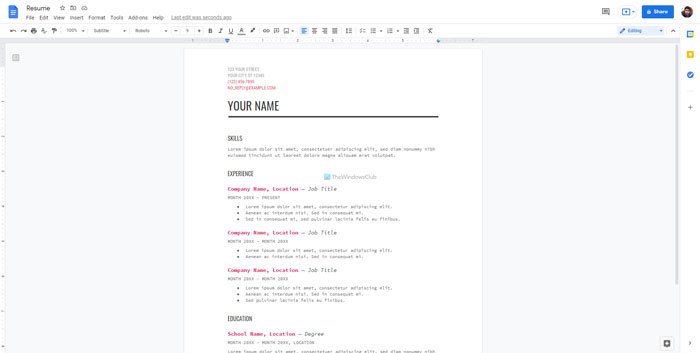 If you want to showcase your qualifications via a short and simple resume template, Modern Writer is probably the best option for you. It doesn't have unnecessary colors, which, at times, makes the page cluttered. It is possible to enter your name, contact details, skills, previous experiences with company names, roles, educational background, and more. Although this template has a red and black color combination, you can change that according to your requirements in Google Docs.
2] Coral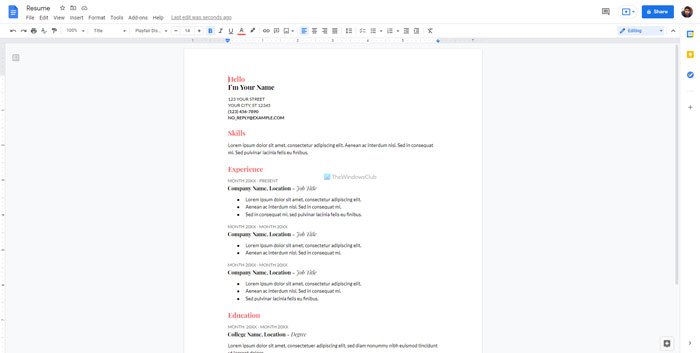 Coral is almost the same as the Modern Writer resume template but with some minor differences. They use different fonts, font sizes, etc. If you use the Coral resume template, you would be able to enter your name, contact information (address, email, phone number), skills, educational qualifications, past experience, awards (if any), etc. As usual, it is possible to change the font, color, size, etc., without any problem.
3] Serif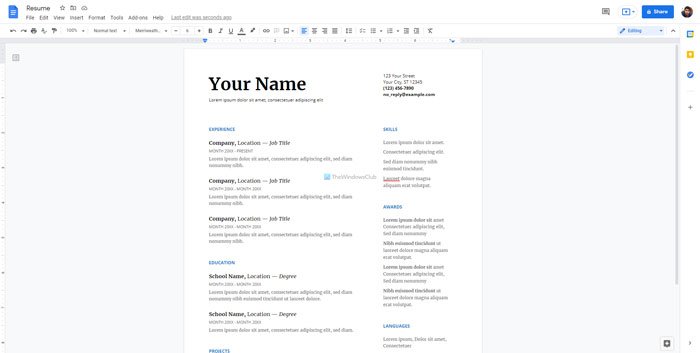 Serif is a two-column resume template for Google Docs, which lets you add almost everything you want. In the first or left column, you can include your experiences with other companies or previous jobs, educational qualifications, project names, etc. On the other column, you can include your skills, known languages, awards, etc. Apart from that, it is possible to add your name and contact details as usual.
4] Swiss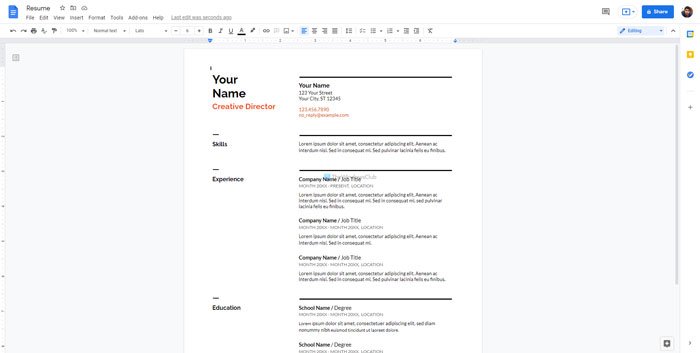 Swiss is also a two-column resume template, but there are some differences between Serif and this one. It displays all the headings, such as Skills, Experience, Education, Awards, etc., on the left side. The right side is for entering all the things in detail. For example, you can list down all the previous jobs you had, your school/college name, awards, etc. Like any other resume template, it lets you add your name and contact details as well.
5] Spermint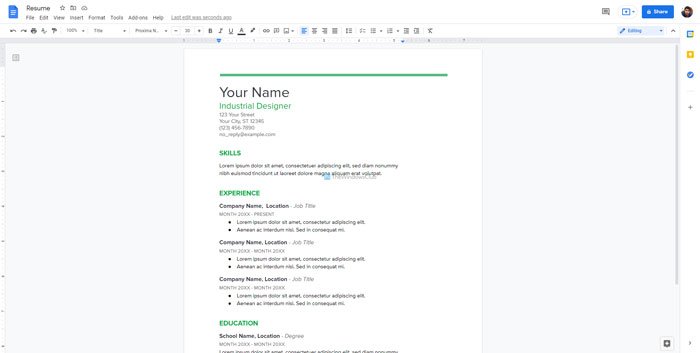 If you like Modern Writer or Coral but need a different font set or color, you can check out Spermint. You can use a neat and clean resume template in Google Docs to create the CV for you. By default, it uses a green color scheme, but you can change it within moments. Talking about the things you can add, it is possible to insert your name, contact details, skills, experiences, educational background, awards, etc. It also lets you highlight your current position at a company.
6] Bold monogram resume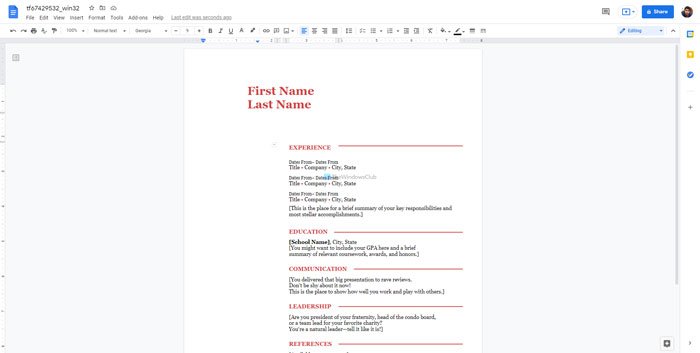 It is a Word-compatible resume template that you can use in Google Docs without any issue. It is more attractive than any other templates mentioned above since it uses a better color combination. For example, it has solid red color on the left side, letting you mention your objectives, address, email, phone number, website name, etc. You can include others, experience, education, communication, leadership, references, etc., in detail on the right side. Download Bold monogram resume template from templates.office.com.
7] Contemporary photo resume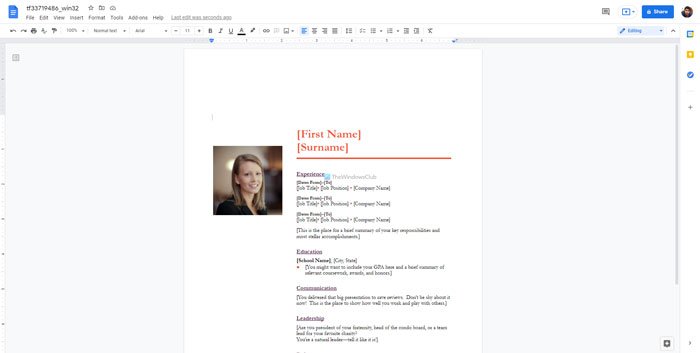 If you are one of them, who wants to include his/her photo in the resume to enrich it, this template might be handy for you. The overall appearance of this template is more attractive than others mentioned on this list. The graphics on the top and bottom make the CV look more professional. Regarding the options, you can insert your avatar, contact details, name, previous job experience, education, etc. Download Contemporary photo resume template from templates.office.com.
After editing a template, you can download it in various formats, including .docx, .pdf, etc. To do so, go to File > Download and select a file format.
Although it is possible to download in .epub or .odt, it is recommended to get your CV in either .docx or .pdf so that you can edit them in the future if needed.
That's all! 
Related: Best Invoice Templates for Google Docs.