Whenever a team owner adds a member to their Microsoft Team, they instantly permit to edit and contribute to content within the Microsoft Teams App, including editing uploaded documents. But in some instances, the owner of the Teams app does not want its members to make any changes to the uploaded file. In this post, we will show you how to restrict the Editing of Uploaded documents in Microsoft Teams.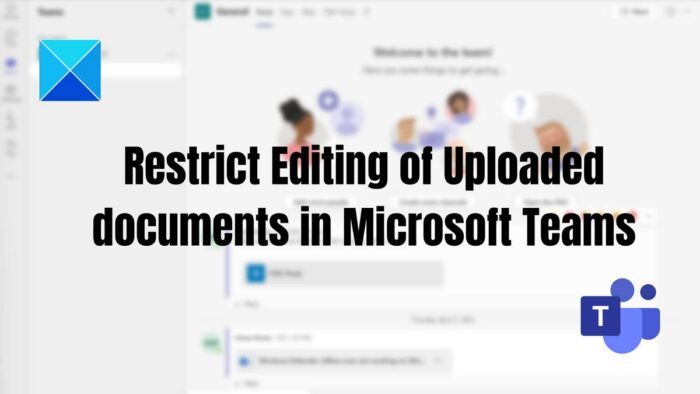 How to Restrict Editing of Uploaded documents in Microsoft Teams
These are the two ways to restrict editing uploaded documents in Microsoft Teams.
Edit Rights Access of the uploaded document
Edit Rights Access during sharing a document
You should be the owner of the team to get this done.
1] Edit Rights Access of the uploaded document
To restrict your teammates from deleting and editing the uploaded files on the Teams app, you can change the permission of the document to view only option. This method is applicable if you are running Microsoft Teams in your Business organization with Sharepoint integration.
Here is how you can do it:
Open your Teams app, go to Teams on the left pane > Choose the specific teams and channels > Click Files tab > Click the required file/ files > Open in SharePoint.
Next, click on the three dots, and from the given list, choose Manage access. From the list of members present, choose the members you want to restrict from editing or removing the files.
After choosing the members, click on the option Can view (Cannot make changes), which allows the chosen members to view and read the document and not edit them.
2] Edit Rights Access during sharing a document
Sometimes, Team files uploaded in the Teams Chat group can only be modified by the file owner. When adding someone to chat, the permissions are not instantly adjusted as they should be, but Teams is late. As soon as someone opens the document, everyone else is locked out.
Go to Files, and right-click on the file you want to change edit access.
Click on Open In and then select any one option  (Open in browser, Teams, or App)
On the top right corner, click on the Share button, and then click on the Share link.
A new window will open. Click on the link that says People with existing access can edit.
Link settings will open a new window, as seen in the image below. You can choose how to control file access from the list and click Apply.
Make sure to change the edit access under Other settings. You also have the option to block the download of the file if you wish to control it further.
Conclusion
If you have any members from an external company joining your Teams app, you can limit their rights so that they cannot delete or modify folders and files that you add.
So, from this article, you can understand that it is possible to limit access to specific Microsoft Teams users and that doing so necessitates some additional rights management within the Microsoft SharePoint Document Library that Teams makes use of. I hope these steps help you achieve your goal!
Can members in Teams upload files?
Yes. If a file is accessible on your device, you can share it in Teams with other users. There are two methods for sharing files in chat messages: sending the actual file or sending a file link instead in the chat box.
Share a file in a one-on-one or group chat: Under the text box where you compose your message, click Attach Choose File. Then, choose OneDrive or Upload from my PC (depending on where the file is located). Choose Share or Open after selecting the file.
Share a file with your Team in a channel: In the channel where you compose your message, click the Choose File button and choose one of these; click Recent, select a file you just opened, and click Upload a copy. To choose from all the files you have access to in Teams, select Browse Teams and Channels, and then click Upload a copy or share a link. Depending on where the file is saved, choose OneDrive or Upload from my computer, then choose to Upload a copy or Open. You can also choose Upload from the Files tab.
Can you make files in Teams read-only?
You can change the permission through Sharepoint or the Teams app document permission. You also need to ensure that when you add a member, they are not an owner of the group but instead members or guests.