During the collaboration, sometimes, someone makes some mistakes. Or it might be necessary sometimes for you to check the current document against the original. It may also happen that the current document has gone corrupt or is damaged. In such cases, you have the ability to recover or restore previous versions of a file or document in OneDrive.
Recover previous version of file in OneDrive for Personal Use
In the personal OneDrive, you will have to use the OneDrive app for desktop to restore previous versions of the document. For Windows 8.1 and Windows 10, the OneDrive app is there by default. You just have to open the document properties and see if any previous versions are available. You do this by right-clicking on the document. In the menu that appears, select Properties and go to the Previous Version tab. From the list of previous versions, select the version you want and restore it.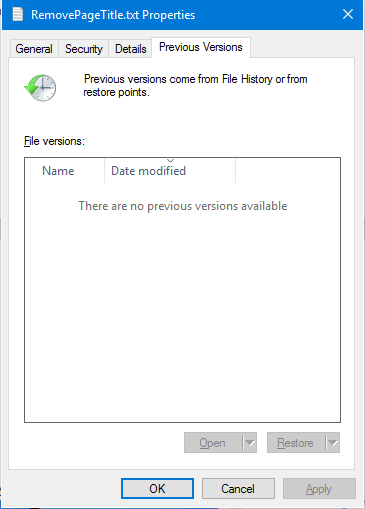 In some cases, you may fail to see previous versions as in the image. This might happen because System Protection is turned OFF for that drive. To be able to restore the previous version of documents in Windows 11/10, you have to make sure you turn ON System Protection. You can do this from Control Panel -> System -> System Protection > Drive Letter > ON/OFF.
Related: How to restore Previous Versions of Files and Folders in Windows
Restore previous version of document in OneDrive for Business
If you are using OneDrive for Business and are not mapping it onto your local drive, you can restore the previous version of the document in OneDrive using the OneDrive web location.
Open the browser you use
Go to the related OneDrive account
Navigate to the file or document whose previous version needs to be restored
Right-click and select Version History
Click Restore while selecting the version you want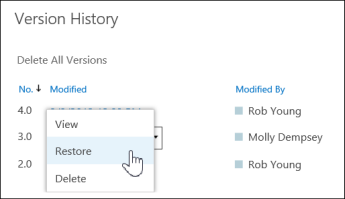 Note that when you restore a document using the above method, the current document becomes a previous version that you can restore again if you wish.
Also note that if Document Version History is turned OFF, you will not be able to restore previous versions because there are no previous versions stored. If you don't see any previous versions using the above method, try the following:
In the top-right corner, click on Settings and then on Site Contents
Place the cursor on Documents and when three dots (also called ellipses) appear, click the dots
From the submenu that appears, click on SETTINGS
Again, select Version Settings
Make sure the Create Major Versions is checked under Document Version History
Sometimes you may not be able to see the options. In that case, contact your network administrator as the person may have changed user rights.