In today's digital age, people rarely bother to remember phone numbers or email addresses in their heads. So, suddenly finding your iPhone contact list empty or numbers missing can scare the hell out of you. Fortunately, there exists a way to restore iPhone contacts via iCloud if you have deleted them accidentally. You can also restore Calendars and Reminders in a similar way via Windows 10 PC. Let's see how!
Restore iPhone contacts, Reminders, Calendars via iCloud on a PC
One of the easiest ways to recover lost contacts, Reminders and Calendars is through iCloud. For this you need to:
Go to iCloud
Open Account Settings
Restore Contacts, Calendars, and Reminders
The method will restore all stored contacts on the device but overwrite existing contacts with it.
1] Go to iCloud
Open a new tab in your browser and go to iCloud.com. There, sign-in to iCloud by entering your Apple ID and Password.
When prompted to trust the browser and allow pairing, confirm the action. Once done, you will not be asked for a verification code, the next time you sign in.
2] Open Account Settings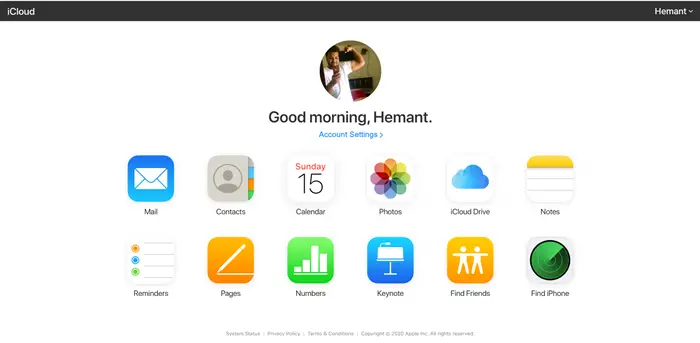 When the iCloud homepage appears, click 'Account Settings' link seen just below your profile name.
3] Restore Bookmarks
When directed to a new page, scroll down to find 'Restore contacts' link under the 'Advanced section' as shown in the image above.
Instantly, a new pop-up window will open. The window will begin searching for contacts that are stored on the cloud. Wait for a few seconds until the search is complete.
Once done, you'll see a list of all the contacts that can be restored.
Here, select the contacts which you want to recover by checking the boxes and click on 'Restore'.
Similarly, follow the same procedure to restore Calendars and Reminders by choosing 'Restore Calendars and Reminders' option under 'Advanced' section.
That's all!