If when you attempt to perform a recovery or restore operation on your HP Windows 11/10 device and you encounter the Recovery Manager error prompt with the message Restoration Incomplete, then this post is intended to help you. In this post, we will offer the most suitable solutions to successfully resolve this issue.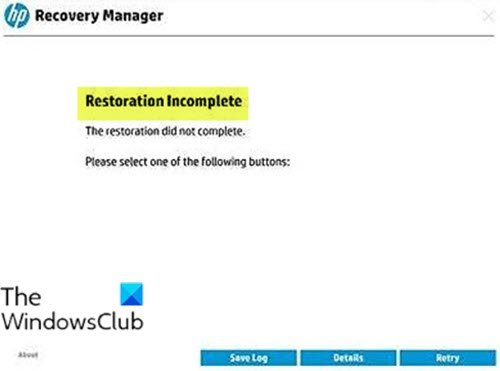 When you encounter this issue, you'll receive an error prompt with the following message;
Recovery Manager
Restoration Incomplete
The restoration did not complete.
Please select one of the following buttons
You're most likely to encounter this error if the notebook PC is configured with two hard drives.
HP Recovery Manager Restoration Incomplete error
If you're faced with this issue, you can try our recommended solutions below in no particular order and see if that helps to resolve the issue.
Perform Hard Restart
Obtain Recovery Discs from PC manufacturer
Remove secondary HDD (if applicable)
Let's take a look at the description of the process involved concerning each of the listed solutions.
1] Perform Hard Restart
A power reset (or Hard Restart) clears all information from the computer's memory without erasing any personal data. Performing a power reset might fix conditions such as Windows not responding, a blank display, software freezing, the keyboard stops responding, or other external devices locking up.
2] Obtain Recovery Media from the PC manufacturer
If for some reason, which is most likely that the recovery partition on your hard drive is inaccessible or no longer intact, of which you're still unable to perform the recovery or restore with the recovery partition, you can reach HP phone support here on hp.com to order PC Recovery USB Drives or Discs – assuming you have not previously created a recovery media of your own. Once you obtain the recovery media, you can proceed to use the recovery drive to restore your PC.
3] Remove secondary HDD (if applicable)
This solution requires you to complete the recovery with only the primary hard drive installed.
You may require the assistance of a hardware technician. Detailed instructions for removing the secondary hard drive are available in the manual for your model notebook PC.
Do the following:
Power off the notebook, disconnect the AC adapter, and remove the battery.

Remove the secondary hard drive.

Insert the recovery disc into the optical drive or power on the notebook and press the

F11

 key to boot from the Recovery Manager.

Allow the recovery process to complete.

Power off the notebook, disconnect the AC adapter, and remove the battery.

Reinstall the secondary hard drive.

Power on the notebook.
Hope this helps!