In this post, we will show you how to reset Windows Terminal customization settings to default in Windows 11/10. There is an easy way to do that. You can use Notepad and then reset Windows Terminal to the factory settings.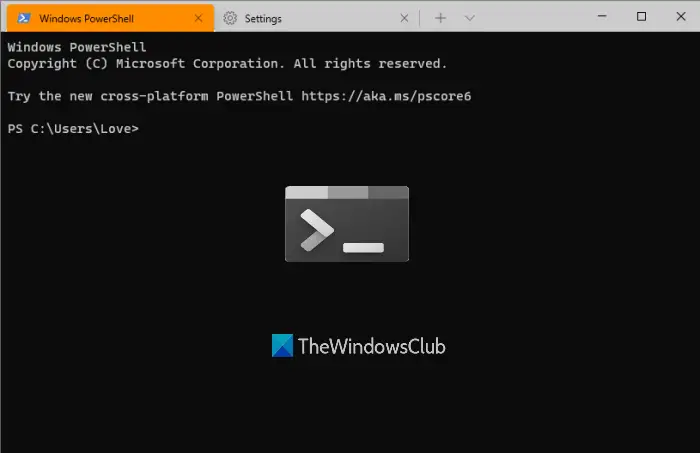 There are a lot of Settings in Windows Terminal that you can customize such as select default profile, set launch mode (maximized, focus, etc.), color schemes for terminal colors and system colors, and more. If you're experiencing some unexpected problems after changing the settings or you're not happy with the customizations, then resetting Windows Terminal settings to default might be helpful.
Read: How to Install Windows Terminal
Reset Windows Terminal settings to default
Here are the steps:
Open Windows Terminal
Access Settings page
Open Settings file of Windows Terminal
Delete all content of Settings file
Save the Settings file
Re-launch Windows Terminal.
Use the Search box of Windows, type windows terminal, and press Enter to open the Windows Terminal tool.
After that, open the Settings page of Windows Terminal. For this, click on the drop-down icon (available just before the new tab icon) and select the Settings option. Alternatively, you can use Ctrl+, hotkey.
Now you have to open the Settings file (JSON) of Windows Terminal. For that, click on the Open JSON file option available on the bottom-left part of the Settings page.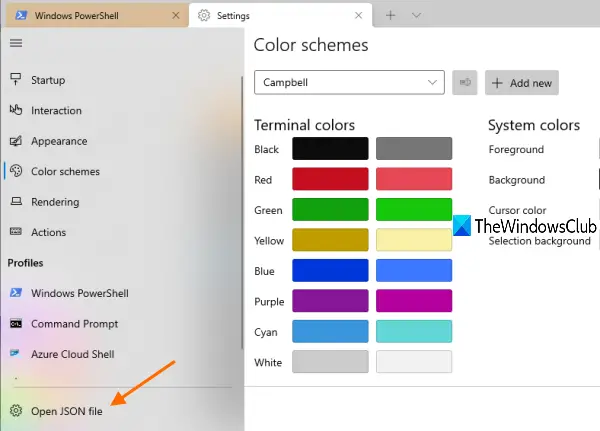 If it prompts you how you want to open that file, select Notepad from the available options, and press OK.
Read: How to customize and configure Windows Terminal settings
Now you will see the list of all the settings of Windows Terminal present in that JSON file. Select all the content using Ctrl+A hotkey and delete it. Before doing that, you can also copy all the settings and paste them somewhere so that you can restore all those settings if needed.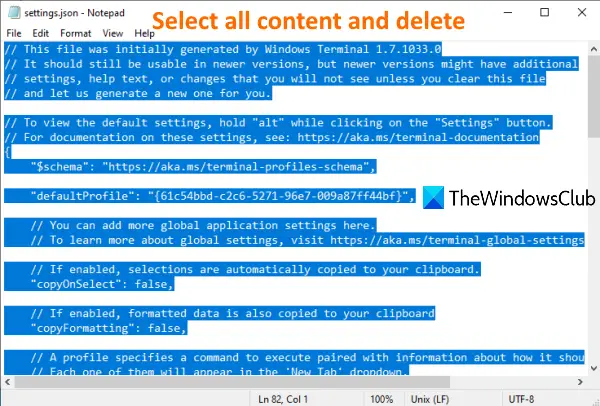 Use the File menu of Notepad and click on the Save option.
Close Windows Terminal and open it again. Windows Terminal tool will notice that the JSON settings file is empty and thus it will add default values again in the Settings file.
Hope it is helpful to reset Windows Terminal settings to default.
Read next: