If there is an unwanted object on your computer that you need to remove from your image or picture for whatever reason, then there is no need to use a photo editing software or to pay a professional to get the job done. It is possible to take advantage of a free online tool known as Cleanup.pictures.
Remove unwanted Objects from Photos
When it comes down to making the most of Cleanup.pictures, the task is very easy. Since this is a web app, there aren't many features to talk about. Just drop in your photo and make the changes, then export, and that's it.
Here are the steps involved.
1] Add an image for editing
OK, so the first thing you will want to do here, is to add your image to the app. You can either drag and drop to the open area, or click within the area to open File Explorer, when you must seek out the preferred photo.
2] How to remove objects from an image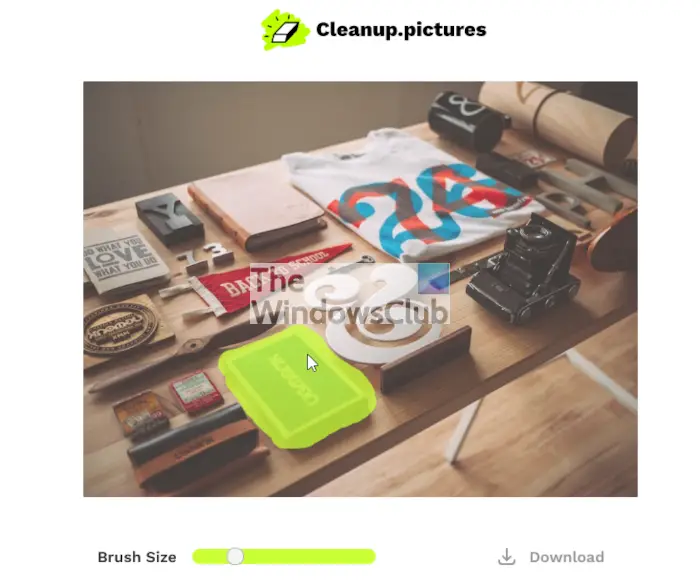 After adding your photo to the editing area, it is now time to remove unwanted objects. You can do this by selecting the correct brush size. From there, drag the brush icon over the object, wait a few seconds, and bam, the object is gone like magic.
3] Preview or switch back to the original
To have a quick look at the original photo, you can click on the button that reads, Original. To make a permanent switch to the original, then click the undo button.
4] Download the finished product
Finally, you can download the editing image by selecting the Download button.
Visit cleanup.pictures to get started.
What is the best free app to remove objects from photos?
There are many options you have to remove objects from photos. However, Photoshop and GIMP are two of the best apps you can use to remove objects. As you are looking for free options, you can undoubtedly try cleanup.pictures tool to get the job done. It is an open-source app – that said, if you have the right expertise, then you can go ahead and contribute to the code to make it better than it is right now.
How do I remove unwanted objects from a photo?
As said earlier, you can use Photoshop to remove unwanted objects from a photo. However, if you do not want to use a paid app, you can give YouCam Project a try. As this app uses AI, you do not need to do anything complex to get the job done. All you need to do is to select eh object you want to remove from the photo.