How often has it happened that we click photographs and then feel the need to remove some blemishes or pimples or defects or maybe reduce the red-eye effect?  You can always use Photoshop or some other digital image editing software. But today, I will tell you about three free tools that can help you here.
Photoshop Clone Tool Alternative
Free Clone Stamp Tool
Clone Stamp Tool in Photoshop, finds uses in digital image editing processes. For instance, it lets you selectively copy (clone) an area of a picture or an image and paste (stamp) it onto another area. However, if you do not have Photoshop installed on your Windows you are left with little alternative. Not anymore! This Free Clone Stamp Tool can help you here.
This tool helps you in retouching skin, particularly in portraits. In this way one can remove blemishes (pimples, moles, or scars), and make skin tones more even. Cloning can also be used to remove other unwanted elements, such as telephone wires, an unwanted bird in the sky, etc.
The freeware tool is pretty similar to Photoshop in function. You need to select an area using the ALT key and then work on the area that needs to be cloned. i.e., if a part of an image is removed simply by cutting it out, then a hole is left in the background. The Clone tool can fill in this hole convincingly with a copy of the existing background.
 Also, one is free to use pen options (radius, hardness and opacity) to give precise control over the size of the clone area and how the paint should be applied to the cloned area.
Some basic operations performed using Free Clone Stamp Tool include:
Removing Scratches from the images
Removing Ink/fix Stains or other unwanted stains from the photos
Clearing background elements (telephone wires, flying birds, etc.)
 How to operate the tool
Run Clone Stamp Tool from the desktop or start-menu.
Set pen options for the radius, hardness and opacity in the options bar.
Set the sampling point by positioning the pointer in any open image and Alt-clicking
Drag over the area of the image you want to correct.
Remove Photo Blemishes and Defects in Images
LifeSniffer Photo Blemish Remover
This free photo-correction tool is much similar in function and effect to Free Clone Stamp Tool however, one feature that distinguishes it from the former is, Free Photo Blemish Remover does not require you to specify a sample spot. It automatically samples around from the retouched area. The software is easy to use and as mentioned, unlike Free Clone Stamp Tool, this program does not require you to select a source sample point. All jobs are done automatically.
Remove Red-eye in Photos and Images
Free Red-eye Reduction Tool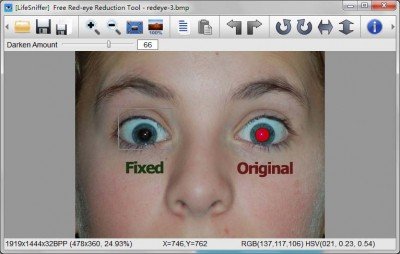 The red-eye effect is observed when the camera flash bounces off the person's retina especially when using flash to take pictures. With this Red-eye Reduction Tool, you can remove a common "red-eye" effect from your digital photos easily.
All the user has to do is use the mouse to drag and select the red-eye, the undesirable effect is fixed automatically. Users do not need to accurately select the red-eye area to minimize or remove the red-eye effect.
Thus, you can use all these 3 free image editing software to improve on images and photos, on your Windows operating system.