Microsoft Office is the most recent version of Microsoft's productivity apps. While updating your Office apps from 2013 to 2016 you have to follow some key steps. In the process, you may experience some compatibility issues. Normally, when your attempt to install Office 2016 fails, an error message typically tries to explain the cause. However, in certain cases troubleshooting it, does not resolve the issue. The best practice option then is to switch back to the old version. This post outlines the steps involved in switching back or reinstall Office 2013 after an Office 2016 upgrade on Windows 10.
Reinstall Office 2016/13 after upgrading to Office 2019/16
Open the WinX Menu in Windows 10, and click on Programs & Features.
Right-click the Office application you want to remove, and then click Uninstall.
Now, sign in to your My Account page and deactivate the Office 2016 installation.
To reinstall Office 2013, from your My Account, choose Install.
Hit the Language and install options button.


Next choose Additional install options.
Then, select Office 2013 (32-bit) or Office 2013 (64-bit) from the drop-down under the 32-bit and 64-bit versions of Office section, and hit Install button.
Thereafter, click Run.
Please note here that if you haven't removed Office 2016 before attempting a reinstall of Office 2013, you'll receive a notification reading as A newer version of Office is installed on your device. You'll need to uninstall Office 2016 before you can continue.
The install will occur in the background. Upon noticing the option "You're good to go", choose All done.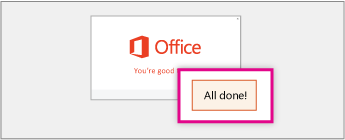 Once, you have installed Office 2013, you'll receive notifications to upgrade to Office 2016. Dismiss the notification at that time, and it will disappear until the next time you launch an Office 2013 application.
The good point about Office 2013 and Office 2016 is that when you create a document using an Office 2016 application and send it to someone who's using Office 2013, the recipient can open and edit the document in Office 2013. The same holds true for documents going from Office 2013 to Office 2016.