The E edition of Windows 7 is available in the European Economic Area, Croatia, and Switzerland. This version of Windows 7 does not include a browser, ie. it will not come with Internet Explorer installed. You will have to install Internet Explorer in Windows 7 E edition.
If by rare chance, you start facing problems with your Internet Explorer and have tried all options, including running the Internet Explorer Troubleshooter you may want to consider reinstalling Internet Explorer. Reinstalling IE should be the last option while troubleshooting Internet Explorer, as you might lose your settings and favorites. Before talking about how to reinstall Internet Explorer in Windows 7 – E and Standard Edition, you should know how to back up your favorites so that you do not lose them.
Back Up Internet Explorer Favorites
To back up the favorites, Press Alt +F in Internet Explorer. This will open the File menu. Select Export/Import. In the Export/Import dialog, select Export and click Next. In IE9, you will receive one additional step asking you to select what you wish to export. Select the check box against Favorites. Click Next and select the place to safely store the favorites. Click Next and save the file. Click on Finish to close the Export/Import dialog box.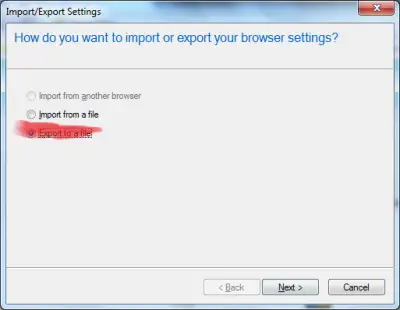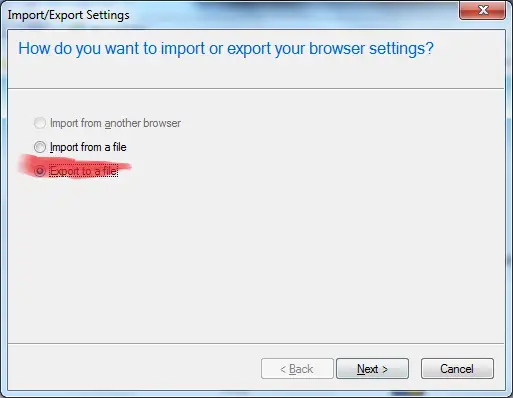 Reinstall Internet Explorer in Windows 7 E Edition
If your edition of Windows is European (E), you won't have IE installed with the operating system. In this case, you have to download an installer package of Internet Explorer from the microsoft.com site. If you already are running Internet Explorer on Windows 7 E, you have to uninstall it first – from the computer.
Uninstall Internet Explorer
To uninstall Internet Explorer:
Open Control Panel
Click Programs and Features
Select Internet Explorer from the list of installed Programs
Click on Uninstall.
Once the IE is uninstalled, run a registry cleaner to make sure no IE traces are left on the computer.
Navigate to where you have stored the downloaded copy of the Internet Explorer Installation Package
Turn off the anti-virus and firewall
Run the Internet Explorer Installation Package
After the IE is installed properly, turn on the antivirus and firewall.
This explains how to reinstall IE in the Windows 7 E Edition. For reinstalling IE on the standard edition of Windows 7, follow the below steps.
Reinstall Internet Explorer In Standard Edition
You have Internet Explorer 9 as part of Windows 7 when you install it.
To remove the Internet Explorer:
Open Control Panel
Click open Programs and Features
Click Add/Remove Windows Components
Navigate to Internet Explorer
Uncheck the check box next to it
Click OK
To install Internet Explorer again in the Windows 7 standard edition, repeat the above steps again and tick the check box against Internet Explorer (Steps 1 to 5). Clicking OK at step 6 will reinstall Internet Explorer.
If the standard uninstallation process to uninstall or remove Internet Explorer 9 does not work you may download and use a Microsoft Fix It.
Once you have the Internet Explorer installed again, remember to import the favorites using the File menu. The process is the same as explained at the beginning of this article.
These IE troubleshooting links may also interest you: