There are several ways using which you can recover deleted passwords from a browser if deleted accidentally. The one that works most in the case of Chrome browser has been described below. So, let's proceed to see how you can recover saved passwords from synced devices in Google Chrome browser without using any freeware.
Recover saved passwords from Chrome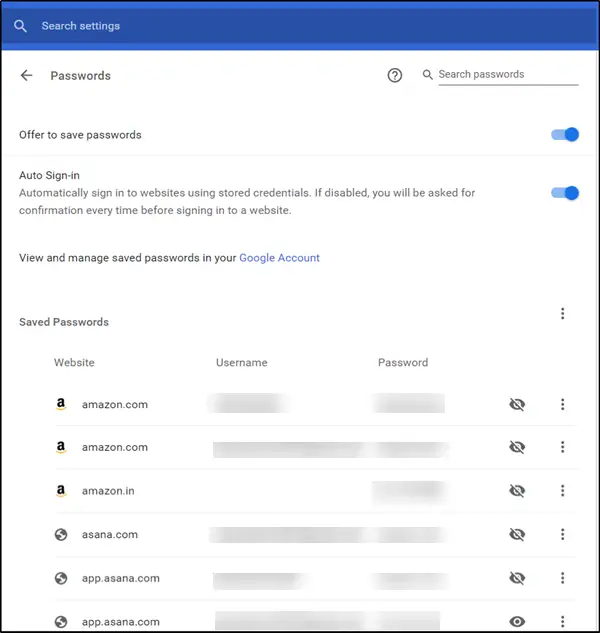 Before beginning to proceed, make sure you have Chrome installed on at least one other device in use, like a tablet or a Smartphone. Also, it is important that the device must not have been used immediately after the collapse (password deletion) has occurred. Then, you can recover the deleted passwords by-
Enabling the Sync option
Resetting Sync
Turning on Sync.
I assume we all have at least one Google account that we use to avail of the services and products offered by Google. So, if you are using the same Google account to log in to different devices then you are good to go, and you can recover your deleted passwords.
1] Enabling the Sync option
Go to the other device where Chrome is installed and click on 'Menu' (visible as 3 dots) and choose 'Settings'.

Next, go to the 'People' section and see if the 'Syncing' option is enabled. It should show a message saying Syncing to …..with a green circle just adjacent to it.
2] Reset Sync
When seen, choose 'Sync and Google Services' and under its 'Sync' section, locate 'Data from Chrome Sync' option.
Hit the option to be directed to a new tab.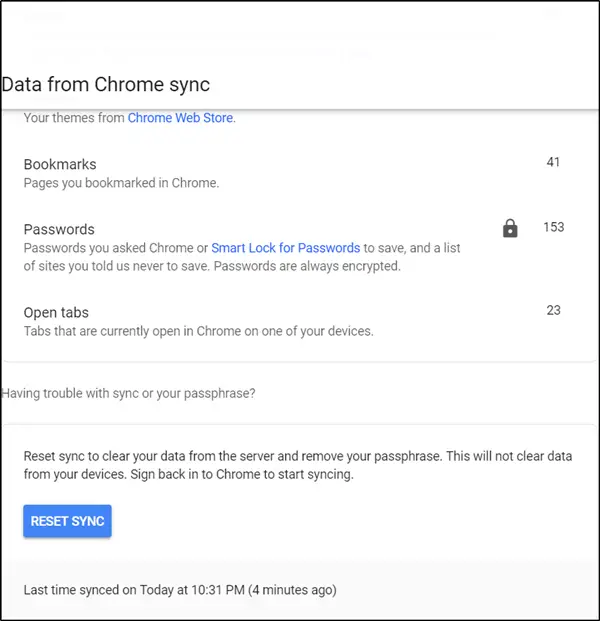 Scroll down to find 'Reset Sync' button. Hit the button. When done, it will clear your data from the server and remove your passphrase. This will not clear data from your devices, however.
So, to get the deleted passwords back, simply switch to the device on which you accidentally deleted the passwords and sign back into Chrome.
3] Turn on Sync
Now, just go to the 'Settings' screen, and hit 'Turn On Sync' button, adjacent to your profile picture.
After a few seconds, look at the Passwords management screen. You should find all the deleted passwords being populated again, following the completion of the syncing process.
Hope it helps!
TIP: You can recover Chrome browser passwords using ChromePass.