When software crashes the hardest part is losing whatever you were working on. It is always advised that you save as you work, however, you can get so deep into the work, you forget to save. As with any software, Illustrator can crash without warning for any number of reasons. It is always good practice to save as you work go to File then Save or press Ctrl+Save as you go along. Recovering Illustrator files after a crash will help save valuable time as you will not have to redo a project.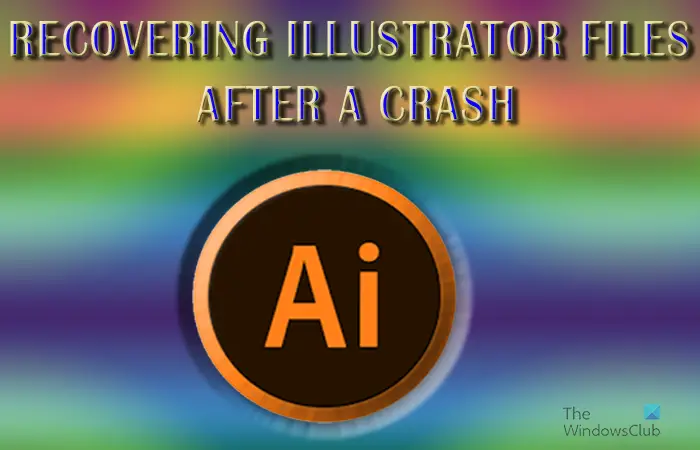 How to recover Illustrator files after a crash
In some cases when Illustrator crashes, it will just close unexpectedly and in other cases, it will just freeze and you will have to force close it. Illustrator may crash for various reasons, some may be avoidable. Illustrator may crash because the system requirements are not met. The RAM may be low due to too many other open software. Illustrator can crash because the computer may be overheating due to poor ventilation. Illustrator may crash because of damaged fonts. Illustrator may also crash because of another file being updated and causing conflict. There may be other reasons for the crash, however, losing unsaved files is the main reason for concern.
Restart Illustrator
Locate the recovery folder
Manage auto-recovery settings
1] Restart Illustrator

When Illustrator crashes, the first thing to do is restart the software. If Illustrator refuses to restart, force close it by pressing Ctrl + Alt + Del. This will bring up a black screen with some options, press Task manager. In the Task manager window look for Illustrator. When you have found Illustrator, click it and then press End task. When this is completed, restart Illustrator. When Illustrator is restarted, all the documents that were opened when it crashed will open with Recovery after the name.  You should save all the recovered files by going to File then Save as, choosing a file name, and then saving.
2] Locate the recovery folder in Illustrator
You may have closed Illustrator without saving the recovery files, but you can still find the recovered file. The recovered files are saved in the Illustrator autosave folder. In some versions of Illustrator you can locate the  recovery folder by following the steps below:
Type %AppData% in Windows Search and hit Enter.
Navigate to the following location:
Roaming\Adobe\Adobe Illustrator [version] Settings\en_US\x64\DataRecovery
You may have chosen to have your autosave files located at another place. Search for the location and restore from there.
3] Manage Auto-recovery settings in Illustrator
The options that are available for autosave are dependent on the version of Illustrator that you have. The autosave option is enabled by default in the Preferences. It is best to keep it enabled. To enable or disable the autosave option, go to the top menu bar and click Edit then Preferences then General, or press Ctrl + K.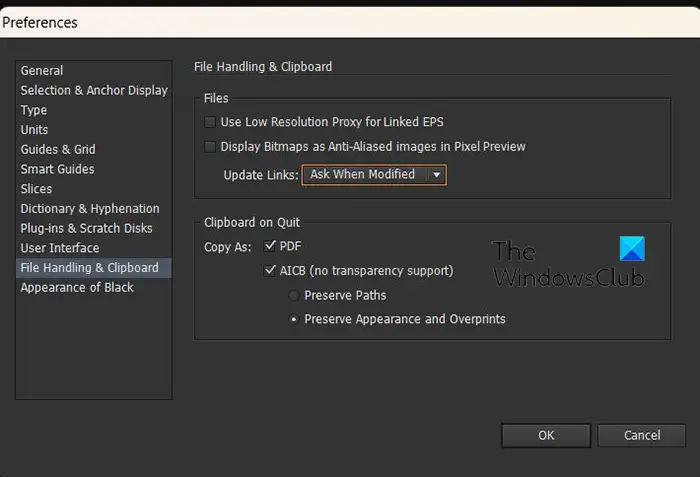 File handling and clipboard tab for Illustrator on CS6

File handling and clipboard tab for Illustrator on CC
The Preferences window will open to the General section. Go to File handling & Clipboard then click Automatically save recovery information every: then choose the time frame. By default the auto-recovery save interval is 10 minutes, you can change it. If you make the time too short, it may disturb you as you work especially if you are working on a complex document that is resource intensive. On the other hand, if the time is too long, it could cause the file to not be autosaved if Illustrator crashes between the time it was set to autosave.
Depending on the version of Illustrator that you are using, you may have other options. Below are options in the File Handling & Clipboard, you may see or not see some based on the version of Illustrator that you have.
Automatically Save Recovery Data Every
Ensure that this check box is selected.

In the time interval drop-down next to this check box, select an appropriate time interval after which Illustrator should save a backup of your work. The backup files will not overwrite the original one.

Folder
If you don't prefer to save backup data in the given default location, click Choose and select a different location.

 

Ensure that you have read/write permissions on the folder and it is not network mounted.

Turn off Data Recovery for complex documents
By default, this check box is disabled. Illustrator may pause when backing up large or complex files and slows down or interrupts your workflow.
Automatically Save Cloud Documents Every
By default, this check box is enabled. You can control the autosaving of cloud documents through this check box. Select a time interval after which the Illustrator cloud documents should be autosaved.
How do I recover an unsaved Illustrator file after crashing?
To recover the unsaved Illustrator file, restart the program. It will recover your artwork using the auto-saved recovery feature. As you reopen Illustrator after the crash, the unsaved file with the Recovered suffix will be visible on the top bar of the program.
Read: How to edit individual letters in a word in Illustrator
Does Adobe Illustrator save automatically?
By default, Illustrator will autosave your documents as you work. Depending on the version of Illustrator that you are using you will be able to set the duration that you want to autosave. Here are things to note when setting the auto-save time interval.
Setting a time interval that's too short may interrupt your flow as you work, especially if you're working on large or complex files.
Setting a time interval that's too long may increase the risk of data loss if Illustrator crashes. Choose a value that works best for you.