This article will show you how to save a file as SCG, DXF, DST, and CDR in Illustrator. You may be good at Illustrator but you need to share your Illustrator document with persons who use other software. This is where saving a file as SVG, DXF, DST and CDR in Illustrator comes in handy. These are commonly used file types for other vector-based software.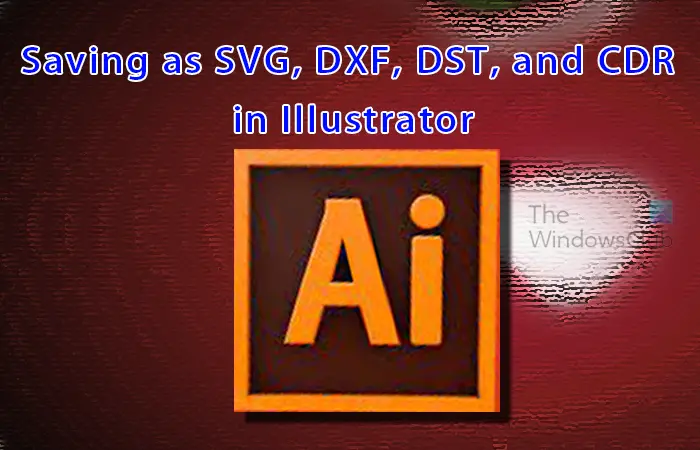 While Illustrator cannot save as some of the file formats, you are still able to use the Export function to save as these file formats. Whether it is saving as or exporting, these file formats can be used on other software.
How to save file as SVG in Illustrator
Scalable Vector Graphics (SVG) uses vector data to create images instead of depending on pixels. this is great for graphics that need to keep their quality when they are scaled. Illustrator can save as SVG from the Save as dialogue. Illustrator offers two SVG options in their Save as dialogue SVG and SVG Compressed (SVGZ). The method to save in SVG and SVG are the same.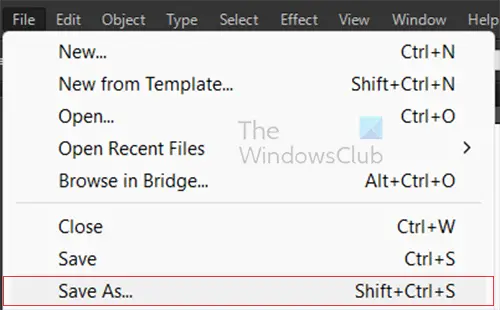 Go to the top menu bar and press File then Save as or press Shift + Ctrl + S.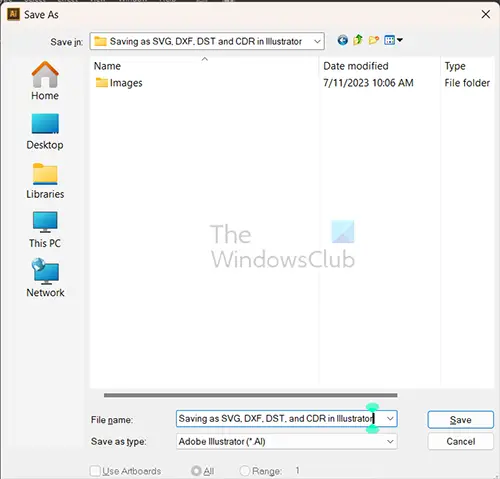 The Save as Dialogue window will appear, here you will choose the name you want for the document, the save location, and the Save as type.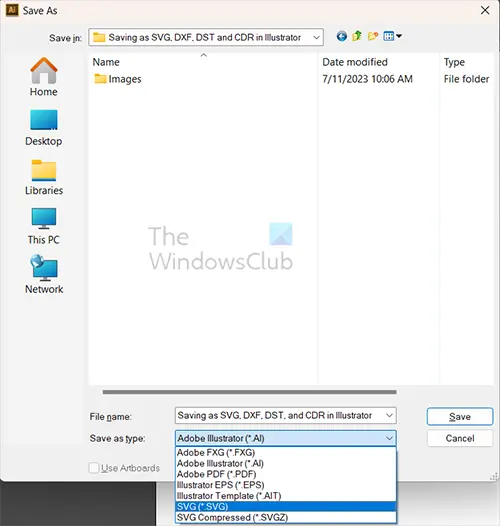 The Save as type is the file format that you want. Click the drop-down arrow at Save as type and choose the file format. You can choose SVG or SVGZ as the file format. When you are finished press Save.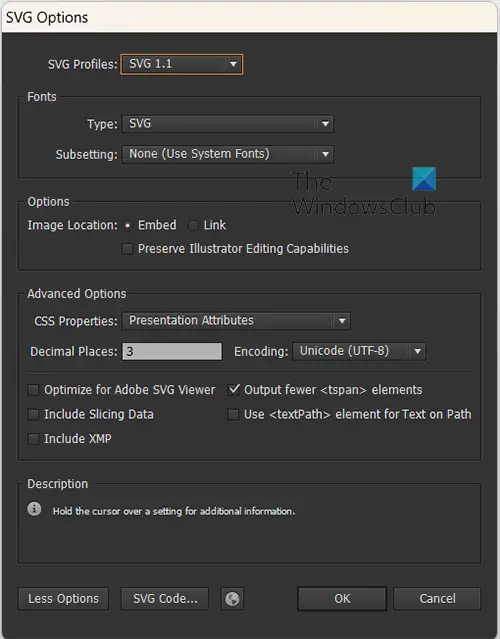 The SVG or SVGZ options window will appear, here you will see the default options. You can make whatever other changes you want to make then press Ok.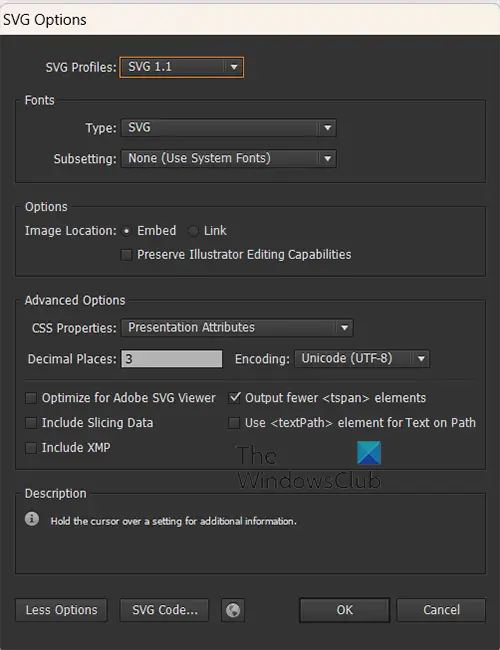 SVGZ options window
You will notice that the default options for both are the same in their options window.
SVG vs SVGZ
SVG is a file format that is accessible by a lot of well-known graphic software. When an SVG is saved with compression by gzip it is known as SVGZ. An SVGZ file is 20-50% smaller than the original file.
How to save file as DXF in Illustrator
While Illustrator cannot save as DXF it allows you to export your file as DXF. Drawing Interchange Format or Drawing Exchange Format (DXF) is a CAD data file that was developed by Autodesk. DXF allows files to be usable between AutoCAD and other software.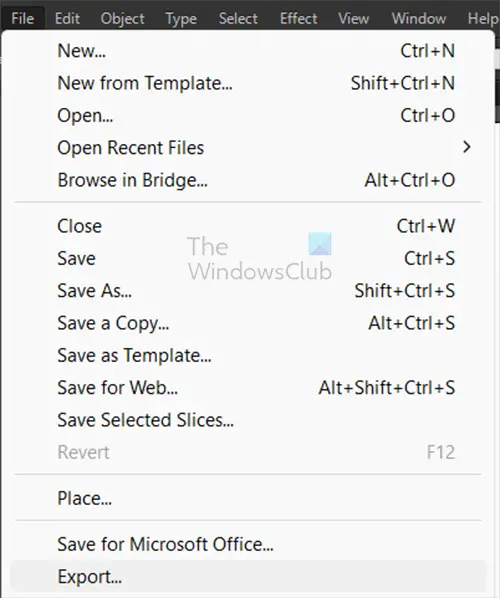 To save your file as DXF go to the top menu bar and press File then Export.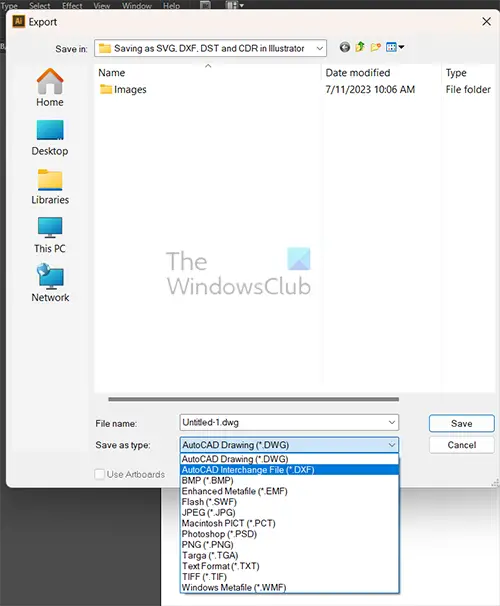 The Export window will open and here you can choose the file name, save location and Save as type.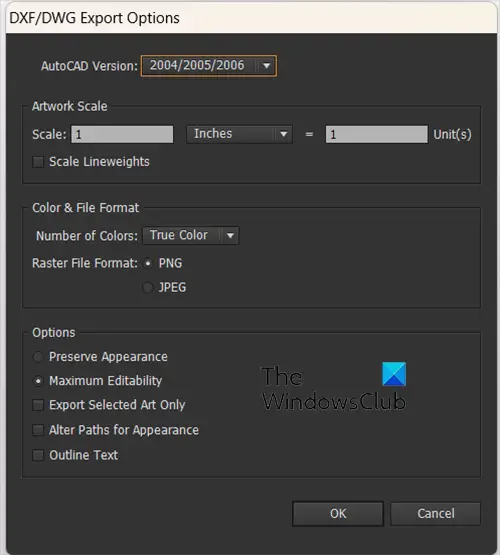 The DXF/DXG export options window will appear, choose the additional options if you need to then press OK.
How to save file as DST in Illustrator
Data Stitch Tajima (DST) is a type of file that is used to program computerized embroidery machines. DST files contain the instructions for the embroidery machine, telling it where to stitch, what color thread to use, and other important details. DST files are created and opened with AutoCAD's built-in Sheet Set Manager tool. While Illustrator cannot save as or export DST files, it can Export as SVG files. SVG files can be used by a wide range of embroidery machines.
How to save file as CDR in Illustrator
CDR is a CorelDraw file that is used for CorelDraw documents. CDR files are made to work with CorelDraw software. Illustrator cannot save as or export as CDR. If you want to open a CDR file with Illustrator you would have to first convert it to an AI file in CorelDraw then you will be able to open it with Illustrator.
Read: How do I convert an Illustrator file to an older version?
What is the DST file format?
A Data Stitch Tajima (DST) file is an AutoCAD file that contains information for defining sheet sets. These are stored in the default sheet set storage folder, AutoCAD Sheet Sets. DST files do not contain the actual drawing layouts but refer to these from selected DWG and DWT files associated with these sheet sets.
Can Illustrator open CDR files?
CDR files are for CorelDraw products. CRD files that are created with CorelDraw versions 5-10 may open in Illustrator.  CorelDraw versions 5-10 are quite old versions of CorelDraw. If you have CDR files that you want to use in Illustrator, you would need to open them in CorelDraw and then convert it to AI format. The Ai format will then be able to open in Illustrator.