Quick Parts is a handy feature in Microsoft Word that can be used to create pieces of content, including AutoText and paste them directly into email messages of Microsoft Outlook. The feature is essentially designed to work in both, email signatures and Microsoft Office templates. If you find that the feature has immense application in your daily work and would like to extend its functionality to Outlook 2016, here's how you can do it.
Create Quick Parts in Word & Outlook
The Quick Parts option is visible under the 'Insert' tab on the Ribbon bar of Word.
To use it for Microsoft Outlook, open the app and create a new message. This is the easiest method available to quickly enable or create Quick Parts for Outlook. Here, you add few lines of text that you would like to use as a template. Once it is done, follow the steps below.
Select the entire lines of text and hit the Insert tab.
Next, choose Quick Parts and select the option that reads 'Save Selection to Quick Parts Gallery'.
The action when confirmed will open up the Create New Building Block dialog box as seen in the screenshot below.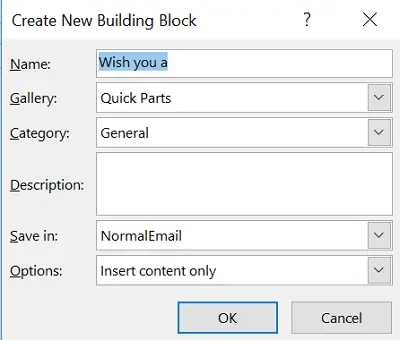 Fill in all the necessary details, and you're done!
Now, to use the same and save both, time and efforts while writing an email in Microsoft Outlook, create a new email message and place the cursor wherever you'd like to insert the 'Quick Parts' you've just finished creating.
After that, go to the Insert tab on the ribbon, click on Quick Parts, and then select the thumbnail that matches the entry you added. Alternatively, you can search the same entry by typing the initials of the entry.
Likewise, if you would like to delete the entry from the list, select the entry, and then click Delete. When prompted with a warning message, ignore it and click Yes. You should know that the building block you delete will no longer be available in galleries, but its content might still appear.
Hope you find this tutorial useful.