Thanks to the Portable Start Menu that I have, most of my important tools and applications are always at a glance. Portable Start Menu, as the name explains is a portable freeware that helps you launch applications quickly from the System Tray of your Windows 11/10 PC.
Portable Start Menu for Windows PC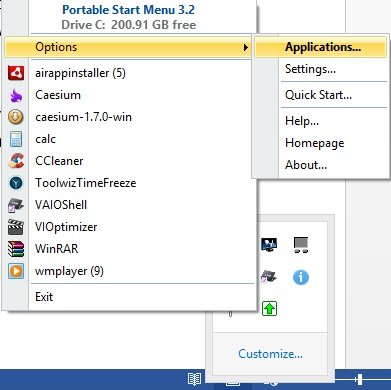 The tool creates a new Start menu on your computer, which further provides you quick access to frequently used programs, applications, games, etc. installed on your PC or USB device. You can also divide your favorite programs into various categories to get even faster access.
Being completely portable, the freeware can be copied on a USB drive and launched on any PC directly without prior installation. You can install it locally on your hard disk and get an additional start menu on your PC or can also install it in on your USB stick to launch portable applications easily on your various computer systems.

Once you have downloaded and installed it, the application icon lands on your System Tray. You can then launch any of your programs right from your System Tray with just a single click.
You can add new applications to the start menu easily. Just click on the tray icon -> go to Options > Applications. This will open a new window where you can browse and add any new program to the start menu.
To add a new program, click on 'New Application' and add the Application Name, location of the application, and the parameter. You can use a custom icon for an application and also can define the Windows state. The Portable Start Menu also offers a 'Quick Start' function which helps you access any program through the shortcut.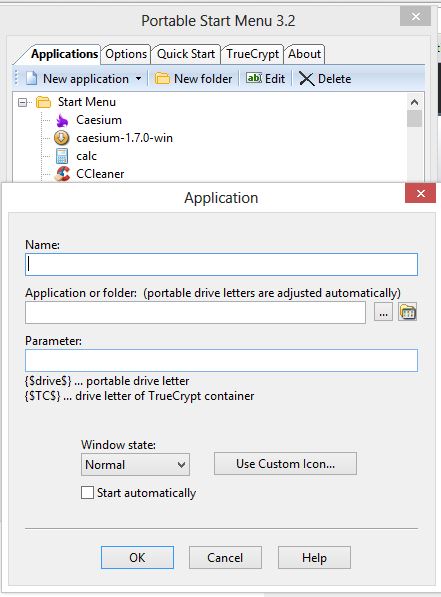 PSMenu also helps you launch the portable applications stored in your USB drive. To launch the applications directly from your USB drive, you just have to set the PSMenu to auto-start on inserting the USB drive. It can search out and find all the.exe files and add it to 'Start' menu. Besides EXE files Word or Excel documents, for example, can also be added to the list.
Main features:
Organize and launch applications via a tray menu
Closes running applications on USB-Sticks automatically
Checks if an application has been changed before execution
Quick Start functionality to start applications with a few keystrokes
Automatically mount/dismount TrueCrypt container
Runs on USB-Sticks without leaving any traces on a host PC
Portable Start Menu is Freeware
Additional functions on USB sticks:
Create an autorun file to automatically launch Portable Start Menu
Close running applications when you exit Portable Start Menu
Safely remove your USB-Stick
PSMenu free download
Portable Start Menu is a free download for Windows systems only. Overall this freeware quickly builds up your own portable start menu accessible right from the system tray of your PC. You can download PSMenu here and organize your programs in a simple menu system and launch them via a tray icon. Try it and share your experience.