Breaking of data cables and phone cables is a common problem. If you are searching for how to prevent your data cable from breaking, this article would be helpful for you. Data cables are usually fragile. It doesn't matter whether you buy the cheapest data cable in the market or the most expensive one, breakage is equally common. Usually, it isn't worth repairing the cable; thus it is a total loss of money.

Prevent Data Cable from breaking
What you can do to prevent Data Cable from breaking is:
Do not pull the cable for any reason
Do not use your phone while charging it
Keep your computer table clean
Buy short cables or use rubber bands to tie them up
Use cable protectors
In this article, we will discuss the most common causes of breakage of data cables and possible prevention for the same.
1] Do not pull the cable for any reason
Some people have a habit of unplugging a charger by pulling the cable. You should always pull from the plug and not the cable. This is one of the most common reasons for the breaking of data cables.
2] Do not use your phone while charging it
If you are using your phone while the cable is attached, there is a high chance that you might tug on the cable and break it. A good practice to avoid breaking of data cables is to charge your phones when they are idle. Also, keep them in a table which isn't as messed up.
3] Keep your computer table clean
A lot of people break their data cables because it gets entangled with other cables. This is common when you have attached many peripherals via cables on the same computer desk. Thus, keep your computer table clean.
4] Buy short cables or use rubber bands to tie them up
The reason most cables get entangled is that they are longer than needed. You will need to manage them accordingly.
While it is always advised to buy shorter cables, that isn't usually a choice since data cables are usually a part of the peripheral's package. In case you have a long cable, keep most of it tied in a rubber band and use no more than the length you need.
5] Use cable protectors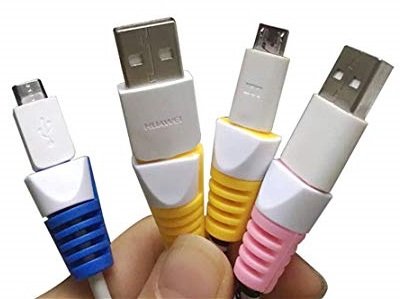 The cable usually breaks between the point between the adapter (or plug) and the cord. Cable protectors shift the movable joint a little upwards in the cable and also increase the length of the joint, thus reducing chances of breakage.
We hope these safe practices help you in saving your precious data cable.