We have already seen and tested some of the best features of Word till now, be it creating and sharing an Office document via Microsoft's integrated cloud service OneDrive or inserting a template/video into the Word document. What we missed in the earlier part and possibly aim to cover now is how the Office suite allows a Word user to collaborate from multiple locations. Let's begin!
Present a Word Document Online
The new Word has added an interactive communication channel such as IM which makes it possible for you to create a complete real-time collaboration experience. So, for sharing any document with others and creating a real-time collaboration experience simply,
Go to the File menu of your Word document, choose Share and then, Present Online.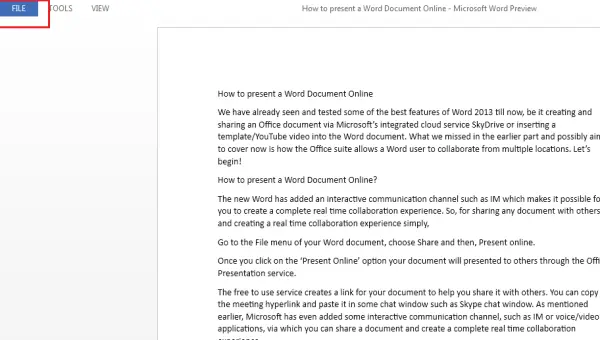 Once you click on the 'Present Online' option your document will presented to others through the Office Presentation service.
The free-to-use service creates a link for your document to help you share it with others.
You can copy the meeting hyperlink and paste it in some chat window such as Skype chat window.
As mentioned earlier, Microsoft has even added some interactive communication channel, such as IM or voice/video applications, via which you can share a document and create a complete real-time collaboration experience.
After the link is created and pasted into the chat window, your attendees will see the document while you are presenting online. Upon clicking the link, they will see a browser window opening up, display the content which you intend to share with them. It will be then available for download too. No setup is required for this process and the attendees do not need to have Word or any other product installed on their computer for the purpose.
Once you are ready to start the online presentation, just hit the Start Presentation button.
After you have finished the online presentation and would like to end it, click on End online presentation button.
This is how you can present a Microsoft Word 2013 document online and create a real-time collaboration experience.