If your PowerPoint presentation becomes Pink or Purple in color when shared on Teams or on other occasions, then this post will help you. A while back some users have come across an issue relating to both Microsoft PowerPoint and Microsoft Teams. Apparently, whenever the user tries to share a PowerPoint slide through Microsoft Teams via PowerPoint Live, the entire slide becomes pink. Strangely, the preview slides look fine, but the slide that is being shared is usually the one that changes to pink. The question is, then, what is the cause behind this, and can be fixed? Well, we can say for certain that this problem is fixable.
Now, before we begin, we suggest restarting your computer, then attempting to share your PowerPoint slide through Teams again to see if that works. We say this because, at times, a simple restart could be all that is needed to get rid of the problem. You can also uninstall and reinstall Microsoft Teams on your Windows 11 computer.
PowerPoint presentation becomes Pink
If your PowerPoint presentation becomes Pink or Purple in color when shared on Microsoft Teams or on other occasions, here's what you need to do:
Disable GPU hardware acceleration in Teams, or
Disable GPU hardware acceleration in Windows
Disable GPU hardware acceleration in Teams
In most cases, this problem can be fixed by simply disabling GPU hardware acceleration in Microsoft Teams. Let us explain how to accomplish this right now.
First, you must launch the Microsoft Teams app on your computer.
From there, please click on the three-dotted menu button that sits next to your profile picture.
A drop-down menu will appear promptly.
Select the Settings option from that menu.
A new window will appear within the Teams app right away.
From that window, then, please go ahead and click on the General tab.
Look to the Application section and untick the box next to Disable GPU hardware acceleration.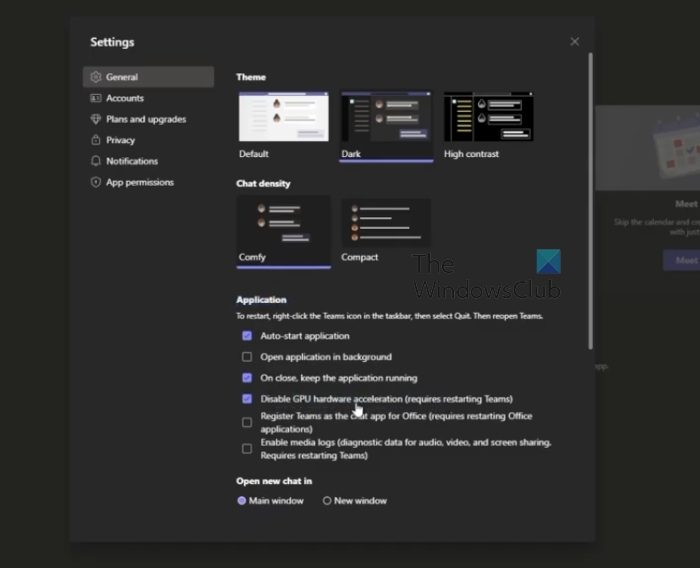 Restart the app right away, then attempt to perform the actions you were doing with PowerPoint before.
Disable GPU hardware acceleration in Windows
If the above fails to work as intended, then our next solution here is to disable GPU hardware acceleration in Windows 11. Let us explain how to get this done in great detail.
Right-click on your Windows desktop.
When the context menu appears, select Display Settings.
The display settings menu should now be visible to you.
Navigate to Advanced display settings.
Next, you must click on Display adapter properties for Display 1.
Right away the Graphics Properties box will appear on the screen.
Click on the Troubleshoot tab, then after that, select the Change Settings button.
Finally, drag the pointer to the left to disable hardware acceleration. Hit the OK button to confirm your selection.
READ: Use Morph Transition and Crop To Spotlight parts of PowerPoint slide
What is PowerPoint Live team?
PowerPoint Live in Teams is an interesting feature that combines the best aspects of presenting in PowerPoint with the collaboration and connection of Microsoft Teams meetings. It works quite well and should be a boon for those in business who work with several team members.
Why is my PowerPoint not showing in Teams?
Some folks have come to realize that their PowerPoint is not appearing in Teams, so what should they do in such a situation? Well, click ALT + TAB to return to the Teams window. From there, go to the sharing options, then select the window that is displaying the slideshow. Ensure the slideshow window is chosen instead of the regular PowerPoint window.