Why learn Adobe Illustrator? Adobe Illustrator is a very versatile design software that can be used both for personal and business. You don't have to be a professional or have a vast knowledge of Illustrator to do a lot of things in Illustrator. You can learn the basics and as you do designs you will learn and discover more.
Should I learn Photoshop or Illustrator first?
It is better to start with Adobe illustrator first as it has a smooth learning curve. Once you have mastered it, you can move to Adobe Photoshop to learn all that it has to offer.
Why learn Adobe Illustrator?
The more you can do for yourself, the more you can use the cash you save for something else. You may also use the skills as another stream of income. Below is a list of things that you can do with Illustrator for Business or Personal. Let me show you 35 reasons to learn Adobe Illustrator. You can use this powerful software to create:
Logos
Business Cards
Social Media Graphics
Blog Post Templates
Poster or Flyer
Social Media Banners
Infographics
Branded Icons
Buttons
Thank-you Notes
Invitations
Printable Items
Custom Products
Newsletter Banners
Email Signatures
Facebook Ads
Brochures
Handouts or Coupons
Gift Cards
Print Ads
T-Shirts
Postcards and Mailers
Signage
Video Thumbnails
Stickers
Media Kit
Worksheets
Shelf Organizers
Welcome Packets
Digitizing Hand-Lettered Text
Digital Illustrations
Children's Book Illustrations
Package Designs
Die Cut Guides
Book and Magazine covers
1] Logos
Logos are the face and signature of a business. There are so many things that customers, potential customers, investors, and potential investors get from looking at a logo. It is therefore very important to plan and execute a proper logo. However, getting professional help with a logo can be quite costly, so knowing how to make one can save you some money. Another advantage of knowing how to design logos is the fact that you can evaluate logos built by others to know if the logo makes sense.
2] Business Cards
Business cards are little summaries of your business that you hand out to potential clients. Business cards are important as they can be easily given to potential clients who have the business information for later use. Getting your business card to the right person at the right time can mean getting lifelong clients. If your business is good people will continue to advertise for you. One business card to the right person can go a long way. Learning to do your business card or making business cards for some extra income can be very helpful.
3] Social Media Graphics
Illustrator is not only great for printed items, but it is also great for designs that will be used online. Illustrator can be used to make social media graphics for your business or personal use. Illustrator can make the same design in multiple sizes so that it can fit any of your social media sites. Creating catchy social media graphics will be more attractive than plain text and you will soon have more likes and followers.
4] Blog Post Templates
Templates are great for business and personal use. They make life so much easier because they save lots of time. For each blog, you just change the picture and words and post. Templates are also good to use because it keeps texts and designs uniform and consistent across all platforms.
5] Poster or Flyer
Posters or flyers are great ways to advertise your business or for personal use. They can be either distributed by print or distributed digitally. They can be used to advertise events, promotions, or any other information that you want persons to know. They can be designed in Illustrator and printed at a print shop or on your own printer.
6] Social Media Banners
You can use Illustrator to create professional-looking banners. Illustrator can be used to create banners that are uniform and cohesive so that your social media accounts have one consistent look.
7] Infographics
Here is something that may or may not surprise you, if you put your information or blog as a graphic of your social media account, it will get more reads and shares. Infographics are more interesting and grab attention quicker than regular text blogs. For example. Graphics are easier to read and process in the brain than text. Infographics would use graphics to represent words, so it is easier for a person scrolling through to get the message. Another point is that we all secretly love to read books and information that has pictures. A blog or content that is straight text will be less attractive than one that is a mixture of text and graphics. With all that being said, it would be easier and cheaper to be able to make your own infographics for your blog sites.
8] Branded Icons
Branded icons are a great way to add life to your website or blog site. Branded icons are little pictures that represent words. They can be used to represent categories on your website or blog site. For example, a hardware website may use branded icons that look like hardware items to be linked to different categories of items. This visual representation can add some interest to the website and people will easily find what they are looking for. Branded icons can also leave a lasting image in a person's mind, and they will always remember your blog or website.
9] Buttons
You can spice up your website or blog site by creating little buttons. You just need to use Illustrator to create custom buttons, place them on the website and add a URL so that when clicked they will take the user to another section of your website.
10] Thank You Notes
You will have persons who have been a help to you in some way or some great clients that you just want to thank. Using Illustrator to create a great thank you note is a nice way to reach out and show appreciation. Persons will appreciate it more when they see the care you took in creating the thank you note.
11] Invitations
At some point, everyone will have an event and will want invitations. You may also have family members and friends who need invitations to a wedding, or some other event and you can contribute by using Illustrator to make the invitations.
12] Printable Items
Printable items are great ways to show appreciation and to get some advertising out. Printable calendars, bookmarkers, and other items can be used to show appreciation and advertise your business.
13] Custom Products
Custom products are great way to add some personality to your items. Some companies that will allow you to send in your design and they add it to items like mouse pads, bags, and other products, these can set your business apart or make your gaming station at home look good. Illustrator can be used to design the graphics and you can have the company print them. There are also home small home print and transfer machines that can be used at home to customize your products.
14] Newsletter Banners
You may have a newsletter that you send out digitally or in print. You can use illustrator to create a nice banner for your newsletter.
15] Email Signatures
An email signature is a great way to add some personality to your email. It can also be a great way to add advertisements to your email. You can use Illustrator to create a nice custom email signature. The email signature can be made to have a link so that when it is clicked it takes the user to a web page of your choice.
16] Facebook Ads
You can use illustrator to make the ads that you want to put on Facebook. You can create multiple variations of the same design so that you have multiple options to choose from. When someone else designs them for you, it can be a pain to have them create multiple designs for you to choose from, and it may be expensive too.
17] Brochures
Brochures are great ways to get information out. They are small and can be designed in so many ways. They can be designed in different colors and different folds to fit your taste.
18] Handouts or Coupons
Your business may have a physical location or even online. You can use Illustrator to design handouts or coupons to attract customers. The handouts may be advertising a grand opening or sale or a way to sensitize persons about your business. Coupons may be offering discounts and free items if the coupon is shown at the store or if the code is used online. The handouts and coupons are great ways to get to persons who may not be so tech-savvy and persons who may prefer the physical store and paper.
19] Gift Cards
Gift cards are a great way to attract clients and treat family members. You can get clients or family members to choose their own gifts for birthdays. Weddings, anniversaries, and other occasions. Businesses can use gift cards to reward loyal customers or as a means of saying sorry for a bad experience. It is an advantage to be able to use Illustrator to design the look of your gift cards.
20] Print Ads
Lots of people are moving to digital advertising. However, there are still customers to be had with print advertisements. Lots of people still enjoy the feel of paper and they will not mind printed ads. The local newspaper can be a great place to use printed ads as inserts to reach readers. Illustrator can be used to design these printed ads to reach these customers.
21] T-shirts
There is a trend going around where people can design t-shirts and sell them online. They just need to design, and the website will print and send out when the customer buys. Being able to do great designs for the t-shorts will attract more people to buy. You can also print your own t-shirts at home with your own designs. You just need a computer, Illustrator, an inkjet printer, a heat press, or your iron and transfer or sublimation paper. You would be surprised how well you can design and print some great t-shirts that could eventually be a business. T-shirts are a great way to advertise your business and get people to advertise your business. You can use illustrator to design and print your t-shirts at home for the next family reunion. T-shirt mockups with the picture or logo can be outlined in Illustrator so that you can have an idea of what the finished product would look like.
22] Postcards and Mailers
Postcards and mailers are great ways to get the word out there about an event or product you want people to know about. You can use Illustrator to design these and send them out to people. You can share your next vacation with friends and family members by taking interesting photos and using Illustrator to make postcards to share.
23] Signage
Signs need to be big and stand out so that people can see them. Illustrator is great for signage because Illustrator creates vector images and vector images can be made very large without getting pixelated. This makes Illustrator great for signage.
24] Video Thumbnail
Video Thumbnails are more important than you might think. Video thumbnails are what people see when they look at a video before playing it. The video thumbnail gives the viewer an idea of what the video is about. A good video thumbnail will attract more viewers. Go to YouTube and you will see that you view the thumbnail before you watch the video.
25] Stickers
Stickers are great to make and to have. They can advertise your business or personalize your water bottle, laptop, bags, books, or almost anything. Learn to use Illustrator and you can make your own stickers for business or personal.
26] Media Kit
Illustrator is a great program to use when you want to make your media kit. A media kit is a collection of important information that a media that is advertising your brand would need. The media kit would include your logo, pictures of products, and anything else that the media would need. The media kit will need graphics to go with the information it contains, and Illustrator is just the right tool to use to create impressive graphics.
27]  Worksheets
Whatever is your field of work, you can create worksheets using illustrator. Whether you are a teacher, blogger, or service-based business, Illustrator can help you put together your worksheet.
28] Shelf Organizers
From a large warehouse to your kitchen cupboard, who doesn't hate to see clutter or things where they are not supposed to be or can't find them at all. Illustrator can be used to create cards that can be used to organize shelves. These shelf organizers will help workers or your family members out things where they belong and know where to find them. They save the hassle of wasting time looking for things all over the place.
29] Welcome Packets
Every organization at one point or another will have to welcome new members. Making the new members feel welcome is a good start to making them feel at home. Illustrator is a great program for making attractive welcome packages to make your new members feel welcome.
30] Digitizing Hand-Lettered Text
Those who are artists and write beautiful hand lettered texts with or without a stencil can now use illustrator to digitize them. Just draw on any surface, take a picture or scan if possible then use Illustrator to draw over the text and turn it into a vector that can be easily reproduced for digital or print media.
31] Digital Illustrations
Children's books are great places for illustrations, and with the rise of digital books, there is a need for digital illustrations. Illustrator is the perfect program to use to create digital illustrations. Digital illustrations are good for those who may not be able to draw on paper but have an interest in art. Illustrator is a great way to make art.
32] Children's Book Illustration
Illustrator is a great way to create illustrations for children's books. Children are visual readers as well and their books must have interesting pictures to keep them interested.
33] Package Design
Designing packages for products is a great way to use Illustrator. Packaging is very important and no matter how good the product is, if the packaging is not well done, customers will not be attracted. You may have some great ideas for your product packaging and being able to make your own is very good.
34] Die Cut Guides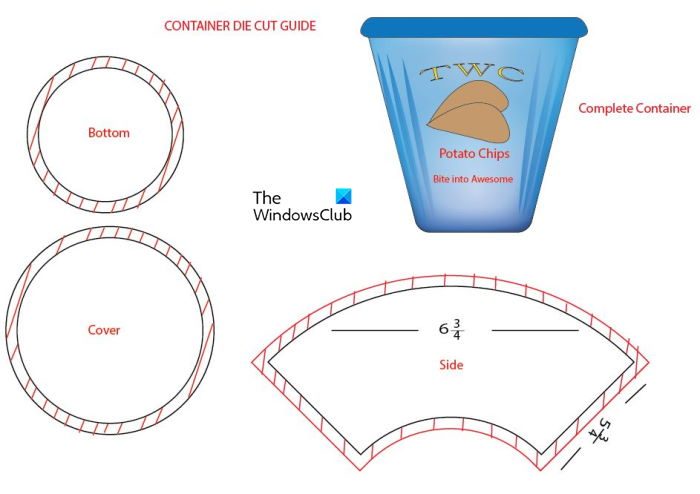 We go to the stores, and we pick up a carton of ice cream or a box of biscuits, but we never actually know how the package was made. To make large amounts of packages uniformly, manufacturers use die. Dies are metal blades that are made in the shapes of the item to be made. The die is then placed on the paper or cardboard and pressed down, and it cut the paper or cardboard out. The die is made to cut out all the sections including the parts that are glued, that we don't usually see. Illustrator can be used to make the die-cut guides for making the die that will cut the package. Here are a few things that are made using dies– envelopes, pizza boxes, paper bags, wedding invitations, and many other everyday items.
This is the Die Cut Guide for a container that is used for ice cream or other products. The wider outer edges with the red lines are used to show the package manufacturer where to apply glue, perforate, or fold.
35] Book and Magazine Covers
Whether for business or personal, Illustrator can be used to create great books and magazine covers. Even if you are not the one printing the covers, you can be the one to design them. There is a satisfaction that comes with seeing your handiwork on display.
Read: How to make a Flat Image look 3D in Illustrator
What is a die?
A die is a shaped metal with a sharp edge that is used to cut out items in a certain shape. It is like a template of what the item is supposed to look like. Dies are used for cutting many things that need to be in a certain shape.  For example, if you have pizza boxes to cut you could make a die in the shape of the pizza box when it is folded out flat, then use the die to cut cardboard in that shape and then fold it to form the box.
How can I learn to use Illustrator?
You can learn to use illustrator by acquiring the software and enrolling in a school that does graphics. You can also learn illustrator by visiting thewindowsclub.com, where I will be posting how-to articles and other Illustrator articles. There are also sites that do paid, or free courses and Illustrator is one of the courses offered. You can also learn more about using and making things with Illustrator on Youtube.
How long does it take to learn Illustrator?
Learning the basics of Adobe Illustrator takes less than a month. To master the software and become a pro, would take you around 6 months.
How Can I Draw my art in Illustrator?
The cheapest way that you can draw your art in illustrator is by first drawing it by hand, then you can take a pic with a digital camera or phone and upload it to your computer. You may also scan the art onto your computer with a regular scanner. You then open the art in Illustrator, and you can trace over it with the Pen Tool. You would put the art on one layer, double click on that layer in the layers window then click a template, Illustrator will dim the image to about 50% automatically. You can dim the image even more if you like. The dimming of the image makes it easier for you to trace over it. You would then use the pen tool or any other tools or shapes to trace over the image. When you are done tracing over the image you can remove the original and add colors to the traced image.
You may also use a graphic tablet or drawing tablets to draw straight into Illustrator. This is more expensive since these tablets may be quite expensive. However, these tablets make it easier to draw and color directly into Illustrator.
What jobs can I get after learning Illustrator?
There are a lot of Jobs that could use the skills learned in Illustrator. Persons with Illustrator skills could be an illustrator for story books. Illustrator would also be a plus in a marketing position as it would allow the person to be able to design and critique advertisements and marketing campaigns. Illustrator would be quite handy in package designing for products. Illustrator would be a plus in books and magazine design. Illustrator is usually one of the skills that a good graphic artist would learn.  Persons with Illustrator skills could design advertisements for social media and print campaigns.
What jobs can I get after learning Photoshop?
After learning Photoshop, you could get a job as a graphic designer for an organization or use this skill to be self-employed. Photo studios usually need persons who are good at Photoshop to do re-touches on photos before they are printed. They also need persons to design portraits and add decorations or backgrounds to pictures for clients. Photoshop skills would be quite handy to design business stationery, business cards, logos, printables and so much more. Usually, skills in photoshop would make it easy to be a freelance graphic artist or a great skill to have as a marketing consultant. Did you know that even interior decorators use photoshop to do mockups of projects that they need to design? This helps them to get a look at their ideas before they start the actual work.
Now read: Reasons why you should learn Photoshop.