Some Minecraft users are reporting that their port forwarding stopped working. Because of this, they are not able to enjoy the game to its fullest. In this article, we are going to fix Port forwarding not working in Minecraft with the help of some simple solutions.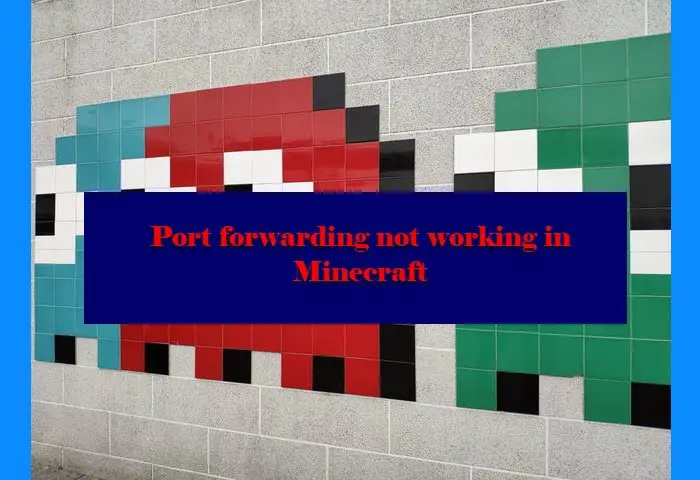 What is Port Forwarding?
Port Forwarding, also known as Port Mapping, is used to divert requests for communication from one port to another. Usually, the host computer is responsible to create for the redirection but sometimes, it can also be used as an intermediate.
For gamers, it can be used to get the possible connection and have a lag-free experience. In Minecraft, one can use this feature to connect with their friend's and fellow gamer's servers.
Why is Minecraft having a Port forwarding issue?
The major reason why Minecraft would have the issue is pretty uncanny. However, there are some very obvious causes, such as Firewall blocking the action or computer not being recognizable because of the public network. With the help of the given solutions, you can easily fix the error.
How do I enable Port forwarding for Minecraft?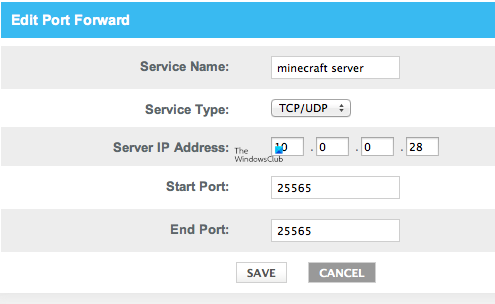 We need to open up the default Minecraft port which is 25565.
Open your Router settings, and look for the Port forwarding settings. You may find it under Advanced or Networking settings.
Next, click on "Add Custom Service or something similar. Name it as say – minecraft server.
Under the Service type, select TCP/UDP.
In internal and external port ranges, enter 25565.
For the internal IP address, enter your private IP. For this, you need to run the ipconfig command. You will see the list of Wi-Fi and Ethernet adapters in the results.
Fix Port forwarding not working in Minecraft in Windows 11/10
These are the things you can do if Minecraft Port forwarding is not working-
Make your Network Private
Disable Firewall and third-party antivirus
Reset or Reinstall Minecraft.
Let us talk about them in detail.
1] Make your Network Private
The first thing you need to do to make your network discoverable is to make it private. Doing that is quite easy. Follow the given steps to do the same.
From the Taskbar, right-click on your network icon (or you will have to click on the arrow button to see the network icon), and select Open Network & Internet Settings.
Click Properties of the connected network.
From Network Profile, select Private.
Now, restart your computer and your issue will be fixed.
2] Disable Firewall and third-party antivirus
Another reason why you may face this issue is if your Firewall is blocking port forwarding. So, you need to disable Windows Firewall and any third-party antivirus that you may have. Do that temporarily and see if the issue is fixed.
3] Reset or Reinstall Minecraft
Reset the Minecraft game application in Windows and see if it helps.
If nothing works, you have to reinstall Minecraft as sometimes the issue can be because of a glitch that can only be solved by a freshly installed copy of the game. To uninstall the game, open Settings by Win + I and go to Apps. Look for the application, click Uninstall and confirm your action by clicking the Uninstall button again.
Finally, reinstall the game from minecraft.com and see if the issue persists.
Hopefully, you are able to fix the Minecraft issue with the given solutions.
Read Next: Fix Error Placing Order for Minecraft via the official Mojang Store.