Purchasing Minecraft directly from Mojang is possible, but there are times when it fails to work. At some times, users have received a pop saying – Error Placing Order. If you face this issue, then this post will help you.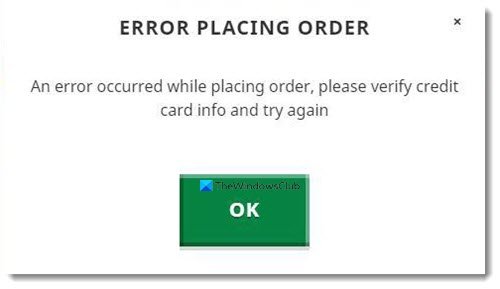 Minecraft is one of the biggest games in the world right now, and it is owned by Microsoft. The software giant acquired the developer behind the game, Mojang, for a whopping $2.5 billion in 2014, but that amount pales in comparison to the $7.5 billion the company spent to gobble up Zenimax/Bethesda.
Since the acquisition, Microsoft has improved the game and even went as far as to release new titles under the Minecraft branding. There is even a film in production that is set to release some time, though nothing is certain because the first planned film was canceled earlier.
Now, we've come across a recent problem of people having difficulties with purchasing Minecraft from the official website. This is an issue that pops up from time-to-time, so it's nothing new. The question is, can it be fixed? The answer to that is…..maybe. You see, it all depends on several factors.
Error Placing Order for Minecraft via Mojang Store
We will discuss everything for your understanding, so let's begin.
What is Minecraft all about
Use a different web browser
Use a payment method that works
Buy a digital gift card from Mojang
Purchase the version from the Microsoft Store
Let us discuss this in a more detailed perspective.
1] What is Minecraft all about
The world of Minecraft is made of blocks, and it is up to the player to build and survive. There are two modes that come in the form of Survival, and Creative. When playing in the Survival Mode, the player must begin by collecting resources, and then use those resources to build a shelter.
From there, they must do their best to survive the nights because creatures and other creepy crawlies tend to roam when the sun goes down.
When it comes down to Creative Mode, well, the player gains access to all the assets the game has to offer, and as such, can do whatever they want. There is no need to survive because, in this mode, players cannot die no matter how much they might try.
There is even a multiplayer component for those who want to interact with real people. It works quite well, so check it out when you can.
Read: How to migrate Minecraft account from Mojang to Microsoft Account
2] Use a payment method that works
Problems with buying Minecraft via the official website may not have to do with your web browser, but maybe the payment method you're using. Maybe you need to use another card if you're having consistent problems.
Another option is to contact your bank to find out what is happening, and maybe they will be able to give you a helping hand.
3] Buy a digital gift card from Mojang
One of the ways the Minecraft developer makes sure folks will always have options to purchase their products is to provide a gift card service. Simply visit the website and grab a gift card, then use the funds from that card to grab a copy of Minecraft.
4] Purchase the version from the Microsoft Store
The next best plan is to buy Minecraft from the Microsoft Store. This version is not Java, and from what we've heard, it runs very well. Not only that, Minecraft on the store will allow gamers to play with folks on mobile.
5] Use a different web browser
The web browser you're currently using might be the primary cause of the problem, so the idea is to use a different one. Some websites do not work well with certain web browsers; therefore, we suggest using a different one.
Think about Google Chrome, Mozilla Firefox, or Microsoft Edge.
Additionally, if you are using either browser we just mentioned, then maybe it needs to be updated.
Let us know if anything helped.