If you're a Minecraft player with a Mojang account, then you should seriously consider migrating this account before it's too late. We say this because Minecraft will change how users can sign into their accounts, and Mojang is not part of the new changes.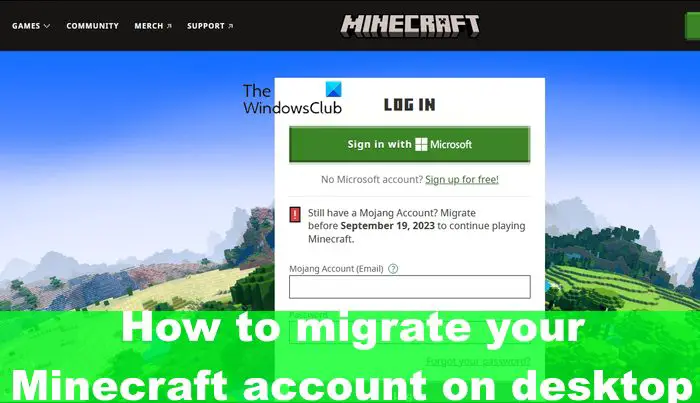 It's important to migrate because you may end up losing your saved files once the new log-in system is in play. Now, we suggest migrating your data before September 19, 2023, because after that date has passed, nothing is certain any longer.
September is a long way off but that doesn't mean you should delay since it is possible to forget, therefore go ahead and get the job done right now at the opportune time.
Benefits of migrating Minecraft from Mojang to Microsoft account
There are benefits to migrating your Minecraft account from Mojang to a Microsoft account. The most obvious from our point of view, is that you will not lose progress to your Minecraft data forever. Additionally, players can expect to have access to features such as two-factor authentication, and Minecraft: Bedrock Edition.
You will also get a fancy new cape, but we're not certain how important that it is for some players, but at least it'll be available for usage at any time.
How to migrate Minecraft account from Mojang to Microsoft Account
Migrating your Minecraft data requires you to open minecraft.net or open the launcher, then take the necessary steps to move your saved files.
Visit the official Minecraft.net website
Select Mojang Log-in
Look for a red notification at the top
Go to Get Started
Click on Continue and Migrate
Get the Authentication code & enter it
Click on Complete Move to Submit and Start Migration.
The first thing you will want to do here is to find your way to the official Minecraft.net website.
Alternatively, you can open the Minecraft launcher if that's the easier option for you right now. From the main menu, please select Mojang Log-in.
The next step, then, is to look for a red notification at the top via the right corner. This message is designed to warn you to migrate your account.
Next, click on Get Started from the bottom of the log-in screen.
When you do this, the migration process will soon begin.
From here, you must click on the Continue and Migrate button.
Ensure Mojang account details are added, then click on Let's Start Moving!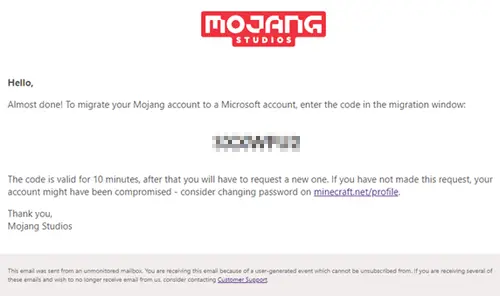 You should come across a 7-digit authentication code to prove you are the owner of the Minecraft account. Click on the Get Code button.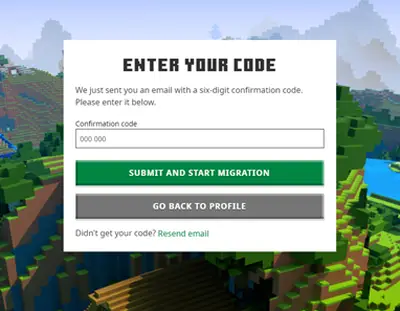 You must now enter the 7-digit authentication code, then click on Submit and Start Migration.
Click on Complete Move to confirm the migration.
When you're asked to enter the login details of your Microsoft account, please do so. If you have yet to create one, then you can do so at this point, no problem.
After that, you will be directed back to the Minecraft Log-in page instead of the old Mojang page.
That's it!
READ: Fix Minecraft has run out of memory
How to fix issues with Minecraft account migration?
If you made attempts to migrate your Minecraft account but you're unable to do so, then please go ahead and visit help.minecraft.net. Once you're there, use the chat box located on the right to speak with a customer support agent.
Can I migrate my Microsoft account back to Mojang?
Once your Minecraft account is migrated from Mojang to Microsoft, there will be no options to reverse the process. This is because Microsoft aims to shut down Mojang as an option to sign into the game. Folks who do not wish to have a Microsoft account will face difficulties here.