Pokemon Go, the fastest mobile game ever to hit revenues of $500 million has successfully managed to expand its user base, and the number keeps blasting with each passing day. The global appeal of the game is phenomenal. As such, every iOS, Android, or Windows OS user is busy finding ways to make the game run on their version of the OS.
To get the gaming experience of Pokemon Go on your Windows PC install the latest version of the Pokemon GO PC game on your laptop or computer by installing BlueStacks. You need to install the following in the given order:
BlueStacks
Kingroot APK
Lucky Patcher
Fake GPS
Pokemon APK
Play Pokemon Go on a Windows computer
Once you have installed BlueStacks on PC, set up your Google account with the application because it will be easier for you to connect to the game.
The next step in the process includes installing this tool from Kingroot.net. For this, once you have finished installing Bluestacks, open it and click the APK symbol visible on the left, click open the respective APK file on your computer to set up the KingRoot application.
When done, run KingRoot.
Next, scroll to the bottom and locate 'Try it' option. When found, click it and then hit the 'Fix now' button.
After that, upon noticing your Security Index, select 'Optimize now' option and then close KingRoot.
Restart BlueStacks. Find the cogwheel which can be found in the top right corner of BlueStacks.
Then choose the 'Restart Android Plugin'.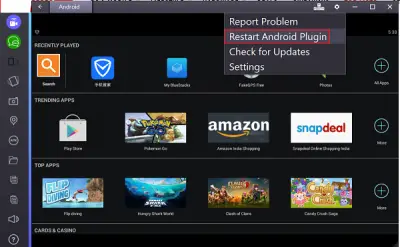 Now, it's the turn to copy Files from Windows. To do so, click the folder icon from the BlueStacks sidebar on the left and open Fake GPS.
When done, install and Run Lucky Patcher. Simply click the APK option residing on the left-hand side of the BlueStacks window and select the APK file on your computer to complete the installation process. You should agree to grant the app access so, hit the 'Allow' button to confirm the action.
Now, inside the application navigate to 'Rebuild & install' > SDcard > Windows > BSTSharedFolder. Here, pause for a moment, select the APK file for Fake GPS and Install as a System App. When prompted for confirmation, hit 'Yes' button to install.
Here, as you are required to reboot BlueStacks to apply those changes, you can hit Yes or use Restart Android Plugin.
It's time to install the most awaited game – Pokemon Go! Similar to the previous steps followed for KingRoot and Lucky Patcher, install the Pokemon APK file but restrain your urge from launching the app now. You need to ensure some settings are in right place. So, check your Location Settings.
If you have BlueStacks opened, click the cogwheel, select Settings, move to Location, and set the mode to High accuracy.
For proper functioning of the game on PC, it is essential to have all Windows GPS service disabled. Access Windows 10 Settings App, chose 'Privacy Section' > Location. Turn off the location if it is set to 'On'.
Set Up FakeGPS! Open Lucky Patcher and see if you can find FakeGPS entry in the list of apps. If not, access the Search at the bottom, select Filters, check System Apps, and hit the Apply tab. Then, click FakeGPS from the list and chose the Launch App option.
A manual guiding you on how to operate the window will be displayed. Read the instructions in it carefully. When done, click OK to close the window.
Now, click the three-dotted button in the top right, navigate to the Settings menu, check Expert Mode, read the warning message, and confirm with OK.
When done, hit the back button to switch back to the map and select the desired location.
Chose the entry and hit 'Save' button to add the location to your favorites. Now, find orange colored 'Play' button sitting at the bottom right to engage the fake location.
You are all set to go and play Pokemon GO. Please note it may take a little while to load the game so, be patient.
When the game loads, you can log in with a Google account. The app will automatically use your Google account you linked earlier with the Pokemon GO account during setup and load the game for you.
If you wish to move to a different spot, you have to go back to FakeGPS and engage in a new fake location. It is, therefore, advisable to set a few favorites, which can help you to go back and forth between Poke Stops.
Also, keep in mind that you do not have to turn off your camera. When the first Pokemon is spotted and if your camera refuses to work, the app will seek direction from you regarding turning off the AR mode (AR = augmented reality). When it does, confirm your action with a simple click on 'Yes' button, and you can catch the Pokemon in the virtual environment.
Setting up the game cannot be a smooth affair for every user. If you encounter any problems in setting up the game in BlueStacks, here are some steps you can follow to solve the problem.
Make sure the Location is set to 'Off' for Windows 10 devices.
Confirm that Expert Mode is enabled in FakeGPS.
In BlueStacks' location settings, ensure that Google Location History is set to 'Off' and Mode is set to High accuracy.
Launch FakeGPS and engage a new fake location.
Try using a location you have visited in reality on your Windows devices.
Restart BlueStacks and try again. You should see a screen like the one shown below. Enter your date of birth and submit.
After that just wait for a few seconds and allow the game to load.
On a side note, when you first play Pokémon GO, you'll get various options to customize the look of your Trainer, choosing right apparel and accessories for him. The customized character will appear as you move around on the map, as well as on your profile page. Also, other players will be able to spot your character as and when they visit a Gym you control.
PokeNurse gives Pokemon Go players option to manage creatures on PC
Whenever a user manages to capture several Pokemons, it becomes difficult to manage them all. This is where a new software known as PokeNurse comes into play. With this program, one doesn't need a smartphone to manage your little creatures, and everything is also made easier than before.
PokeNurse – Manage Pokemon
From what we have come to understand, folks can use the app to transfer Pokemons from the smartphone or vice-versa. Furthermore, it can also be used to evolve Pokemon, so it should be perfect for those who want to evolve their Pikachu instead of following the misguided ideas of Ash Ketchum.
How to use PokeNurse:
PokeNurse comes in two versions; 32-bit and 64-bit. As expected, you'll need to download the version that is compatible with your system. The 32-bit version can run on both, but 64-bit can only run on a 64-bit supported computer. The file is also portable, which means, it can be used on multiple computers.
Once we launched the program, we were brought to a window that required us to add our login details. The option is there to log in with our Google account or our Pokemon Trainer Club credentials. After managing to log in, the software that brings up a list of all Pokemons captured and owned. It shows various details about the creatures, which include: type, height, weight, defense, attack and CP.
To locate a Pokemon faster, a search bar at the top makes it possible to search for any individual creature. From here we could select a Pokemon and decide whether or not to transfer or evolve it into something more interesting. Furthermore, any Pokemon can be added or removed from the favorite list, so that's a great addition.
When it comes down to settings, there's none here, just but then again, outside of doing stuff with Pokemon, PokeNurse doesn't do much of anything else. That's fine because playing around with little creatures that live in little balls is what's most important here.
Download PokeNurse from the official website.
Find the best Pokémons with Pokémon GO Live Map
Niantic, the creator of Pokémon GO, has in recent times removed several apps and entities relating to the game. This made it difficult for some players to enjoy Pokémon GO, and rightfully so. The game requires players to get out of their houses to find Pokémon, something that takes too much time and effort. The question is, how does one find Pokémon without having to go outside? Well, there's an app known as Pokémon GO Live Map, and it's all about finding the little critters on the map near your location. No need to go out searching, just use the map from the comfort of your home, then travel to the location of the Pokémon you want to catch.
Easy stuff, but probably won't be easy catching that Pokémon you're after. You'll need quite a few Pokeballs, so make sure to fill up your coffers at one of the many PokeStops before moving forward.
How to use Pokémon GO Live Map
First thing, download the software from the official website, the extract the ZIP file to a specified folder. Find the executable file and launch it. From there, follow the instructions until the program has been installed on your machine.
The software should take some time to download seeing as the size is a little over 80MB.
After the installation, launch the program and be ready to be greeted with a screen that requires you to generate a Google Map's key. Follow the instructions then, login with your Google account. After gaining access to your Google or Pokemon GO account, log in and be greeted with an elegantly designed map.
From here, you should see several Pokémon's in and around your area after a simple scan. Bear in mind that a Pokémon doesn't stay in one location for long. Thankfully, there's a timer that tells how long you have before a Pokémon leaves the area.
We could only make a single search every 30-seconds, so this might not sit well with a lot of people. Furthermore, even when the Pokemon GO servers are down, we could still use the program but had to live with a loss of accuracy during this time.
The best feature we came across, however, is the ability to pin any location to the map. We were not restricted to nearby areas, and that was a big plus in our eyes.
We're not huge fans of Pokemon GO, but we can see why this software could help in catching them all. You'll still need the game on your smartphone to work alongside the program, but you should have known that already.
Download it here.
Pokecrew shows the exact location of Pokemon
Nowadays, there is only one trend of mobile gaming and that is Pokemon GO. This free game is available for Android and iOS. Although it has been launched in only thirty countries, it has gained a lot of success in a very short span of time. If you have Pokemon GO on your mobile, you might have faced a few problems. The very first or the most irritating problem is – you have to keep changing your location to find Pokemon.
On the map of Pokemon GO, you can find your location and the nearest Pokemon. To solve this issue here is an online tool called Pokecrew that will show you the exact location of Pokemon so that you can visit that specific place and catch the Pokemon.
Pokecrew is a Pokemon locator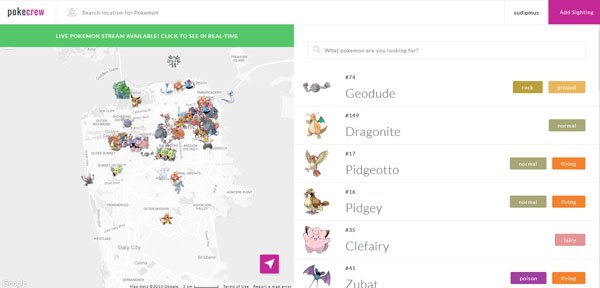 In simple words, Pokecrew is a Pokemon locator that displays a detailed map and the available Pokemon. It has mainly two parts. First, the Map and second, the Pokemon details.
Like I said before, the Map will show you all the Pokemon, and users can visit that place to catch it. On the other hand, you can find all the details or information on any Pokemon from "Pokemon details" section.
There are several things that you should keep in mind while catching a Pokemon. For example, the CP (Combat Power), HP (Hit Points), timing and more others. The CP defines the power of a Pokemon in a battle. At the same time, HP also does almost the same thing, but HP can be reduced during a battle.
In addition, you can find the weakness, strengths, types, etc. in the same place. For instance, you can know whether a Pokemon is strong against Fairy or not or weak against the rock or not, etc. For your information, these things are required in a battle.
Pokecrew can be used in two different ways. First, you can just check the map and find a Pokemon. Second, you can select a Pokemon and get their location. After opening Pokecrew, you can find them all. To get a particular Pokemon's location, just select your location and click on the respective Pokemon on your right-hand side.
If you like Pokecrew and want to catch more Pokemon in a no-nonsense way, you can visit pokecrew.com.
Pokémon Go safety tips & precautions to take
Pokémon Go has been the rage for the past couple of months, and it is this game by Niantic that at a certain point of time also managed to surpass Twitter when it comes to daily active users. Since it is an augmented reality game you need to take precautions. Here are some important safety tips for you.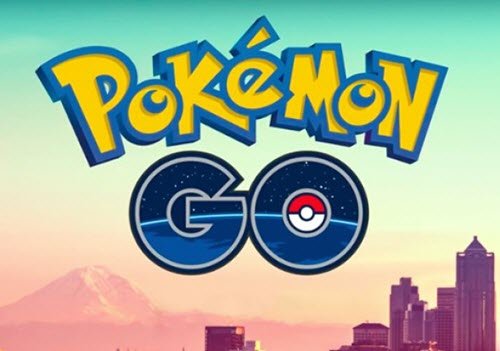 Pokémon Go safety tips
The game pivots around augmented reality technology and requires the players to actually venture out and catch Pokémons. The creatures once caught by throwing Poke Balls can be trained in Gym for the battles. The map is superimposed on one's surrounding's and since it is generated algorithmically some of the Poke stops ended up in people's homes.
The game can be played for free but is currently available only in select countries. The best part of the game has to be the fact that it superimposes on your actual environment. Now with the frenzy created by the game, it is also not uncommon for us to hear horror stories of how playing Pokémon got bad and also the privacy concerns arising from the players trespassing private properties. We at TheWindowsClub have compiled some do's and don't so that you can play Pokémon Game without compromising on your own privacy and safety.
Here are a few safety tips and precautions you need to take while playing Pokemon Go.
1] Every game or app these days requires the player to furnish a certain set of information while doing so is not directly harmful one should know the information they are giving away. For starters think twice before clicking the "Agree to Terms of Service." The app makers always make it a point to outline clearly the clauses and various other terms in this section, something that you should spend some time on.
2] Pokémon Go needs various permissions from the player including full-fledged access to the camera something that the family should decide if they are comfortable with this.
3] Remember the age-old saying, "Nothing on this Earth comes free of cost" well it also implies the freemium games. While Pokémon Go might be a free-to-download game subsequent in-app purchases cost money and this is a decision your child has to make. Some folks are playing without spending a dime while some of them have already shelled down hundreds of dollars. The most frequent purchase would be the Poke Balls which are thrown at the Pokémon's to catch them.
4] Take care of your health. Eat and drink sufficiently and stay hydrated, if you plan to go out for a long time.
5] Since the game requires the player to actually venture out in quest of finding the Pokémon, it would always be advisable to be aware of the surroundings. The chances are that one might get involved in an accident while being engrossed in the game. You might bump your head against a pole, or worst might venture out on a busy road. It is augmented reality and not virtual reality, and this also means that kids should be wary of not traveling to locations that might be deemed unfit for one's age.
6] Make sure that you do not trespass into other properties this might land you in legal trouble. Obey the local laws.
7] It is not safe to venture into unknown spaces.
8] Don't lose track of the time. How long have you been at it? What time is it now?
9] Finally stay in touch with your parents or friends at all times.
If you are a parent, then you need to advise your children to take into account all the aforementioned precautions.
NOTE: This does not seem to work now. Please read the comments.