If you ever feel like pinning a shortcut to a website or web page to the Windows 10 Taskbar, the Edge browser lets you do so easily. You can pin a web shortcut to Start Menu using IE, Chrome or Firefox, and  IE lets you pin a shortcut to the taskbar using the drag-and-drop method – now let us see how to do it in Microsoft Edge (Chromium) web browser on Windows 10.
Pin website to Taskbar using Edge
The feature in the Edge browser works in a similar manner as seen in Google Chrome. However, there, you create a shortcut to pin the website to Taskbar whereas, in the Edge browser, all you have to do is directly select the 'Pin to Taskbar' option. Here's how!
Open Edge browser.
Go to 'Settings and More' menu.
Navigate to 'More Tools'.
Select Pin to Taskbar option.
Follow the procedure described below to keep your most important websites close at hand.
Launch the Edge browser. Now, to pin any web page to the Taskbar, open any web page in the Microsoft Edge browser that you want to pin to the Taskbar.
Next, click on the 3-dotted 'Settings and more' menu button in the top-right corner.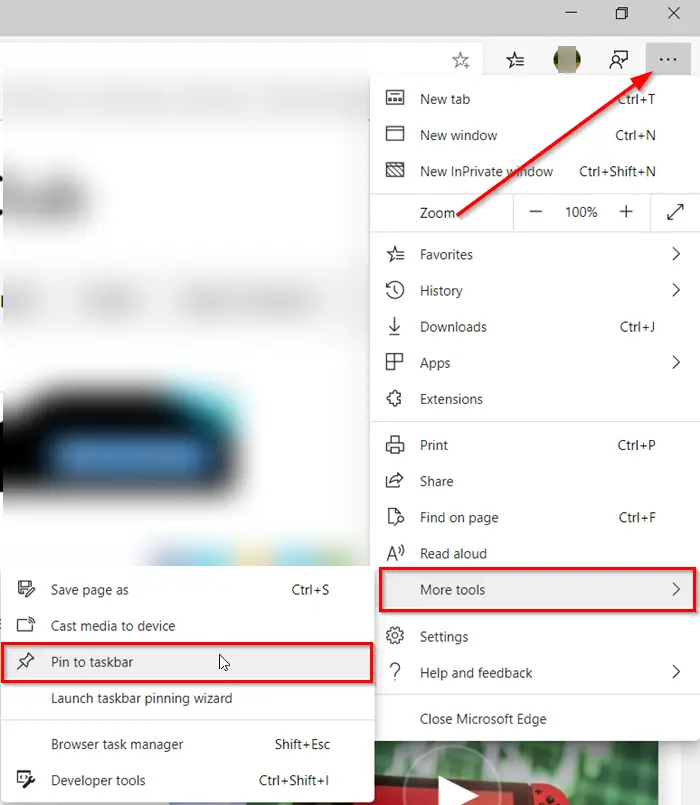 Select 'More Tools' under 'Settings and More' menu, hit the side-arrow to make 'Pin to Taskbar' option visible.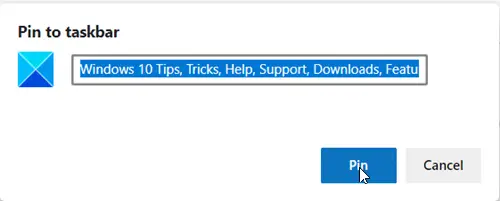 When visible, click the option and when prompted with a message, hit the 'Pin' button.
Instantly, you should see a new icon in the Taskbar. The Favicon of the site should be visible as the pinned icon. If any site is not using any custom Favicon, the default icon will appear.
Pin website to Start Menu using Edge
To pint it to the Start Menu, open Chrome, type  edge://apps in the address bar, and hit Enter. Drag and drop the created website shortcut here.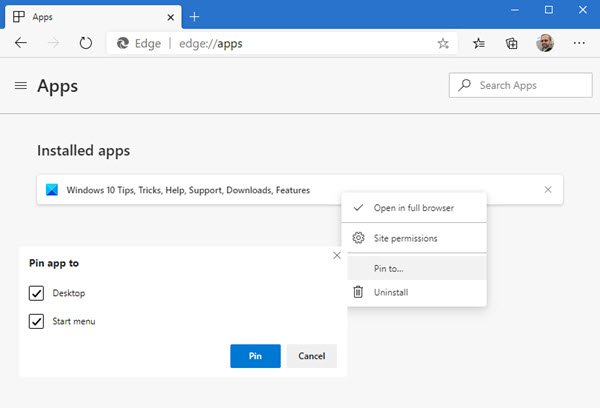 Right-click 0n it and select Pin to. Then select where you want to place the shortcut – Desktop and/or Start menu.
If you access a website or a web-page frequently, you will find this feature very useful.