If you are looking for a way to pin your favorite website's shortcut or tile to the Windows 8.1 Start Screen, this post will show you how to do it for Internet Explorer 11.
Things were easier on Internet Explorer 10 on Windows 8. In the Modern IE version, you had to open the website in Modern UI IE, right-click, and from the bottom menu bar select Pin to Start. You do not see that option now. In the case of Desktop IE version, you could click open Tools and select Add site to Start Screen to do so, right away. But things have changed slightly now.
We have seen how to create Website Shortcuts on your Windows desktop, now lets see how to pin a website tile to the start screen.
Pin website to Start Screen in Windows 8.1
Using Desktop IE 11
Open the desktop version on Internet Explorer and press Alt+T to open Tools.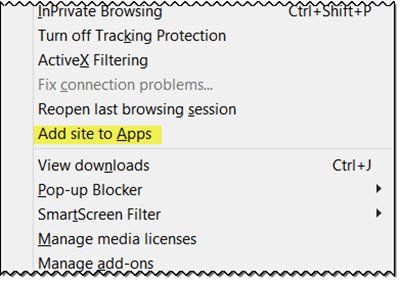 Confirm your decision by clicking on Add site to Apps.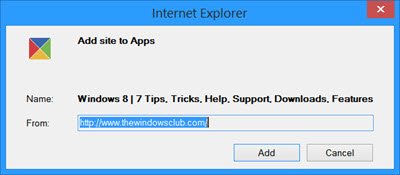 Now open your Start Screen and go to the All Apps view by clicking on the "down" arrow at the bottom left side of the start screen. You will see your website app created.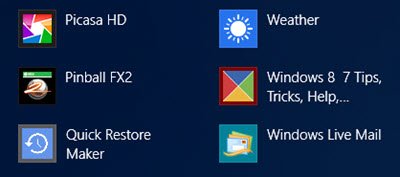 Right-click the website icon and from the bottom menu, select Pin to Start.
You will now see the website tile pinned to your Windows 8.1 Start Screen.
When you use this tile, the website will open in Desktop Internet Explorer version.
Using Modern IE 11
If you want to open your tile links in Modern UI Internet Explorer version, you might want to use the Modern IE to pin the website Tile. To do this, open your website in Modern IE and right-click on an empty space to bring up the bottom menu bar. Click on the Favorites link and you will see a Pin site option appear.
Click on the Pin site icon and choose how you would like the website tile to appear on your Windows 8.1 start screen. You will see three option.

Select the one you want by clicking on Pin to Start. The tile with get pinned.
Unpin website tile
To unpin the website tile, go the to start screen and right-click the tile. At the bottom, you will see an Unpin from Start option. Click on it.
Unpinning the Modern UI IE tile may delete its app, but in the case of Desktop IE tile, you will still see it in All Aps, even after having unpinned it. You will have to right-click the Desktop IE app in All Aps and select Open file location, which will be:
C:\Users\username\AppData\Roaming\Microsoft\Windows\Start Menu
Delete its shortcut here.
Not as easy as you would have liked it to be, I bet!