Edge Legacy has a built-in inking tool. It allowed anyone to mark, highlight, draw, add text, and share text from the PDF file. However, as Edge transformed, and started using Chromium, all these unique features were lost. The good news is that Microsoft is bringing all these tools back to the new Edge. In this post, I will share how you can use PDF Tool and Inking Features in Microsoft Edge Chromium. These tools will keep updating as the work matures, and should match what legacy Edge has offered.
The PDF Tool & Inking Feature in Microsoft Edge
When we say PDF tool, it also includes the Inking feature. Since it is one of the heavily used functions, it gets all the highlights. Here is the list of tools that are currently available
Inking on PDF files
Text highlight support
Add text to PDF
Microsoft Edge doesn't support eBooks as it moved to the Chromium engine. You will have to use third-party apps to read ePUB files.
1] Inking in PDF files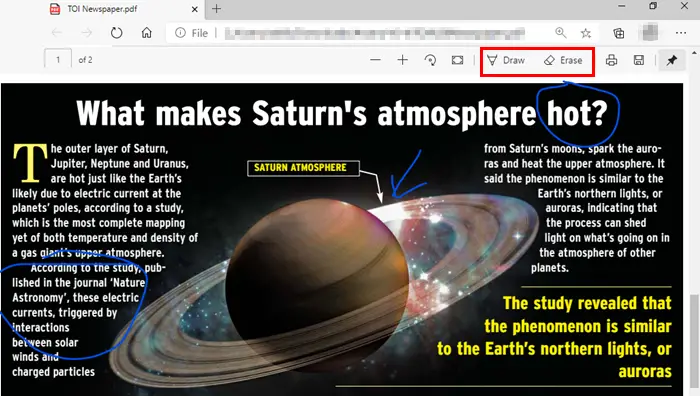 When you open the PDF file in Microsoft Edge, it launches the PDF toolbar along with it. The tools, including two significant mechanisms for inking—Draw and Erase. The draw tool allows you to take notes on the PDF files, draw on it, and also let you sign the PDF forms.
Click on the Draw button from the toolbar, and then you can use a mouse or a digital pen or just your touchpad to write and draw. To select a color, click on the draw button, and then choose the color and thickness of the pen.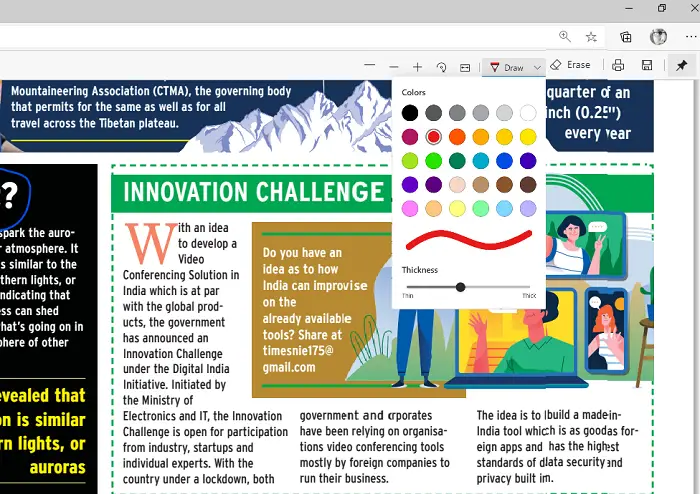 If you drew something wrong, you could always use the erase tool to undo. If the digital pen has a back-button, you can customize it to delete what you drew last.
2] Text highlight support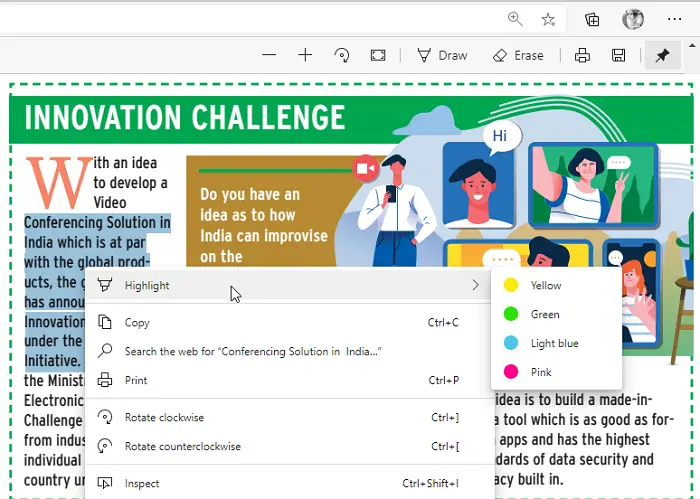 Next in the line is Text highlight. If part of the text in the PDF is important, and you want to re-read it later, you can highlight it with different colors. To highlight a single word or complete paragraph, select it, and then choose a color under the highlight menu. The highlight will also become available in the toolbar in a future update and will let you directly enable the mode to avoid using the draw function.
3] Add text to PDF
Microsoft is also going to improve the experience of reading text notes already present in a PDF, and the ability to add text notes on a PDF.  It will help you add comments to part of the PDF files. So if you are sharing it with someone else, these comments can include an explanation, or if the document is still work in progress, the author can further modify based on your feedback. They will work the same with a bit of modification as compared to Legacy Edge to annotate webpages and eBooks.
That said, as of now, the inking tools to annotate are not available for webpages. It is only available for PDF files. May be in future we will have it too. I hope the post was easy to follow, and you were able to quickly understand to use the inking tools on PDF files, and text highlight.