Passcape ISO Burner is a free portable software for Windows, that lets you easily burn ISO image files to CD/DVD/USB. Moreover, it lets you create bootable disks or a bootable USB drive from the ISO images stored in your computer. It features direct hardware access which allows you to use the program even if no CD/DVD hardware devices are connected.
Passcape ISO Burner for Windows 10
The nice and simple interface of the Passcape ISO Burner is very easy to use and it is designed in such a way that anyone can use it. The entire process of ISO burning is divided into steps and is given the shape of a Wizard.
In the first step, you need to choose what you want to do. There are five options available, they are:
Burn ISO to CD/DVD: Simply write the contents of an ISO file to a CD/DVD including boot specification.
Burn ISO to CD/DVD using external CD Burning Program: This feature is used when you want to burn a CD/DVD using some other program and for this feature to work you need to have a program associated with ISO extension.
Create Bootable USB Disk: This feature lets you create a bootable USB drive from an ISO image.
Unpack ISO image to disk folder: Using this feature you can extract out the contents of an ISO file to a local folder.
Once you've chosen an appropriate option, you need to browse the ISO file and click Next to proceed.
Now in the next step, you need to choose Device where the contents of the ISO file should be copied and after choosing the device press the 'Burn' button and the burning process will start. The same steps are needed to be followed if you are creating a bootable USB or Unpacking the ISO file.
The software automatically picks up the boot specification from ISO itself and if there is no boot specification available then the program notifies you about that and then asks whether to continue.
While creating a bootable USB drive you can choose the target PC's firmware interface so that that particular interface recognizes the USB. For now, it supports BIOS and UEFI and there is another option available if you don't know the firmware interface.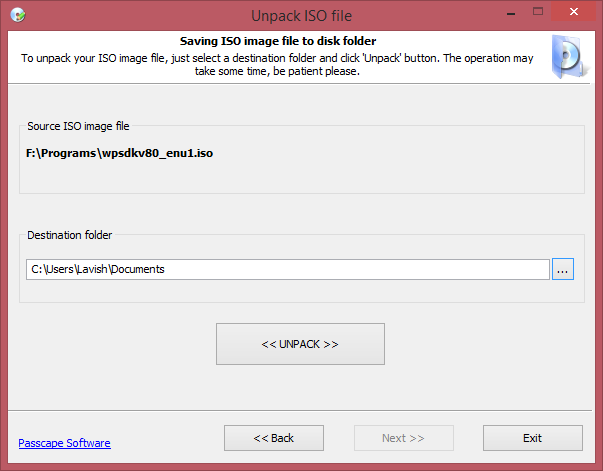 Overall, the software is nice, easy to operate, and works perfectly fine. It is portable so you can carry it around and it does not make any changes to the registry too and again, there is no fuss of uninstalling it. Just run whenever and wherever you want. Again the interface is decent and amazing, and the program requires no geeky configurations at all.
Click here to download Passcape ISO Burner. It worked just fine on my Windows 10.