Today, we have access to data in abundance, all available on the Internet and ready to serve our various purposes. However, it comes along with a long list of threats, and one of the deadly risks among them is malware. Malware is capable of stealing and corrupting your online/offline data without giving you a chance even to react and prepare for the same. Browsers remain an easy route that malware targets today, and you never know which download or link that you clicked is an invitation to malware files.
Therefore, what do you do to prevent yourself from downloading a malicious file? Well, one of the easiest approaches that you can adopt is to use Browser extensions that scan everything for you. Google Chrome is the most used browser in the world, and if you are also one of the users of Chrome, then OPSWAT File Security for Chrome is an effective browser extension to have.
OPSWAT File Security for Chrome
OPSWAT File Security for Chrome is an easy-to-use browser extension that inspects every download via its MetaDefender Cloud so that you know if your downloaded files are clean enough to access. While scanning the downloads from your Chrome browser, it uses more than 30 anti-malware engines and industry-leading vulnerability scanning technologies. It processes each file or application with a size of up to 140MB that you download on MetaDefender Cloud.
It leverages the file hash database, fast multi-scanning, patented vulnerability scanning and effective data sanitization (CDR) to detect and block threats in files and applications before the user downloads them.
How to use OPSWAT File Security for Chrome
Thanks to its 30 anti-malware engines, Opswat's MetaDefender is equipped with a database of millions of vulnerable binaries making the scanning highly effective. Here is how to get started on your Chrome browser.
1] Go to Chrome Web Store and find OPSWAT File Security for Chrome browser extension.
2] Click the blue "ADD TO CHROME" button. You will see the below dialog box pop up. Click "Add extension."

This will add MetaDefender to your Chrome browser. You'll be taken to the below page. Here, you can find your API Key information as given below.
The automatically assigned API key allows you to integrate MetaDefender data sanitization and multi-scanning technology into your own software applications.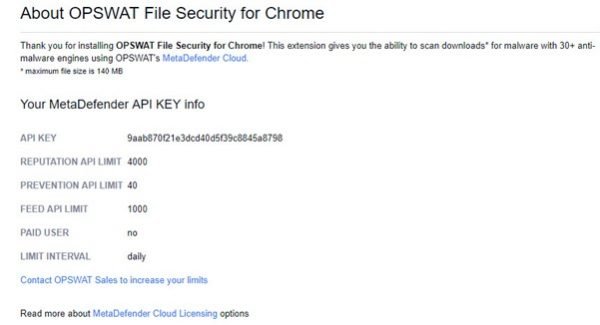 3] Now, to enable the extension and scan all downloads automatically, locate and click the blue icon in the upper right corner of your Chrome window.
Note: You can also choose to scan each download piecemeal before you download it. To do that, just right-click the file or application you want to download within your browser and select "Scan with MetaDefender before downloading."

4] On clicking the blue icon in Step 3, you will see the following popup window saying that no files were scanned so far. You will have to enable automatic scans from Settings.
To open Settings, click on the below icon,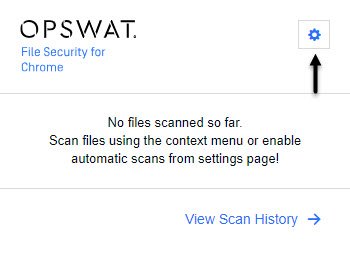 On the Settings page, you will see "Scan Downloads" tab as unchecked. You will have to select this tab to use "Automatic scan all downloads" feature and to do that click extension details (in blue)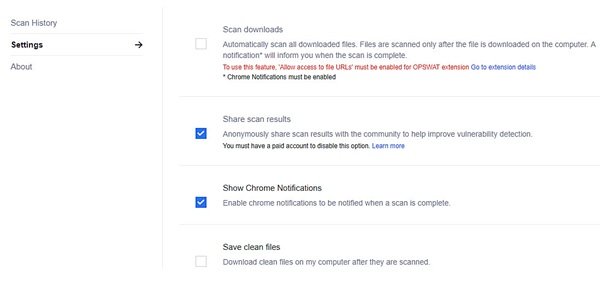 Enable "Allow access to file URLs" and you will now be able to check "Scan downloads" tab.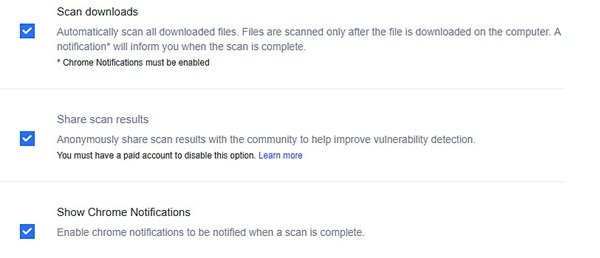 5] Once the extension goes into action, a tab will open in your Chrome browser, and the MetaDefender Cloud scanning process will begin (you may have to wait a few seconds in the queue)
As shown below, while you are on any web page, just right click on the download link for the file you would like to scan for malware.

In the context menu, select 'Scan with OPSWAT'. OPSWAT File Security for Chrome will begin analyzing the file at the selected URL, and results will be available on the Scan History page.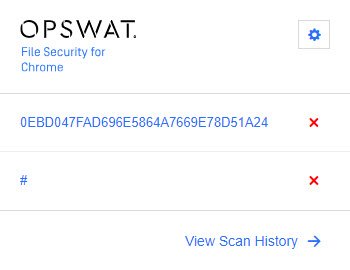 The last three scans are also visible in the extension popup. If you want to know more about the scan, you just need to click on the assigned file name, and you will be taken to a webpage showing Multiscan score and MetaDefender critical detection results.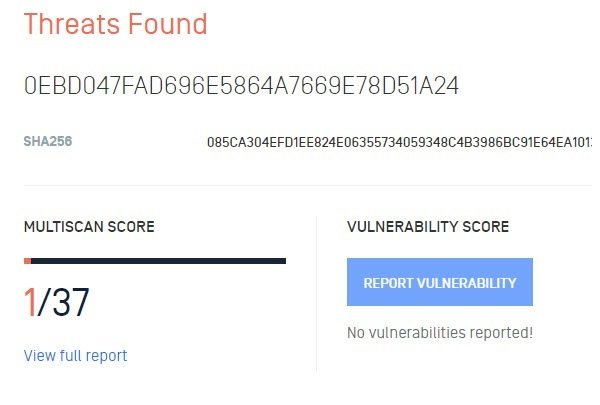 OPSWAT File Security for Chrome is free to use. However, there are some limitations to the free usage of the MetaDefender Cloud API, and these limits are described on the API key page – these limits should be good enough for most regular users. To update this API key, you need to sign in to their OPSWAT account.
You can visit the OPSWAT File Security for Chrome official page to get the extension link.