Some OneDrive users have reported that when they try to save their work to the Microsoft Cloud service, it does not show the Backup tab under settings. They can sync their work, and everything looks normal, but the OneDrive Backup tab is missing. This post can help you out and fix the problem. You may have to be logged in as an administrator to make this change.
OneDrive Backup tab missing in Settings
The OneDrive Backup tab helps you protect important documents and folders seen under 'This PC' and access them anywhere from other devices. So, even if you lose your PC, you can still get your lost documents/folders back.
Press Win+R in combination to open the 'Run' dialog box. Type 'regedit.exe' and press 'Enter'.
When the Registry Editor opens, navigate to the following path address –
Computer\HKEY_CURRENT_USER\Software\Microsoft\OneDrive
Here, right-click on the OneDrive entry and choose 'New' > 'DWORD (32 – bit) Value'.
Name it as 'EnableMove'.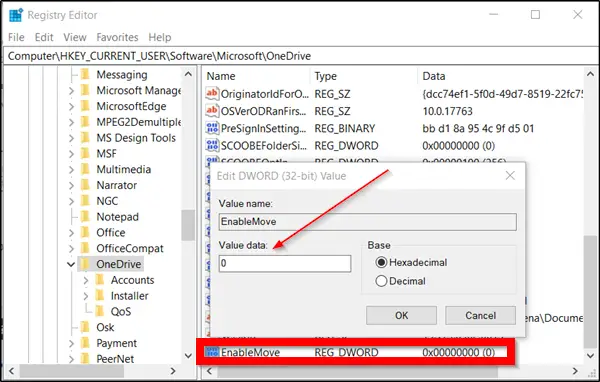 Double-click on the entry to check its value data. Keep it as '0'.
Now, close the Registry Editor and exit.
Restart your computer and check if the problem persists.
The issue should have been resolved by now. Go to 'OneDrive' settings. There, you should find the 'Backup' tab alongside, Account, Network, Office, and 'About' tabs.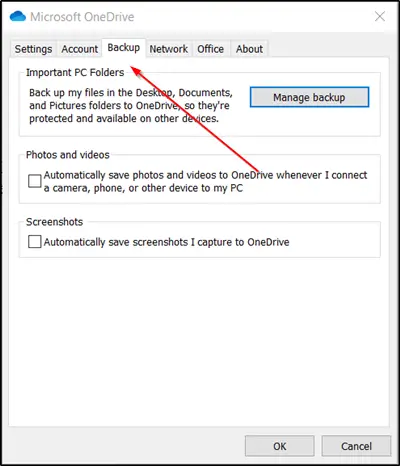 If you find the Backup tab appearing under OneDrive Settings, hit the tab, choose the folders that you want to back up and start the process. If necessary, you can select 'View upload progress' to check the progress of the process.
Hope this helps!