Microsoft has added Office Online as an extension for Chrome browser that lets users create and edit Office documents online. Well, the same extension is now available for Microsoft Edge Chromium which you can add and take advantage of. In this guide, we'll take a look at how you can add Office Online extension for Edge and Chrome web browsers and how to use it to create Office documents online.
Create Office documents on Edge and Chrome
When you install Microsoft's Office Online extension, it places an Office icon on the toolbar and gives users direct access to your files and documents saved in OneDrive or your local storage. Well integrated with OneDrive and OneDrive for Business, the extension allows users to easily create and edit Word, PowerPoint, Excel, OneNote and Sway documents online right inside the browser itself. Let's take a look now on how to add and use this extension in each browser.
Office Online extension for Microsoft Edge Chromium
The Office extension is readily available on the official extension gallery for Microsoft Edge. You can head over to the microsoftedge.microsoft.com website to download the Office extension for Microsoft Edge.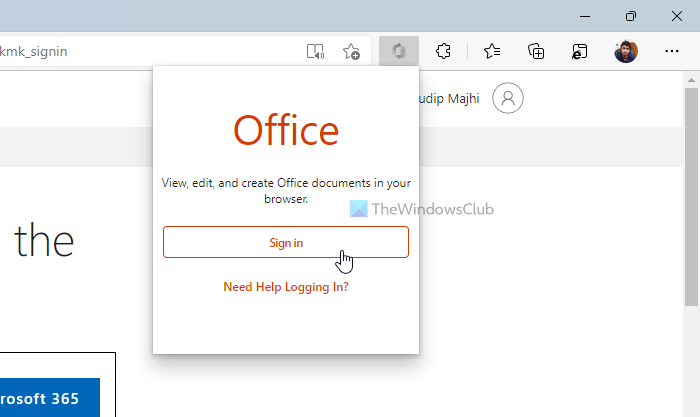 After downloading, you need to click on the corresponding icon on the toolbar and enter your credentials to sign in to your account.
Once you do that, you will be able to use the Office extension on your browser without any issue. Talking about the options, you will be able to open almost any Office app such as Outlook, OneDrive, Word, Excel, PowerPoint, OneNote, etc. On the other hand, you can open decently edited documents, spreadsheets, presentations, etc.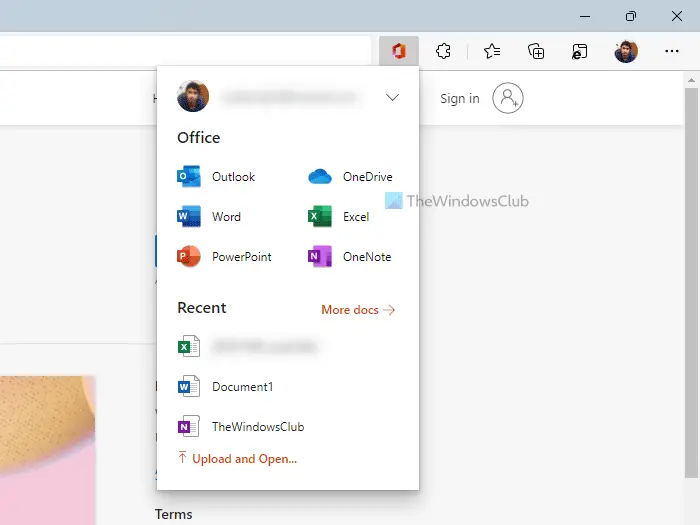 In case you want to upload a document, click on the Upload and Open option, and choose the desired file you want to upload.
There are two more settings you might want to know about:
Open Office files directly in the browser with Office
Automatically send data to help us improve our products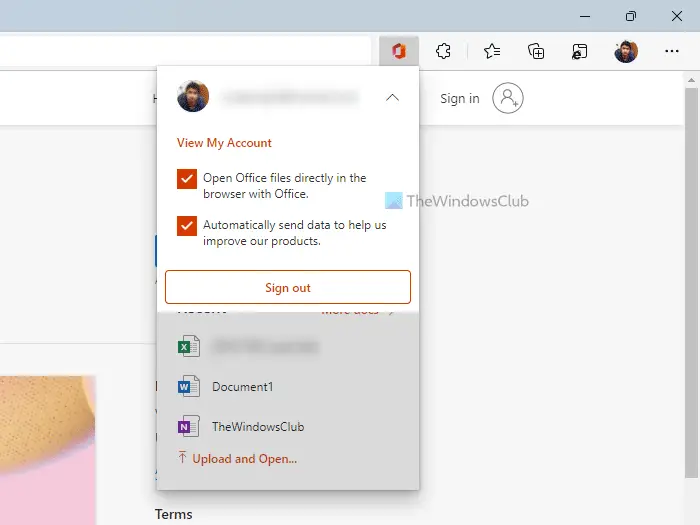 You can find both options by clicking the arrow icon visible next to your email address.
Using Office Online in Google Chrome
The same extension has been available for Chrome for some time now. You can add it to your Chrome browser as well to take advantage of creating or editing your documents on the go. Here's how to do so:
1. Navigate to Chrome Web Store in your Chrome browser and search for Office Online in the search box provided there. Filter the results by selecting Extensions.
2. Click on the Office Online extension and then click Add to Chrome button on the far right side. The corresponding .crx file will be downloaded and it will be added to your browser.
3. Now you can access it the same way as mentioned above for Edge browser. You can sign in with your Microsoft Account and start creating/editing the documents online.
4. For creating any document, you can select the type of document the same way and start editing it. You can upload it back to OneDrive and keep it all in sync.
Hope you can get it to work.
You can also use the Office Online extension on Microsoft Edge Legacy
You can follow the below steps to add the extension to Edge Legacy browser on your Windows PC:
1. Open Microsoft Edge and click on horizontal ellipsis menu button, then click Extensions from the menu options.
2. A Store window should pop up landing you directly on the leaf showing available extensions for Edge. Click Office Online among the matrix of extensions shown.
3. On the next page, click Get to download and add the extension to Edge browser.
4. Navigate back to Edge and turn on the newly added Office Online extension.
Now, you will notice a little Office icon placed on the Edge toolbar.
5. You can click this Office icon and sign in using your MSA credentials after which you'll have direct access to your saved documents in OneDrive or OneDrive for Business. Your recent documents will be shown on the top leaf and you can readily create a new Word, PowerPoint, Excel, OneNote or Sway document or you can select any from your OneDrive storage to edit.
6. To create a new Office document, you can select the type of document and roll in on its Online tool to create your desired document. For example, you can choose to create a Word document and select any template from Word Online tool and go on to edit your file. Once done with it, you can upload it to your OneDrive storage.
That is how you can use Office Online extension to create and edit the Office Suite documents online in Microsoft Edge and Google Chrome. Hope you fid it useful!
Does Microsoft Office come with Microsoft Edge?
No, Microsoft Office doesn't come with the Microsoft Edge browser. Microsoft Edge is a standalone browser available for Windows 11, 10, etc. You can download this web browser from the official website and install it to use on your computer.
How do I open an Office document in Edge?
To open an Office document in the Microsoft Edge browser, you can use the Office extension. It provides better compatibility, allowing users to open almost any file, including DOCX, XLSX, PPTX, etc. You can download this extension from the official repository.