Microsoft Teams has become of the best video-conferencing and team management platforms from Microsoft. On Teams, you can host meetings, share presentations, chat, share images, GIFs, etc. Some of the users of Microsoft Teams are complaining that the app is not showing GIFs or images they receive in the chats. In this guide, we have mentioned some ways to fix Microsoft Teams can't load or send images in chat.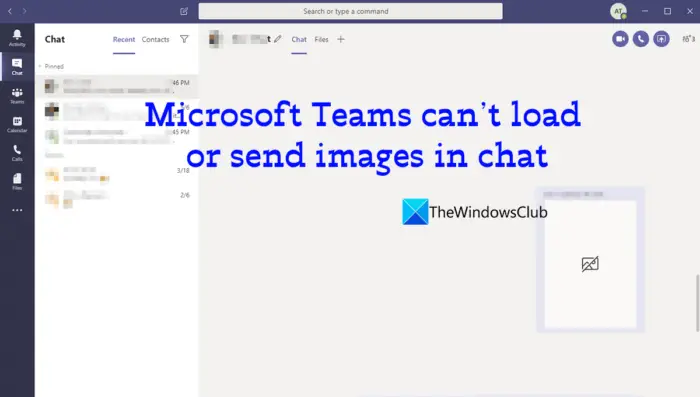 Cannot send images in Teams Chat
A big step in that direction was the personal effect they brought to the Teams chat room. In Microsoft Teams, chat stay on even after a video conference has ended so you can catch up on what you've missed. This meant that more and more people started using Microsoft Team and with that came an influx of issues. Some users reported that the images they sent in the Microsoft Teams chatbox weren't loading properly. There are several probable causes behind this and today, we will be teaching you how you can fix it.
Microsoft Teams can't load or send images in the chat
The issue hasn't been publically addressed by Microsoft officials and you don't need to make any technical tweaks to get rid of it either. Most of the workarounds for this issue are pretty elementary. The most common reasons behind this issue are an outdated Microsoft Teams version or a non-supported browser (if you are using Teams on its web platform). These are the causes that our solutions are based around.
If the images you send in Microsoft Teams chats do not load or show up, then here's how you can fix that.
Make sure you have a reliable internet connection
Check Teams Server status
Switch to Microsoft Teams' Web Platform
Check if the image is of supported format
Clear app/browser cache
Enable Hardware acceleration in Team's settings
Log out and log in again
Check for updates on Microsoft Teams
Let's get into the details of each method and fix the issue.
1] Make sure you have a reliable internet connection
You need to have a reliable internet connection to use Microsoft Teams properly. If your internet connection is too slow, it takes a lot of time to load the media or images you get in the chats. Run a speed test on your device using online tools and check if your internet is working speedily or not.
2] Check Teams Server status
Check if there is any downtime with the Microsoft Teams using the official Service health page. If there is any downtime there, you need to wait until it is fixed and up again to resolve issues you're having on Teams. The images and media your receive will load after they are up again.
3] Switch to Microsoft Teams' Web Platform
If you're running the Desktop Client of Microsoft Teams, you may not be able to support all kinds of media and if that is the case, then the first thing you should try is to switch to Microsoft Teams' web platform. Here's how:
Visit the homepage of Microsoft Teams at teams.microsoft.com.
Sign in with your Microsoft Account, the same one with which you've uploaded the image.
Since the image has already been uploaded from your end and is only not loading, open the chat thread where you'd send it and check its loading.
Similarly, try switching to the desktop client if you face this issue on the web platform.
4] Check if the image is of supported format
Microsoft Teams support only a limited number of image formats. It only supports AI, BMP, EMF, EPS, GIF, JPG, JPEG, PNG, PSD, SVG, TIF, TIFF, and WMF formats. If the image of the media you received is not in the supported format, it will not load on Microsoft Teams. You need to ask the sender to convert the image using online tools into a supported format and send it again.
5] Clear app/browser cache
Clearing the cache for the browser or the app (whichever mode you're using) might just do the trick for you.
To clear the Teams Cache, follow the steps below:
Open the file explorer
Paste the following location in the bar on top
%appdata%\Microsoft\teams
You'll see a handful of folders here like Code Cache, Local Storage, etc. Delete the files in each one of them and exit. Your cache will have cleared.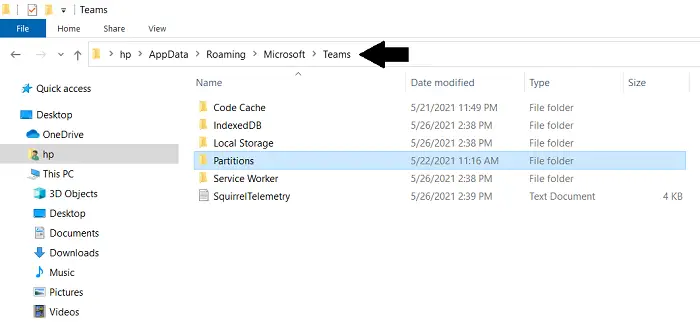 Similarly, clear the browser cache with the following steps:
Open Microsoft Teams web interface.
Click on the 'lock' sign to the left of the URL and further select site settings.
Here, under usage, click on 'Clear Data'.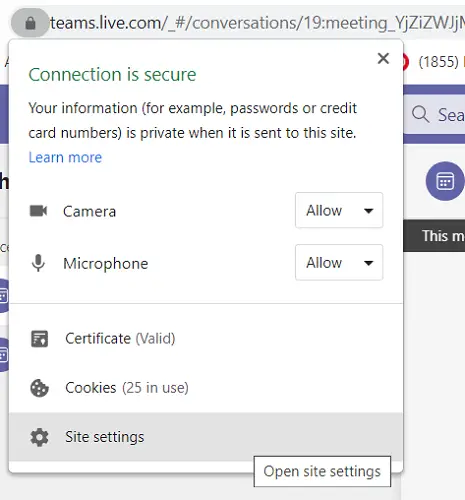 6] Enable Hardware acceleration in Team's settings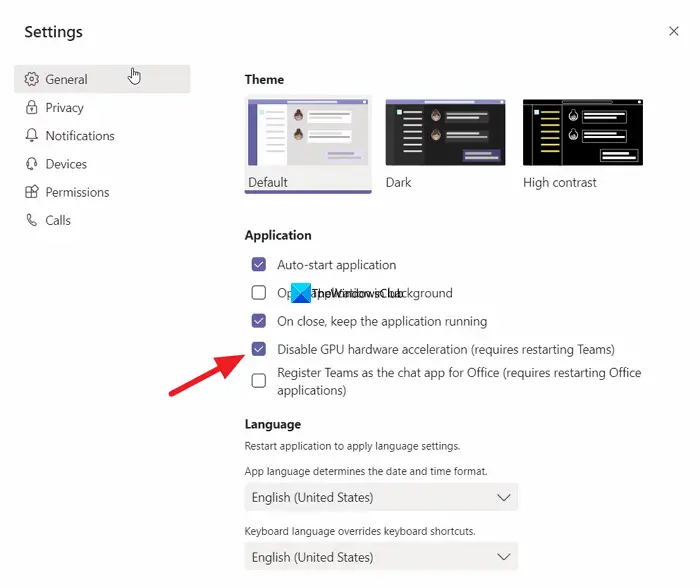 If you are facing the image or media not loading issue on the Teams desktop client, you need to enable Hardware acceleration to make Teams function smoother. It will make the media load in the chats.
To enable hardware acceleration on Teams,
Click on the three-dot button beside your Profile and select Settings.
In the General tab, uncheck the box beside Disable GPU hardware acceleration (requires restarting Teams) and restart Teams.
This should fix your issue.
Read: Fix Microsoft Teams high Memory and CPU usage issue
7] Log out and log in again
Log out of the Teams client by clicking on the Profile and selecting Sign Out from the options. Then, enter your credentials and log in again. See if it has changed anything with the loading of images in the chats.
8] Check for updates on Microsoft Teams
Your PC may be running an outdated version of Microsoft Teams, in which case you will have to check if there are any possible updates and install them. Here's how you can do that:
Launch the Teams app
Click on the triple-dotted icon next to your profile picture on the top-right corner of the screen and further select 'Check for Updates'. This will begin the process.
If there is an update, you'll be given a prompt to install it. Do so and check again if the images are loading.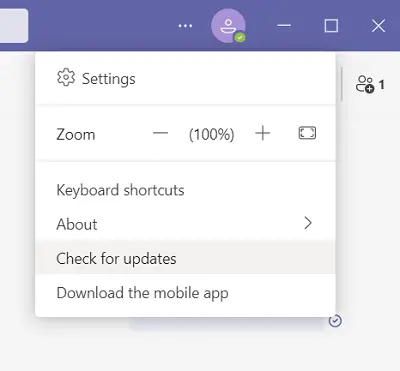 These are the different ways using which you can fix if Microsoft Teams can't load or send images in chat.
Why are images not loading in Teams chat?
There might be many reasons for the images to not load on Teams chat like bad internet connection, unsupported file format, downtime with Team's servers, cache issues, etc. You need to check them one by one and fix the issues.
How do I fix Microsoft Teams not loading images?
If Microsoft Teams is not loading images you need to check if your internet connection is working or not. Then, see if there is any downtime with Microsoft Teams. clear the Teams app cache, switch to another Teams client, log out of Teams and log in again, and update your Teams client.
Related read: Fix Microsoft Teams Login issues: We couldn't sign you in
We hope that one of the aforementioned solutions does the trick for you and that you are now able to view photos in your Microsoft Teams chats.