When it comes down to gaming on a PC, you cannot do it the best way without a keyboard. The question is, which category of keyboard is best? In one corner, we have the Mechanical keyboard, and in the other, we have the Optical keyboard.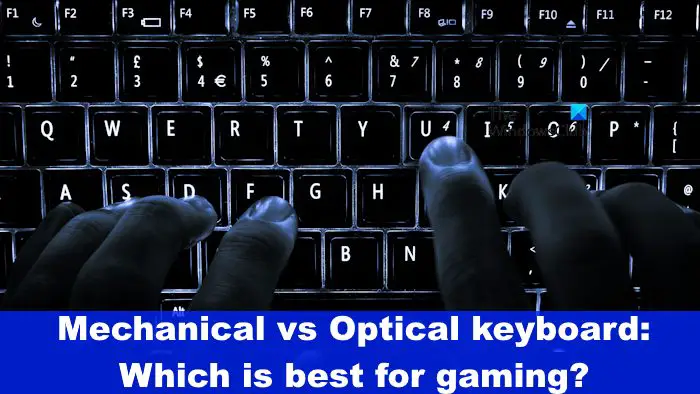 From our testing, we can say for certain that optical switches are better for gaming when compared to mechanical switches, which are best for general usage. Now, depending on the brand, there are some optical keyboards that are a notch above the rest, but not very much.
How do Optical keyboard switches work?
What separates optical keyboards from mechanical is the fact that it uses a process called light induction. You see, whenever the key is pressed, the stem goes ahead and blocks a beat of infrared light. From there, an infrared sensor identifies the lack of light and sends a signal the key has been clicked to the Windows computer.
How do Mechanical keyboards work?
Mechanical keyboards, in contrast, work differently. They create contact between a metal piece on the keyboard and another located at the bottom. What this does is lock the circuit and send a signal suggesting the key has been clicked on.
Now, we should note that there are three types of mechanical keyboards, and they come in the form of: linear, tactile, and clicky. For those who are wondering, the linear keys do not make a lot of noise and do not require much force. Additionally, no tactile feedback is delivered when keys are pressed.
When it comes down to tactile keys, then, they are louder and deliver a bump in the middle of each keystroke.
Clicky, on the other hand, is not as loud as tactile, but the sounds are quite satisfying to the ears, which is the reason why they are loved.
Mechanical keyboards vs Optical keyboards: Which is better for gaming?
In terms of which of these keyboards is better, we must first decipher a few things to come to a firm conclusion.
The Speed
What is Durability like?
How noisy are Optical and Mechanical keyboards?
Which one should you buy?
1] The Speed
For gamers, the speed of the keyboard keys is just as important as the speed of the monitor. Whenever keys are pressed, the action on-screen needs to take place immediately or with the smallest of delays.
Now, from what we have come to understand, optical keyboards do not suffer from long delays. They usually support a 5-mili second response time, but the same cannot be said for Mechanical keyboards.
That's because Mechanical keyboards have a debounce delay of 5-mili seconds, but when you think about it, the differences appear to be quite small. This means a regular gamer may never have a problem with the given results.
READ: Keyboard Tab Key not working on Windows PC
2] What is Durability like?
Here's the thing, no one wants to spend big money on a keyboard, only to have it be out of commission in 3 months. So, that is where durability comes into play, and as it stands, it really depends on the manufacturer rather than the board itself.
In a situation such as this, you may have to decide to buy an expensive keyboard for the best durability. Or better yet, take the best possible care of your keyboard.
READ: How to clean your keyboard and keep it free from bacteria and viruses.
3] How noisy are Optical and Mechanical keyboards?
Both types of keyboards can be noisy and less so, but one gives more options. You see if you're the type of person who likes to have a clicky keyboard that is loud and in charge, then Mechanical is your best bet. There are many options to choose from where Mechanical is concerned, though the same cannot be said for Optical keyboards.
Things are changing, however, so expect more manufacturers to release Optical keyboards with more options for more or lesser noise when keys are pressed.
READ: How to install Zawgyi Keyboard in Windows 11 (Myanmar/Burmese)
4] Which one should you buy?
It depends on what you're looking for and the use case. For gaming, we suggest going for the Optical keyboard because of its faster actuation. As for lifespan, some say the Optical keyboards are better, but you can find Mechanical ones that are just as good if you shop around.
For those who are seeking a keyboard that is more satisfying to use, we recommend choosing the Mechanical variety.
READ: How to connect Wireless Keyboard without USB Receiver on Windows PC
Do mechanical keyboards make you better at gaming?
Mechanical keyboards are a bit more expensive than regular keyboards and definitely worth the price. However, do these keyboards make you a better gamer? It could be due to faster response time and improved durability.
READ: Some keyboard keys are not working with the Shift key
Does a mechanical keyboard make you type faster?
Mechanical keyboards can improve typing speed due to tactile audio feedback. The problem is, however, that due to the price of these keyboards, most people might not be able to afford one.
Read: Are mechanical keyboards better than normal keyboards?