As the years go by, folks will realize that 3D printing is the future because it's very versatile. We've seen companies using the technology to create homes among other things, so we can see why many would love to get in on the action. In our attempt to learn more, we came across an app known as MatterControl, and the best aspect of the app is the fact that it's free to use.
Bear in mind that if you're going to get yourself involved in 3D printing, you'll need a G-Code-based 3D printer, and these are not cheap to come by.
3D Printer software for Windows
MatterControl is a free, open-source, all-in-one 3D printing software package that lets you design, slice, organize, and manage your 3D prints. From our short use, it's safe to say that MatterControl is not easy to use unless you have the correct knowledge. Without it, you'll be grabbing at straws, just like us, but at the same time, it can be fun if you enjoy the art of designing stuff.
1] New Design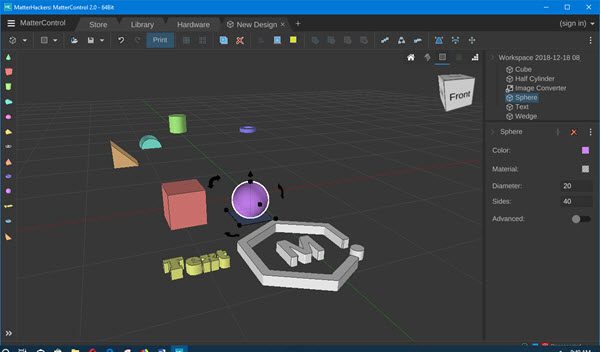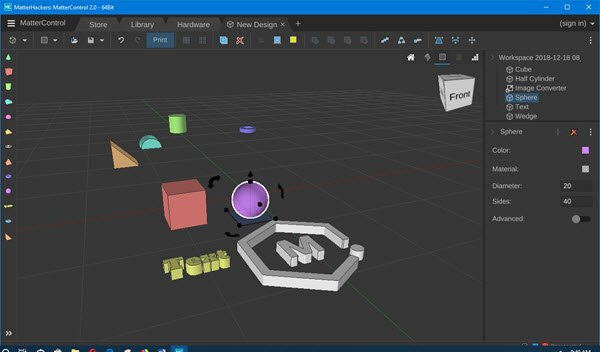 When the MatterControl tool is launched for the first time, you'll be greeted with the New Design screen. This is where you'll be able to design whatever 3D item you want for printing at a later date.
On the left side of the app, you'll see several objects, each of which can be used to aid in your design. Just drag them over into the design field and go to work on the next big thing that could one day change the world.
Because these objects are 3D, you can spin them around in however way you want and practically drag them anywhere on the screen. If you want to change the color, such options are available as well. When you're done, simply click on the Save icon.
2] The Library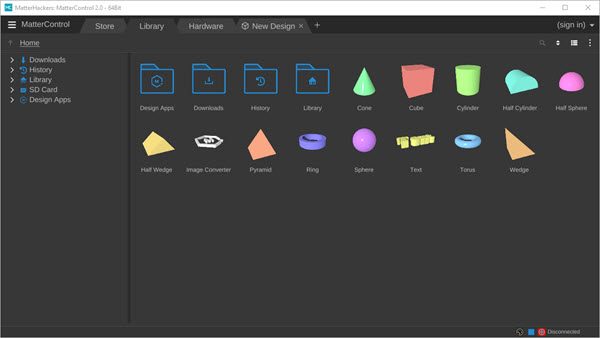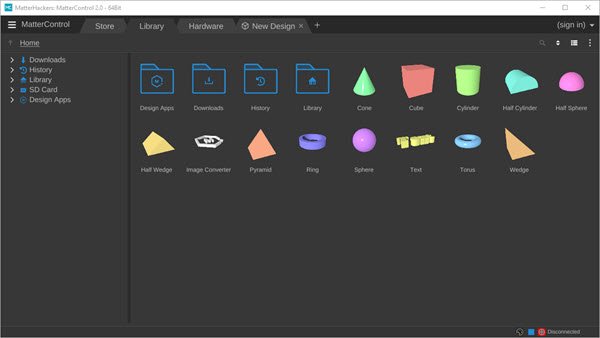 Clicking on the Library tab will bring users to where all their design files are stored. Folks can even get to the history from here along with previous downloads. If there are any design apps installed, the folder is right here for comfort, and that's nice.
Now, should the user double-click on any of the 3D design files, they will automatically open a new Design tab that is separate from the default one. From there the designer will get to work with the added 3D component to create whatever they want.
3] The Store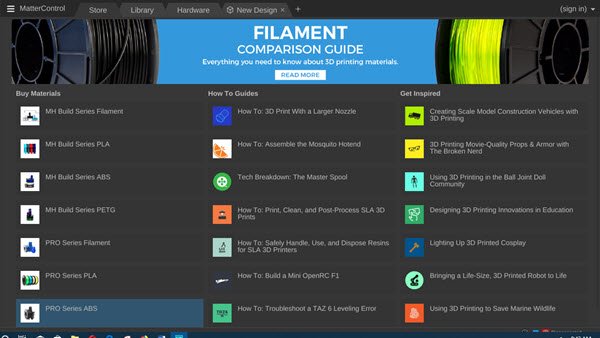 If you're new to 3D printing and design, and the MatterControl app overall, then you might want to check out the store. The store brings several options to the table, especially for those who want to learn.
There are guides on several topics to make things easier, and pre-finished work to get you inspired. For those who might want new materials to help build the next big thing, just check out the Buy Materials section and choose from the many options there.
Looking for digital designs to spice up your work? No problem for these things can be located within the store as well. Many of the 3D designs here are free to use, so don't be afraid to download whatever you need.
We're not big fans of the store because the options are all links that open your web browser. The good thing is, the website is not difficult to navigate, therefore, folks won't have much of a problem locating and purchasing what they want.
4] The Settings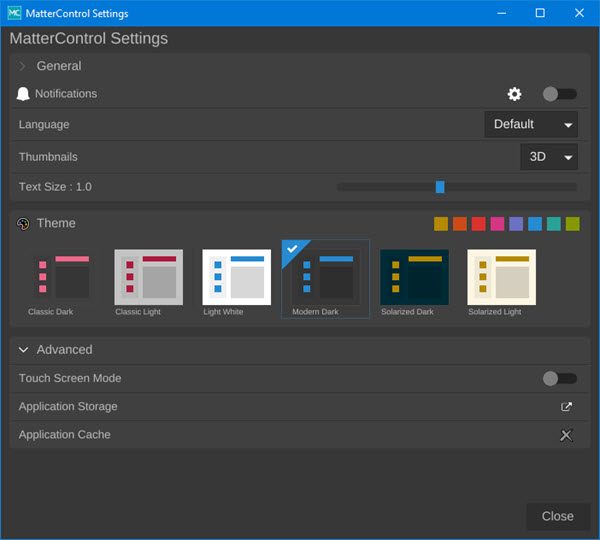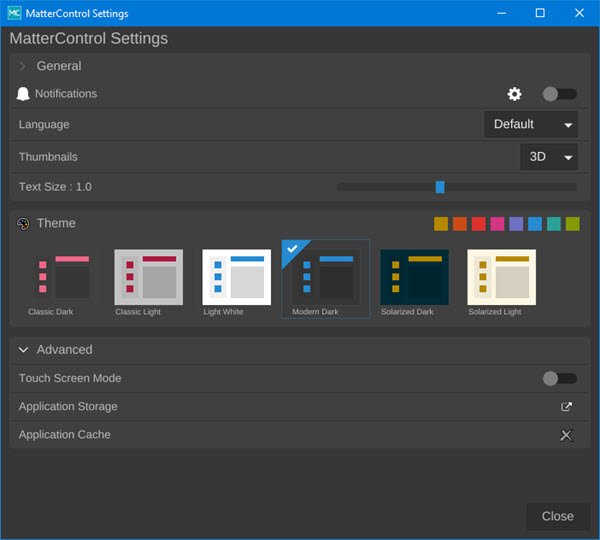 Regarding the Settings section, folks can get to it by clicking on the menu button, then select Settings. Once the window comes up, it should be evident that there's not much to do here. Yes, the options are there to change the Theme, Language, and Text Size, but don't go in expecting a lot.
Additionally, we should point out that if you have a touchscreen Windows 10 device, you can activate Touch Screen Mode.
MatterControl free download
You can download MatterControl via the official website at matterhackers.com.