With the PowerToys utility for Windows 11/10, you can easily remap any key on the keyboard to another key or some system function. Remapping means when you press a key, instead of executing a default function, the key will execute an entirely different action. This way, you can potentially use any key for many different tasks. If you prefer using an older classic keyboard such as the IBM Model M that doesn't include a physical Windows key, then we will show you in this post how to map Windows Key on an older classic keyboard on Windows 11/10.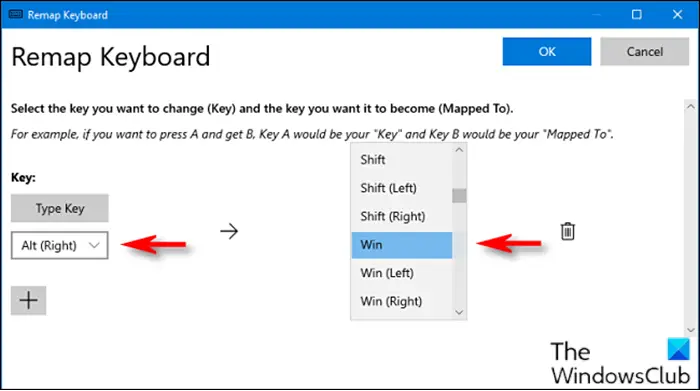 Map Win Key on older classic keyboard on Windows 11/10
To remap the desired function to the Scroll Lock key, do the following:
First, you need to download and install the PowerToys utility if you haven't already.
After the installation, launch the utility.
Select Keyboard Manager in the left pane.
Next, click Remap a key on the right pane.
In the Remap Keyboard window that appears, click the plus sign (+) to add a key mapping.
Now you have to decide which key you want to double as the Windows key. The right Alt key works very well (if you have one), because it is easy to use for one-handed Windows shortcuts and most people use the left Alt key more frequently. You could also choose a seldom-used key, such as Scroll Lock or right Ctrl instead.
On the left, you have to select the key you'd like to function as your Windows key. In this example, we're using Alt (Right).
Click Type Key, and then from the drop-down select Alt (Right).
In the Mapped To section on the right, select Win (which represents the Windows key) from the drop-down menu.
Click OK.
Windows will probably warn you that the key you're remapping won't be usable because you've reassigned it to another function. In that case, click Continue Anyway.
Once done, the new Windows key mapping should be active. You can close PowerToys, and you can use your computer as usual. You won't have to log out or restart your PC; your change will take effect immediately.
If at any time you want to discard the mapping, navigate to the Remap Keyboard window in PowerToys and, then click the Trash icon beside the mapping to remove it.
That's it on how to map Windows Key on older classic keyboard on Windows 11/10!
Related post: How to Remap and Launch any Program with Scroll Lock key.