OneDrive has become one of the most popular cloud services available. With its seamless integration with Windows devices, and other platforms as well. The service has seen a tremendous rise in active users. While the plans offer you 5 GB for free as you sign up, you can easily upgrade for more space. And if you buy Office 365 personal or home license, you get an additional 1000 GB of cloud storage with other premium features. OneDrive has a pretty amazing web app that is easily accessible. To enjoy more features and seamless integration, you can map your OneDrive account as a Network Drive on Windows 11/10. Let us see how you can do this.
Map OneDrive as Network Drive on Windows 11/10
The entire process is quite simple and easily followed. So just follow these steps to set up OneDrive as a network drive on Windows. Once you've set up a network drive, it would be available next to the conventional offline drives available on your computer. You can access the contents of your OneDrive and make changes as you would do normally on any other drive.
Step 1: Go to onedrive.live.com and navigate to your OneDrive's root folder where you can see all your files and folders.
Step 2: Now carefully look into the URL of the page, and copy the number following the CID tag. See the screenshot for more clarity. This CID number will be useful while setting up our network drive.
Step 3: Right-click 'This PC' icon on the desktop and select 'Map Network Drive'. Choose the drive letter you would like to have – say Y.
Step 4: In the Folder field, enter https://d.docs.live.net/ followed by the CID string you copied in step 2. See the screenshot for reference.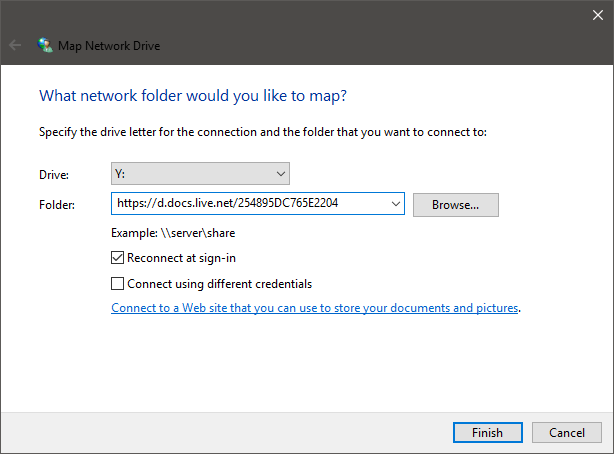 Step 5: Check 'Connect using different credentials' and then click on 'Finish' button.
Step 6: Wait while the program attempts to establish a connection. Enter your login credentials when prompted.
Now open 'This PC' to see this newly created drive under 'Network Locations'. The drive would have some complex name containing the same CID string. You can easily rename it to something simpler like 'My OneDrive'.
You can open this drive and work with it as you would have done normally with any other drive. But make sure you have a stable internet connection to carry out operations on this drive.
The alternative way
Windows 10 comes preloaded with OneDrive desktop application. You can start the application and enter your login credentials to sign-in. Next, choose the folders you want access to and finish the wizard. OneDrive will be added to Windows Explorer and you would be able to access all your files in a similar fashion.
Also, if you use the desktop application, instead of mapping OneDrive as a network drive, you can have flexible settings. For example, you can choose which folders to synchronize and which folders to be made available to a particular computer. The desktop app is also compatible with Microsoft Office installed on your computer. But the network drive is compatible with all the applications as it can be used as any other normal drive.
Hope this helps you map your OneDrive account as a network drive on Windows 11/10.
This post will show you how to map OneDrive for Business as a Network Drive.