In Internet Explorer, you can easily manage the add-ons from the Internet Options window. The add-ons help Internet Explorer to run toolbars, ActiveX control, etc. Whenever Internet Explorer freezes or crashes, one of the first troubleshooting steps we adopt is disabling add-ons. Because there may cause corruption in entries of any add-on, we may be causing the root issue. However, when I was trying to disable add-ons today, I found that the Manage add-ons option is grayed out, have a look at the following screenshot: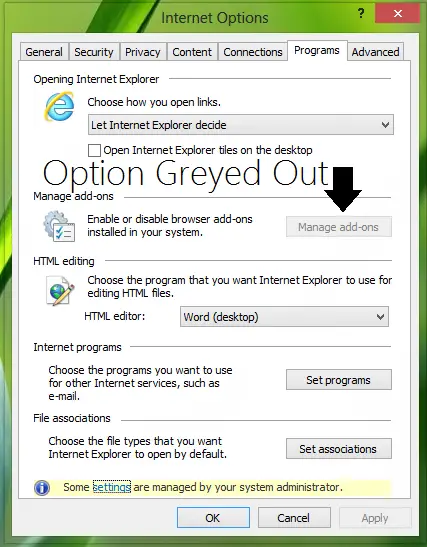 As you can see in the above image, there are some restrictions in managing Internet Explorer which is indicated by the Some settings are managed by your system administrator line mentioned at the bottom. Well, in order to fix out this, you can try the following registry steps:
Manage Add-ons in Internet Explorer is grayed out
1. Press Windows Key + R combination, type Regedt.exe in the Run dialog box and hit Enter to open the Registry Editor.
2. Navigate to the following location:
HKEY_LOCAL_MACHINE\SOFTWARE\Policies\Microsoft\Internet Explorer\Restrictions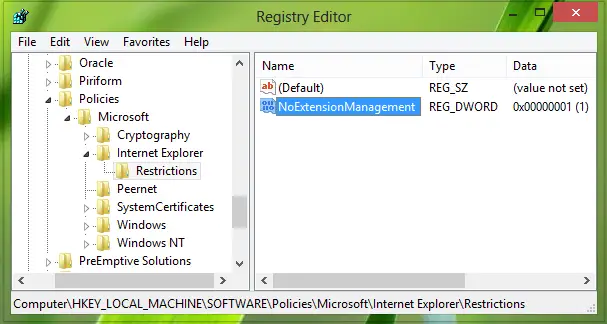 3. In the right pane of this location, look for the DWORD named NoExtensionManagement (REG_DWORD). It must be having the Value data as 1. Double click on the same DWORD to modify its Value data: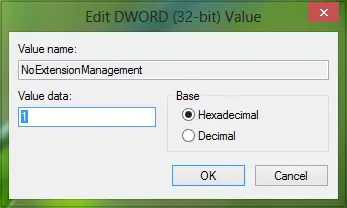 4. In the above-shown box, replace the Value data from 1 to 0 and click OK, or you can simply delete the NoExtensionManagement DWORD. Now do the same thing for this registry location as well:
HKEY_CURRENT_USER\Software\Policies\Microsoft\Internet Explorer\Restrictions
After making the registry configuration, you may close the Registry Editor and reboot to get Manage add-ons option enable so that you can activate or deactivate required add-ons: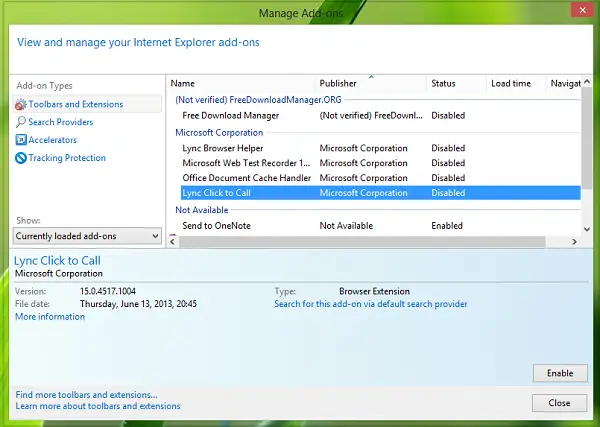 Hope you find the fix useful!