Malware campaigns dominated the threat landscape last year. The trend seems to continue this year, although in a more virulent form. A common observation from multiple leading security researchers revealed that most malware authors relied on ransomware to make the bulk of their revenues. There was an increase in ad fraud as well. Internet-enabled devices, better known as known as IoT, also proved to be a low-hanging fruit that was widely sought after by threat actors.
Unless we have some major laws in place and institutions for enforcing them, these attacks are only likely to rise and pose an even more dire threat to the Internet. As such, we can only expect malware to become more aggressive and have a direct impact on our lives. Malware Tracker Maps can reveal information about nasty malware active on the Internet and take precautionary measures beforehand.
Best Malware Tracker Maps
This post lists some of the useful Malware Tracker Maps that find utility in today's cyber threat scenario.
1] Threatbutt
This malware tracker map displays global cyber-attacks occurring in real-time and shows both, attacking and targeted IPs. Threatbutt, employs Clown Strike technology to harness the raw power of private, hybrid, public and cumulus cloud system to bring Viking grade threat intelligence to any enterprise. Click here.
2] Fortinet Threat Map
Fortinet Threat Map lets you watch real-time cyber-attacks taking place.  Its console displays network activity by geographic region. So, threats from various international destinations are made available for your view. Also, one can place the mouse cursor over the FortiGate's location to display the device name, IP address, and the city name/location. To know which countries are sending the more severe threats to your region/location, either see the place of origin of the red darts or check the visual lists of threats at the bottom. Unlike other FortiView consoles, this console has no filtering options. However, you can click on any country to drill down into greater (filtered) detail. Go here.
A visual list of threats is shown at the bottom, displaying the following,
Location
Severity
Nature of the attacks
The color gradient of the darts on the map indicate the traffic risk, where red indicates the more critical risk.
3] Norse Corp Malware Map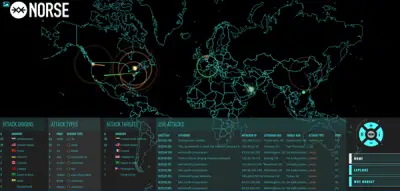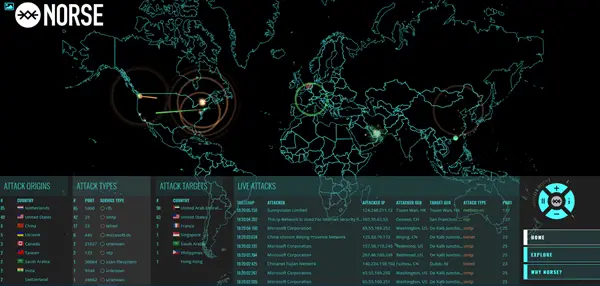 Norse appears to be trusted the source when it comes to offering proactive security solutions Its malware mapping method is based "dark intelligence" platform, that is capable of providing the strong defense against current advanced threats. Please note that to function properly, the site requires javascript in an enabled mode. Link.
4] FireEye Cyber Threat Map
A unique feature about FireEye Cyber Threat Map is that in addition to viewing the recent global cyber attacks on the FireEye Cyber Threat Map, you can sign up to be alerted when attacks are discovered and keep your organization's data safe. The map is based on a subset of real attack data, which is optimized for better visual presentation. Click on fireeye.com here to visit the website.
5] ESG MalwareTracker
It allows you to view the latest malware infection trends in real time and check malware outbreaks in your specific locality via Google Maps. The tool also shows data of malware infections collected via its diagnostic report logs of computers scanned by its SpyHunter Spyware Scanner. The scanner after a thorough analysis generates a live graphic coverage of suspected and confirmed infections worldwide. It indicates the prevailing trend of malware infections attacking PCs on a monthly and daily basis. It's here!
6] CheckPoint's Live Cyber Attack Map
The map is powered by the vendor's ThreatCloud intelligence, a collaborative network to fight cybercrime. It is capable of delivering threat data and attack trends from a global network of threat sensors. Once collected, the information on the cyber attack is distributed to customers' gateways, thereby giving them real-time threat information and attack trends to help them enforce protection against bots, advanced persistent threats and other sophisticated forms of malware. Visit the website.
7] Kaspersky Cyberthreat Real-time Map
If you aren't quite sure whether you are under a cyber-attack or not, visit Kaspersky Cyberthreat real-time cyber map. The page shows you the real-time attack detected by their various source system. It features the following,
Web Anti-virus
On-Scanner access
On-Demand Scanner
Intrusion Detection System
Mail Anti-virus
Vulnerability Scan
Botnet Activity detection
Kaspersky Anti-spam
The interactive map lets you customize its layout by filtering certain types of malicious threats, such as mentioned above. So, whether you're interested in actually tracking places of origin of cyber attacks, occurring in real-time or just simply looking for a way to visualize the threat level of your area, Kaspersky's Interactive Cyberthreat Real-time  Map shows you incidents worldwide. Check it out!.
8] Malwaretech Live Map
This map at https://intel.malwaretech.com/pewpew.html displays the geographical distribution of malware infection and time-series graphs of online and new bots.
Hope you find the post useful!