Read receipts have become an integral part of messaging applications these days. Most of our work relies upon these receipts and they ensure delivery of messages. But emails are a thing of old days, we never get to know if the email was opened by the receiver or not. This is not the case anymore. With services like MailTrack, you can track your email after you've sent them. MailTrack is intended for Google Chrome and Gmail users and we hope to see it soon for other email providers as well.
MailTrack for Gmail
MailTrack is a browser extension for Chrome, Firefox, Opera and Edge that offers email tracking services. It is compatible with Gmail and Google Inbox for now and integrates seamlessly into the web-apps. The service offers both free and premium plans with extra features. This post majorly talks about the free plan, you can always upgrade to any of the paid plans for more features.
MailTrack is mostly used by professionals, sales teams, people with client relations. The tool makes it a little easier to track emails and you do not need to repeatedly ask "Did you read my email?". So if you are anyone who is looking for such features, MailTrack it is.
So, getting started is simple, install the extension from Chrome Web Store. And now log in using your Google Account. Once the setup is complete, you can start using its features directly from your Gmail inbox.
Login into your Inbox and you will notice a green MailTrack icon in the upper right corner which indicates that the extension is in place and running. You can start composing an email in the usual way. The tool will put a small signature in the email, to disable it you need to upgrade to a premium plan. You can click the double-tick icon below to customize MailTrack settings for this particular email.
Once you are done composing an email, you can hit the send icon and now move on to the sent items. In the sent items, you can track your email from the double ticks corresponding to each sent item. The double ticks work in a similar fashion to WhatsApp. Single tick if the email was delivered, double ticks if it was opened by the recipient. Moreover, you can hover over the double ticks to view more details. You can view the number of times your email was opened in total and the time of the first read. The premium version offers full tracking history which can provide much more metrics.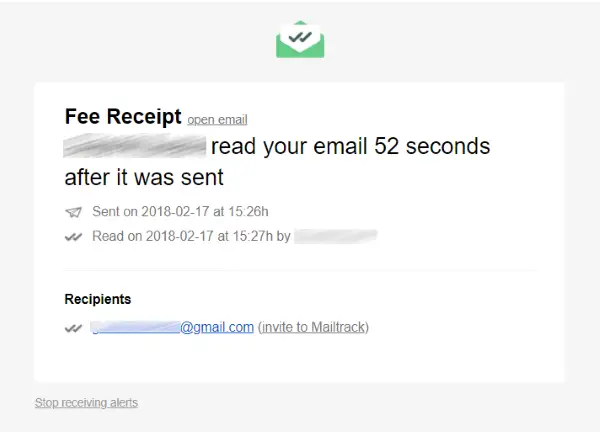 You can even enable MailTrack alerts which can notify you whenever someone opens an email sent by you. The alerts are very informative and lets you know the exact time when the email was opened.
MailTrack offers a variety of customization as well. You can head over to your dashboard to customize your account and enable/disable settings.
MailTrack is a great tool for professionals and teams. Email tracking does not only help in better communication but also ensures effective deliverability. If you deal with a lot of customers, then MailTrack can help you know the average times your email is being read by your customer and how can you improve it. Moreover, you can enable Link tracking to know how you recipients deal with links you have in your email. Overall, this is a great add-on service and it works for most of the cases. For personal usage, the free plan is quite sufficient. But if you are planning to upgrade, the premium plan with all features unlocked might cost your around 2.5$ a month which is economical.
Click here to download MailTrack. The free plan offers Unlimited tracking but has a Mailtrack signature