Apple Magic Mouse is one of the best wireless and rechargeable computer mice. It is designed to offer you a smooth experience and has different gestures that increase your productivity. While the mouse is originally designed for Mac users, many Windows users also want to use it for their PCs. But in most cases, they find that the Magic Mouse is not working on Windows 11/10.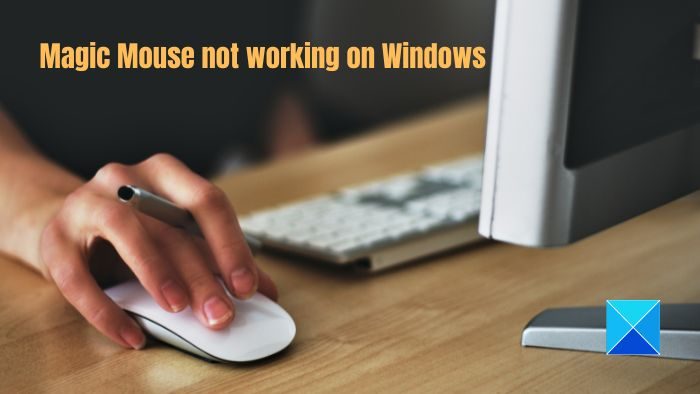 This happens for a few primary reasons. Maybe the mouse doesn't have an incompatible driver, and it is not compatible with Windows Bluetooth, and so on.
Fix Magic Mouse not working on Windows 11/10
If Magic Mouse is not working on Windows 11/10, you can use these fixes to make your Magic Mouse compatible or run smoothly with your PC:
Restart Your PC & Magic Mouse
Make sure your Magic mouse is in range
Check the batteries
Re-Pair Magic Mouse
Install from Bootcamp Setup
Windows on Macbook fix
Auto Update Driver for Magic Mouse using Brigadier
Now let us dive deep into these methods below:
1] Restart your PC & Magic mouse
Often a simple restart can fix several issues on your PC. So if you haven't restarted your PC already, then go ahead and do it.
Along with that, you should also turn off your Magic Mouse and then turn it on again. You will find a tiny switch at the bottom of your Mouse to do this. So first, toggle off the button and then toggle it on.
Once both devices are rebooted, try connecting your Mouse to the PC and see if it works.
2] Make sure your Magic mouse is in range
Before making complicated fixes, ensure your Magic mouse is in your PC's Bluetooth range.
To figure this out, go to Windows Settings > Bluetooth & devices. Then click on Add Device, select the first option, and see if Windows can detect your mouse.
3] Check the batteries
There is also a good chance that the Magic mouse battery is dead. So you can try recharging it for half an hour and then try connecting to your PC or any other device to see if it's working. If it works with other devices but not your PC, move to further fixes.
4] Re-pair Magic mouse
Suppose you have already paired your Magic Mouse with your PC. Then you can try re-paring the magic mouse and see if it solves the error.
For this, follow the below steps:
Press Windows Key + I to launch Settings.
Go to Bluetooth & devices > Devices.
Click on the three dots icon next to Magic Mouse.
Select Remove device.
Once removed, reboot your computer.
Then come back to Bluetooth & devices window again and click on Add a device and pair Magic mouse to Windows.
5] Install from Bootcamp setup
As mentioned earlier, the issue mainly occurs because of incompatible drivers. So if you haven't installed a mouse driver yet, you should do it correctly. However, this method only works for Windows laptop users, and you must install the driver using Bootcamp. For this, follow the below steps:
First, visit the Apple Support page.
Choose the latest driver version and click on Download.
Once the zip file is downloaded, unzip it.
Go to the following path: BootCamp > Drivers > Apple > Apple WirelessMouse64.exe.
Run the WirelessMouse64.exe installer and follow all the onscreen steps.
Once done, connect your Magic mouse to your Windows laptop, which should resolve the issue.
6] Windows on Macbook fix
If you use Windows on Mac (Intel version) and face the issue, you can update the driver using the Bootcamp assistant. It is available on the system tray.
Open BootCamp Assistant
Click on Action > Download Windows Support Software
Once it downloads, it will apply the update and restart the PC.
It should resolve the issue.
7] Auto Update Driver for Magic Mouse using Brigadier 
Finally, you can use Brigadier to auto-update your Magic mouse driver and use it on your Windows PC. Brigadier is a python script that fetches Apple's latest boot camp support software. Plus, it is pretty easy to use.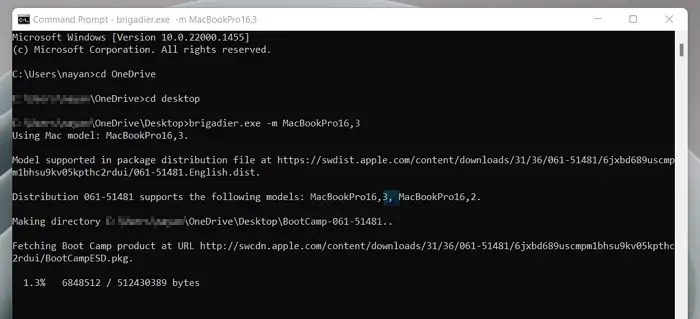 First, download Brigadier from GitHub and copy the Brigadier.exe file to your Desktop.
Go to Windows Search and type CMD and launch it.
Type this command and press Enter key: cd Desktop
Next, run the following command: brigadier.exe -m MacBookPro16,3
The command will make your PC identify as the 13-inch 2020 MacBook Pro. You can change it to any other identifier. But using any recent Mac model that supports Windows over Boot Camp is good.
Next, wait for Brigadier to download and extract the latest drivers from Apple to your Desktop.
After downloading, open the BootCamp folder from your Desktop and go to $WinPEDriver$ > AppleWirelessMouse.
Right-click on AppleWirelessMouse64.inf and select Install and follow all the onscreen steps.
Once done, reboot your PC, and you should be ready.
Note: If Brigadier fails to download the files or you see an empty BootCamp folder on your Desktop, install 7-zip and try it again.
The above methods should help you fix the Magic mouse not working on Windows 11/10 error. The error mainly occurs because of an incompatible driver. So installing Bootcamp on your Windows will help you get rid of it. Alternatively, you can try using Magic Mouse Utilities, a paid third-party program that enhances your Magic mouse experience on Windows.
Can Apple Magic Mouse work with Windows?
Yes, pairing a Magic Mouse to a Windows PC using Bluetooth and the right set of drivers is possible. Alternatively, if you are running Windows on a Mac computer, you will need to use Boot Camp Assistant to make the magic mouse compatible with the Windows ecosystem on Mac.
What is Bootcamp for Mac?
In macOS, the Bootcamp Assistant helps you to create a separate partition on the hard drive that can accommodate any other operating system like Windows. As a result, you can install Windows from an installation disk or ISO image to that partition and then switch between macOS and Windows when restarting your Mac.