If you would like to lock your Internet Explorer home page, you should find this article of some use. Many times, it so happens that not only you, but others too such as your friends and family members use your computer. At times, some programs too try to change the Internet Explorer Home Page. In such cases may be you would like to lock your Internet Explorer home page, so that no other users have the right to change the homepage. Well, preventing others from changing the IE homepage is easy.
Lock Internet Explorer Home Page
Internet Explorer allows you to define a single or multiple home pages, each of which can load in its own tab. You can create a multi-tab home page simply, by entering the addresses each one in its own line.
To do so, open IE > Internet Options > General Tab.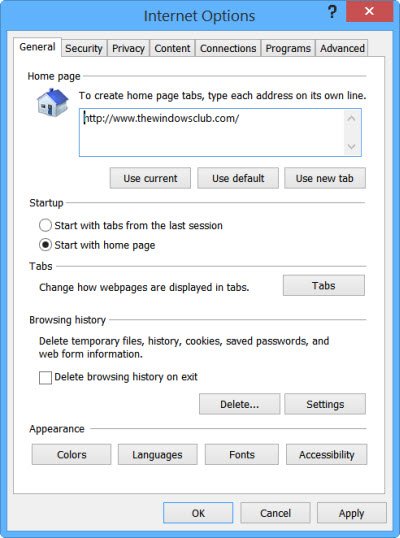 This post shows you in detail how to change the home page in Internet Explorer as well as other browsers.
Disable changing home page settings using Group Policy
If you now wish to lock the IE home page, you can use the Group Policy. Run gpedit.msc to open the Group Policy Editor and navigate to the following setting:
User Configuration\Administrative Templates\Windows Components\Internet Explorer
Double-click on Disable changing home page settings and select Enabled.
The Home page specified on the General tab of the Internet Options dialog box is the default Web page that Internet Explorer loads whenever it is run. If you enable this policy setting, a user cannot set a custom default home page. You must specify which default home page should load on the user machine. For machines with at least Internet Explorer 7, the home page can be set within this policy to override other home page policies. If you disable or do not configure this policy setting, the Home page box is enabled, and users can choose their own home page.
Click Apply and Exit.
Prevent changing of the home page using Registry
Now, if your Windows does not have the Group Policy Editor, here is a registry tweak for it. Open the 'Run' dialog box. In it type, 'regedit' and hit 'Enter' to open the Registry Editor.
Navigate to the following key:
HKEY_CURRENT_USER\Software\Policies\Microsoft\Internet Explorer\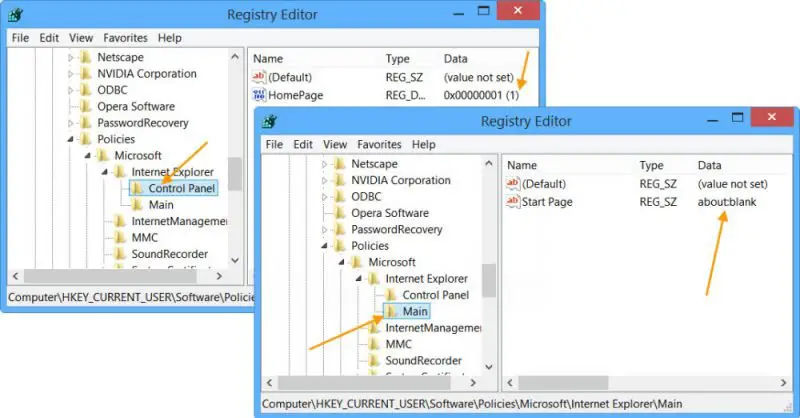 Ensure that the above-shown registry keys exist and have the shown values. If not, create them. You may click on the image to see a larger image. To revert, you may delete the newly created keys, or change the value of HomePage DWORD to 0.
Alternatively, you may download and use this registry fix to set your IE home page to a blank page and then lock it.
You can also use this PowerShell script from Microsoft to lock your IE homepage.
Hope this helps.