Google Chrome browser has made it simpler for its users to link to specific text parts of a webpage in search results via an extension called Link to Text Fragment. What exactly does this Chrome extension do and how does it function? We'll check that out in today's post.
Link to Text Fragment Chrome extension
The extension is open-source. When added to the browser, it creates a link that, upon clicking, directs users to a specific piece of text on a page. So, when you want to generate a link for the specific part of the webpage only, right-click and select 'Copy link to selected text' option from the context menu. The extension automatically creates a link for that part. You can then, choose to share it with others. The process to use it is simple:
Launch the Chrome browser.
Open a webpage.
Choose the line of text you want to link to.
Right-click and choose Copy Link to Selected Text.
Wait for the link creation is successful.
Paste your link.
The links created by the extension are compatible with version 80 upwards of all Chromium-based browsers, but they're not supported in all browsers. Firefox and Safari do not support the capability as of now. Clicking a link while using these browsers will simply take you to the top of the linked webpage, without highlighting the text.
Launch Google Chrome web browser
Open a webpage, select the text that you want to link to.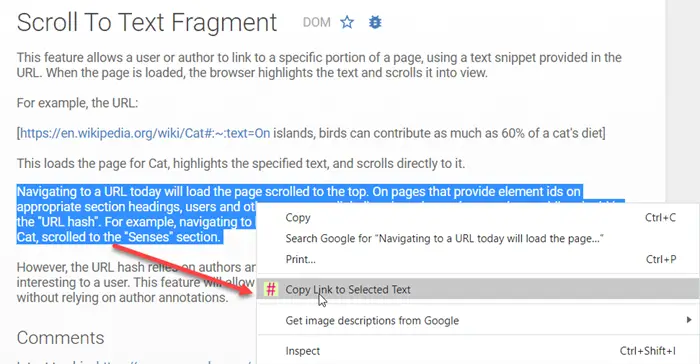 Then, highlight the line of text/s you want to search, right-click, and choose 'Copy Link to Selected Text' from the context menu.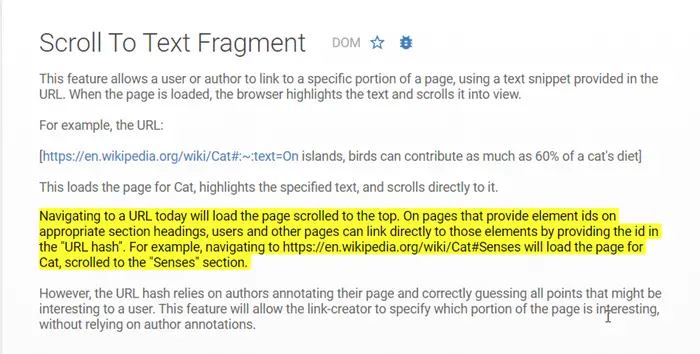 The extension will generate a link instantly. If the link creation is successful, the selected text will be briefly highlighted in yellow as seen in the screenshot above.
Now, paste your link wherever you want to share it.
When the recipient clicks the link, he will be taken straight to the part of the webpage which the sender had intended to share with him.
Similar capabilities existed earlier but required the web page creator to code an anchor into the web page that others may hyperlink to. The new development cuts short this lengthy process.
You can get the extension from the Chrome Web Store.
Related post – How to auto-scroll a web page Down or Up in Chrome browser.