The OneDrive and Dropbox clients make it easy to transfer, back up, and restore files between your PC and the cloud. They do their jobs in the background, and since they use the internet, they share in your bandwidth usage.
This shouldn't be a problem. However, OneDrive and Dropbox can consume a lot of bandwidth. It takes a toll on your internet speed, mainly if you use a slow or not-too-fast internet connection. The good news is that you can limit the bandwidth OneDrive and Dropbox use.
If you find out that your OneDrive or Dropbox app uses up your bandwidth, follow the guides in this section to learn how to limit usage. The processes to limit the bandwidth usage of these apps are similar.
Limit OneDrive bandwidth usage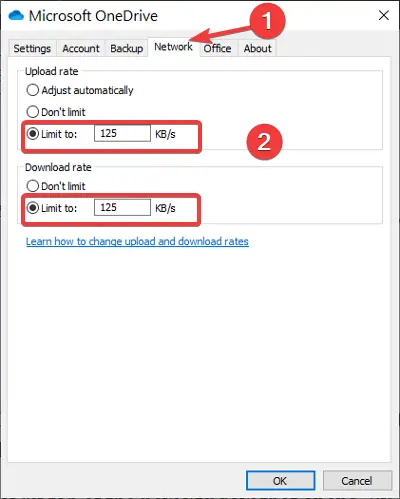 Open OneDrive and go to Settings. You can also right-click on the OneDrive icon on your taskbar and click on the Settings option. You can also go to Settings and Help > Settings.
Switch to the Network tab of the new window that opens. By default, the upload and download rates are set to Don't limit.
For both the Upload rate and Download rate, select the Limit to option and assign values for your preferred maximum bandwidth rate limits. Hit the OK button to save your settings.
Thus you can change OneDrive Sync Upload and Download Rate.
Limit Dropbox bandwidth usage
Dropbox also allows you to limit its bandwidth usage. To limit the Dropbox client's bandwidth, click on the Dropbox icon on your taskbar to open the little window.
Click on the gear-shaped icon and select Preferences from the dropdown menu.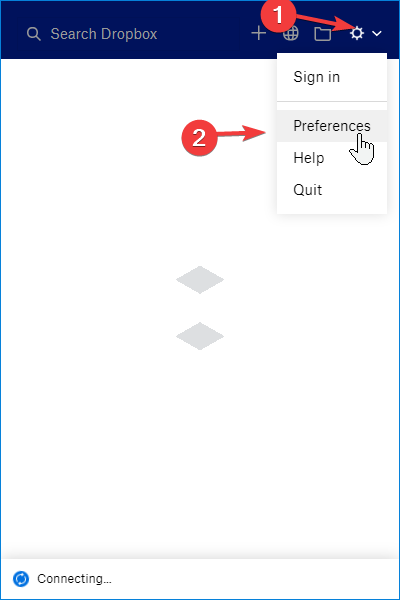 Go to Bandwidth in the Dropbox Preferences window. Here, you'll find the same settings we saw in the OneDrive solution above.
Set the Limit to option on Download rate and Upload rate. Enter values for the bandwidth in KB/s and click the OK button.
Configuring the bandwidth that the Dropbox and OneDrive clients use it straightforward. These background apps would no longer consume the bulk of your bandwidth in the background, and you'll notice a difference in your bandwidth usage after applying these settings.
How do I limit OneDrive bandwidth?
To limit the OneDrive bandwidth, you need to open the Settings or Options panel first. After that, switch to the Network tab and head to the Update rate/Download rate section. From here, you can choose the limit as per your requirements. Once it is set, click the OK button to save the change.
What is bandwidth limit on Dropbox?
By default, Dropbox uses your entire internet bandwidth to upload/download/synchronize files on your computer. However, if you use more other apps or have a limited internet bandwidth, you can set the limit. When you set the limit, Dropbox won't use more than the predefined data speed to synchronize files.
That's all! Hope this guide helped you.
Read also: How to limit the bandwidth of foreground apps.