If you are into technical writing or the kind of work which involves a lot of screenshots, you need a screen capture software. While most of the time, I stick with MS Paint because it's rather quick to resize – however, with proper screenshot software in place, it will allow annotating, editing, and more! In this post, I am reviewing LightShot, a free but feature-rich screenshot software. The first thing you should know about LightShot tool is that it's offered by Prntscr.com – it's an image hosting website popular among those who share screenshots.
LightShot screenshot tool for PC
Once you download and install the software, it will register itself with the PrtScn hotkey. Allow it to make use of the software in the most convenient way.  When the tool launches, select an area of which you want to take a screenshot. Once you do that, you will also get to see a set of tools. It includes
Option to print.
Search for a similar image on google.
Upload to Prntscr.com
Copy, and save.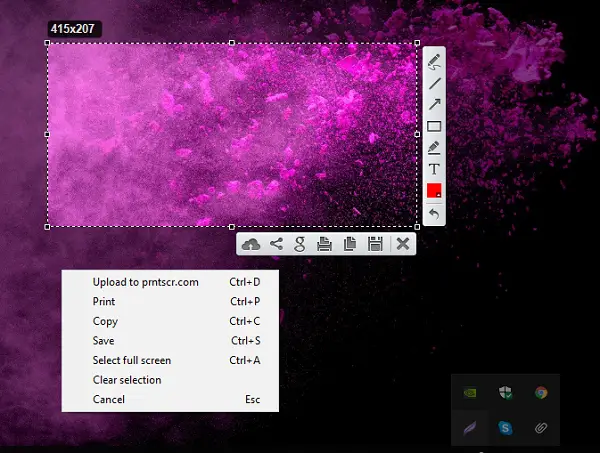 Apart from this, you have tools to annotate which includes an option to add text, choose a color, use a pen, freehand, draw a rectangle and so on. The best part is that you can do it while you are taking a screenshot. It does not open an extra editor and instead offers live editing. If at any time you wish to change the selection area, you can do so. However, once you started editing, there is no going back.
If you choose to upload the file to Prntscr.com, you will have to signup with the website. Once you upload the screenshot and go to the site, you can manage all the screenshots from there. Also, after the upload is complete, you will have the option to copy the URL or open the website directly.
To see all the screenshot, right click on the icon in the system tray, and click My Gallery. Download it from here. It is an excellent tool if you wish to share screenshots online, especially on social media!
If you accidentally upload a screenshot with sensitive data, you can delete it manually. In case you cannot, connect with the support team.
Are you looking for more such tools? Check our list of screenshot software which let you share images online.