Creating different passwords for all your accounts is difficult and memorizing them is nearly impossible unless you are using a password manager. Seeing the increasing cyber attacks, it is always recommended to have a unique, strong password for all your accounts, but then again it is very difficult to remember all those passwords. This is where password managers come into use.
Password Managers are programs which store your login details of all your accounts and encrypts them with a master password. So basically if you are using a password manager, you have to remember only one master password. Kaspersky, one of the most trusted names in online security now has its own password manager.
Kaspersky Password Manager
This password manager comes with a very simple and user-friendly interface and takes less than a minute to download and install on your PC. It stores all your passwords, credit card details, and address and encrypts them all under one master password. Please make a note that this master password cannot be restored in case you forget it – so it is advised to store this master password somewhere very carefully. Kaspersky Password Manager synchronizes all your login details across your Android/iOS devices and your PC.
To use this program, you first need to create an account with Kaspersky. Once logged in, you can select which of your web browsers you want to connect with your Kaspersky account. The built-in password managers of those browsers will then be disabled to avoid any kind of conflicts.
Just like the browser password managers, Kaspersky Password Manager captures your login details when you log in to a website and save them to help you signing into your favorite websites quickly. However, passwords saved in your web browsers are always at risk of being compromised, Kaspersky Password Manager is absolutely safe and stores all your login details encrypted in a secure vault.
It is not just a password manager but also a password generator. This program not just stores your existing passwords but also helps you create strong and unique passwords for every website you have an account with. You can create a password only on your PC but can access it via any of your devices synchronized with your Kaspersky account.
Add your favorite accounts
To get quick access to frequently used accounts and identities, add them to your favorites. Just click on the Favorites tab in the left panel and add your favorite websites, applications, and identities.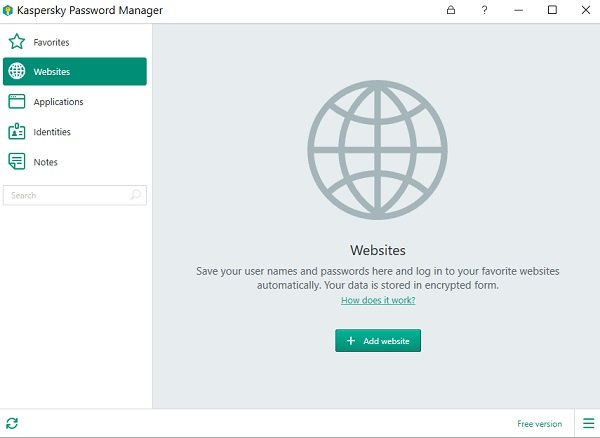 You have to add the URL of your favorite websites along with the login details like your Userid and Password. Click on the Auto Logon check box if you want to get your accounts logged in automatically.
Application Section
This section contains the list of all applications along with your account login details. You can add, modify or delete the applications here. Click on Applications on the left panel and fill in the required details to add an application account to the Kaspersky Password Manager.
Click the 3-dotted button to open a context menu which lets you- add an account name or to link an account to a different account.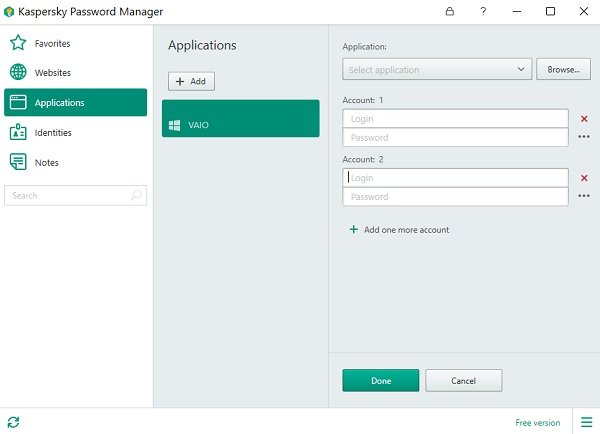 You can also remove or edit the added applications easily. Just select the application from the left panel bar and select the desired option. 

Manage Identities
Kaspersky Password Manager can also save and manage your personal data and help you fill the web forms quickly. To avail this feature, you first need to add your identity to the correct data. With every identity added here, you can store your personal details as well as account details. For example, if you are adding any of your bank details as an identity here, you have to add your personal details like name, age, gender, language, etc, contact details like phone number, email address, fax number addresses etc, other details like web profile, business profile and finance details. Also, you have to add the Bank Card details here.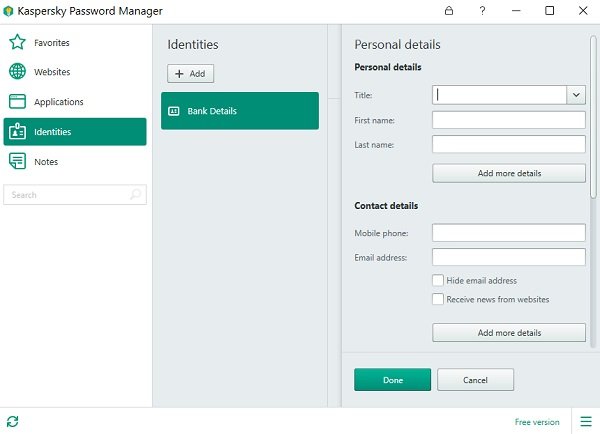 You can add one or more bank accounts or bank card details to each of your identities here. Some other details which you can store here include the bank's customer service numbers.
Secure Notes
While other features like generating the passwords and saving login details are some common features found in almost every password manager, Kaspersky Password Manager comes with a unique feature which is securing your notes. You can add and save any of your important notes here, may it be some of your lock codes, some important software validation keys or anything else. You can either write it down or can copy-paste from your Notepad or MS Word.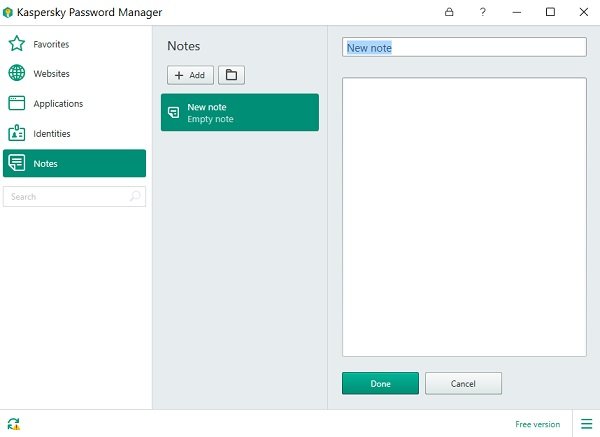 You can edit or delete any of your notes when required. Furthermore, you can add your notes to Favorites just clicking the Star button. 

Synchronize your devices
To synchronize the password manager with all your devices, you first need to install the application in all of them. Once installed, click on the small Synchronization icon on the lower left corner of the main overview. The program will automatically synchronize your passwords between your devices. Once done, you can sign into any of your accounts and applications from anywhere.
Kaspersky Password Manager is available as a free as well as a paid version. The paid version includes some extra features as compared to the free one.
UPDATE: Kaspersky Password Manager is no longer free. Here is a list of some free password managers for Windows PC.
Read next: Kaspersky Free Antivirus.